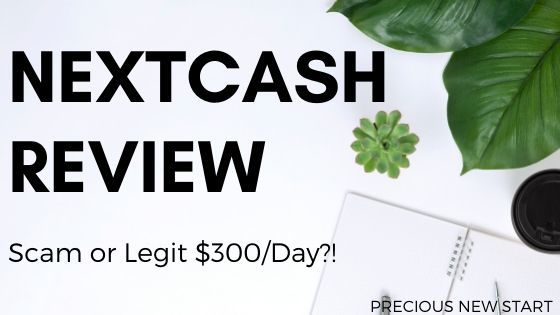 NextCash Review – Is NextCash.co A Scam or $300 A Day?! [Truth Exposed]
This post may contain affiliate links. If you choose to purchase something through one of my links, I will earn a small commission at no extra cost to you.
Welcome to my NextCash review.
In this period of uncertainty, if you've been looking for a way to make money online and work from home there's a chance you've come across this site, NextCash.co
If so, I'm sure you made it here because you wanted to know the real truth about NextCash and whether it's a legit way to earn $300 a day.
Perhaps you've already requested "payout" and are patiently waiting for the 30 days to pass to "receive" your money, but still searching for more details about this "company".
Whichever the case may be, I want to say "well done" for taking the time to do your research and discover the real truth for yourself.
So, let's get started, cause there's SO much to tell you in this NextCash review...
NextCash Review [At A Glance]
Recommended? NO
Overall Rating: 0 out of 10
*Click Here For NextCash Alternatives*
More...
NextCash Review [Video Walkthrough]
What Is NextCash?
NextCash is a site that promotes itself as "The #1 Influencer Network" and then goes on to claim you can make $300 a day online simply by referring others to the program, and completing "tasks".
The problem with this website is that they offer highly unrealistic income claims and unfortunately, my research suggests that they will not pay out to their users.
This site is almost identical to many other scams I've reviewed in the past, and to be honest, NextCash presents the same/similar RED FLAGs as my other reviews.
Due to this, I felt compelled to do some further digging to expose all the hidden truths about this "business"
Make sure to keep on reading to uncover all...
Can You Make $300 A Day With NextCash?
Unfortunately, I am 100% confident you will NOT make even $1 with NextCash, never mind $300.
At first, it may look like your account balance is increasing, but sadly this is all fake, and at the end of it you will NOT receive any money, as you will learn further into this review.
Here is a breakdown of why I believe NextCash is another online scam and why I encourage you to stay far away!
#1 The Owners Make Money, NOT You
Ultimately, the main purpose of this site is to help the owners make money...not you.
The owners are the only people that benefit from sites like NextCash and earn through a method known as Cost Per Action (CPA) marketing.
This means that the owners of NextCash.co get as many people as they can to complete their "offers" and "tasks", and they end up making the profits, without returning anything to you, the members.
By simply completing these "tasks" that require you to enter your email or any details, the owners earn a commission, and then go on to pass your data to 3rd party companies without your permission.
All part of a data harvesting scam.
#2 Fake Start Date
This NextCash site claims that they launched in 2008, but it didn't take me very long to find out that this is a complete lie.
I was able to do a domain registration search, and quickly discovered that the site has only been registered since February 2020. Which, according to the time of writing this review, makes the site less than 2 months old!
Why would the "owners" need to lie about their start date if it was a legitimate opportunity?!
Another RED FLAG in my books!
#3 The Numbers Don't Add Up
As mentioned above, it's the owners that earn money.
They generally would only receive $1-$3 for every "task" you complete, such as filling out a survey, downloading an app etc...so how can they offer to pay you $30+ to complete these "tasks"?
Not just that, but the $25 sign up bonus is a complete lie.
Apparently, they have over 80,000+ users, so if they paid everyone $25, they'd pay out millions just for people to sign up.
Now, think about it, where can they possibly get the money to pay every user $25, just to sign up?!
And considering the site is currently less than 2 months old, its a very short time to gain over 80,000 members and pay out "millions".
Additionally, paying users $15 just to invite friends is absurd, and no way possible to offer for such a small task.
Ultimately, as you'll continue to discover in this review, the facts and numbers just don't add up, and the income they claim is completely fake, just to get you and others to sign up.
#4 No Social Media Following
As I've mentioned previously, NextCash claims to be the "#1 Influencer Network".
This means that they should have some form of social media presence, including followers and social media accounts right?!.
However, when you try to click on their social media accounts, there are none!
Each social icon at the top of the home page takes you back to the home page rather than any social media accounts.
If they really are the "#1 Influencers", surely they should have social media accounts, and tons of followers to prove it.
#5 Fake Payment Proofs
Not only does NextCash not have a social media following, and quotes a fake start date, but they've also posted fake payment proofs.
Some of the payment proofs are dated even before the site was created.
For example, these "payment proofs" above are dated August 2019, however, as mentioned before, the NextCash site was only created in February 2020.
So, how could the user have been paid months before the site was even created?!
Furthermore, the payment proofs have "LiteBucks LLC" mentioned in the screenshots.
If you were to do a Google search for "LiteBucks", you'll discover very quickly, that it is another one of these "influencer networks" sites, that has been exposed as a scam by many online marketers.
Again, just even more proof to show that this website is fake.
#6 Identical To Other Scams
NextCash is also identical/very similar to other online data harvesting scams I've reviewed, such as:
And the list is continuously growing...
If you've come across any of these already, then you should definitely stay away from NextCash, cause you will waste your time with this too, and not get any money.
My Final Thoughts - Is NextCash A Scam?
Thank you for making it to the end of this NextCash review.
As you can see, all the evidence speaks for itself!
I've done enough research on "make money online" opportunities, and used enough "Get Paid To" (GPT) sites, to know when something is the real deal or not...
...and hopefully I've shown enough evidence to prove that NextCash.co is 100% NOT the real deal.
Therefore, in my opinion, and based on my research, NextCash is a complete scam!
Final Verdict: NOT Recommended!
NextCash Alternatives
Instead, why not check out these legitimate NextCash alternatives:
If You Liked This Post, You Might Want To Check These Out:
---
Let's discuss:
What did you think of this NextCash review?
What are your thoughts on NextCash.co?
Have you joined this site? Have you tried to make payment but haven't received it yet?
I'd love to hear your thoughts, comments and experiences in the comments section below.