44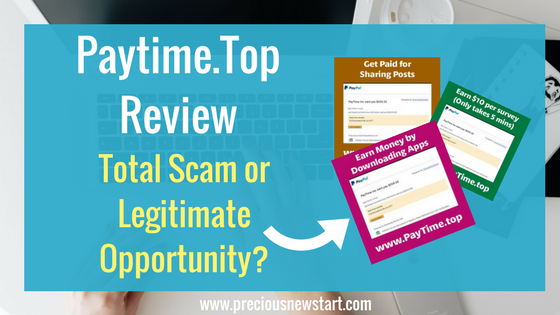 Paytime.Top Review – Total Scam or Legit Opportunity?
This post may contain affiliate links. If you choose to purchase something through one of my links, I will earn a small commission at no extra cost to you.
UPDATE JANUARY 2018: Paytime.top is a SCAM! Please do not join cause you will waste your time trying to earn with this website. Just read the comments below and you'll see many users who have NOT been paid. I highly encourage you to stay away from them!
==> Tired of scams? Check out 12 Legitimate Ways To Make Money Online
OR
==> Skip to my #1 Recommended Way to Make Money Online.
---
Over the last few weeks, I've noticed a new "make money online" program, Paytime.top, being promoted all over Facebook, so I decided to check out the program for myself and share my own Paytime.top review.
My goal was to find out whether this new site was a total scam or a genuine online opportunity.
I couldn't find many Paytime.top reviews online, so I wanted to share my own experience, to help others who may be interested in joining.
What is Paytime
.top?
---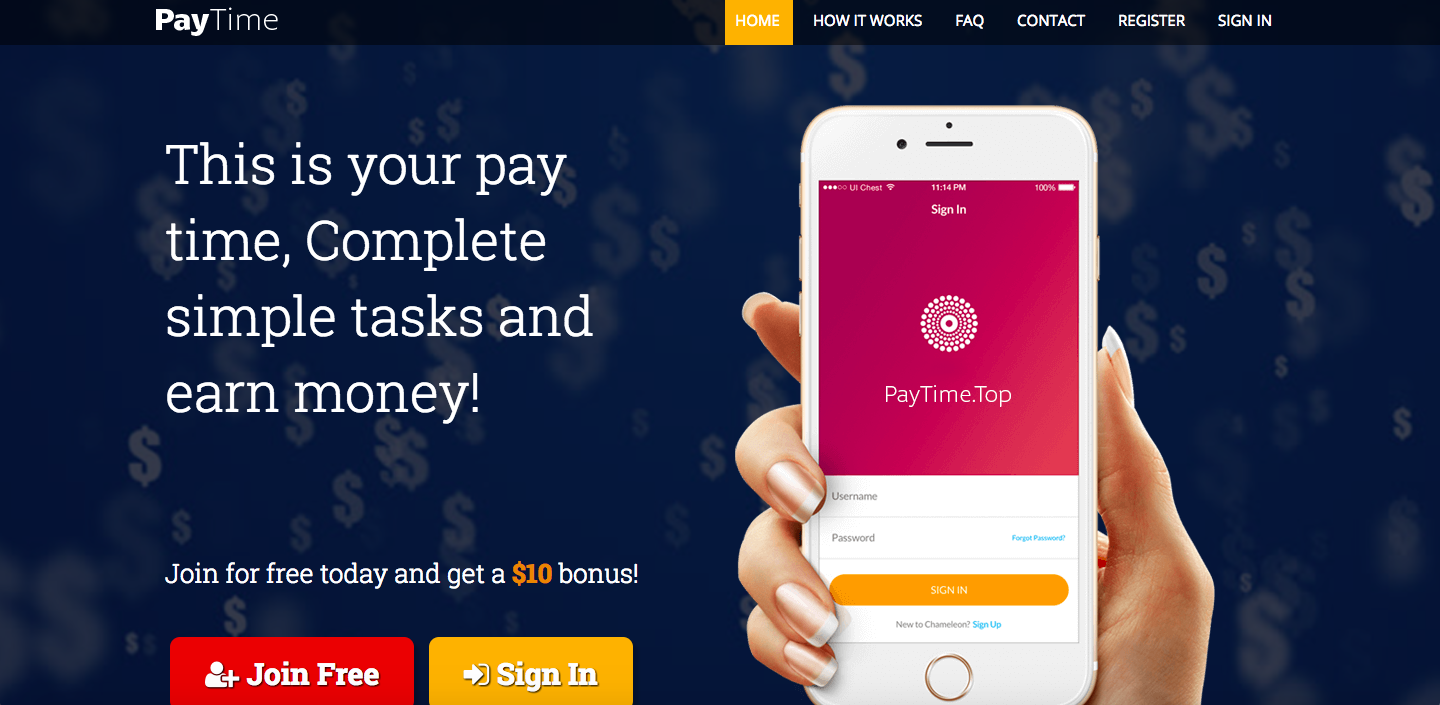 Paytime.top is a website that lets you earn money online by completing small tasks. You can earn anything from $0.50 to $100 for these tasks. It's completely free to join, and your account is instantly credited with $10 for signing up and $0.50 for logging into your account.
However, earning money with Paytime.top is not as easy as it seems.
Tired Of Scams?! Discover My #1 Way To Make Money Online
How Can You Make Money Online With Paytime.top?
---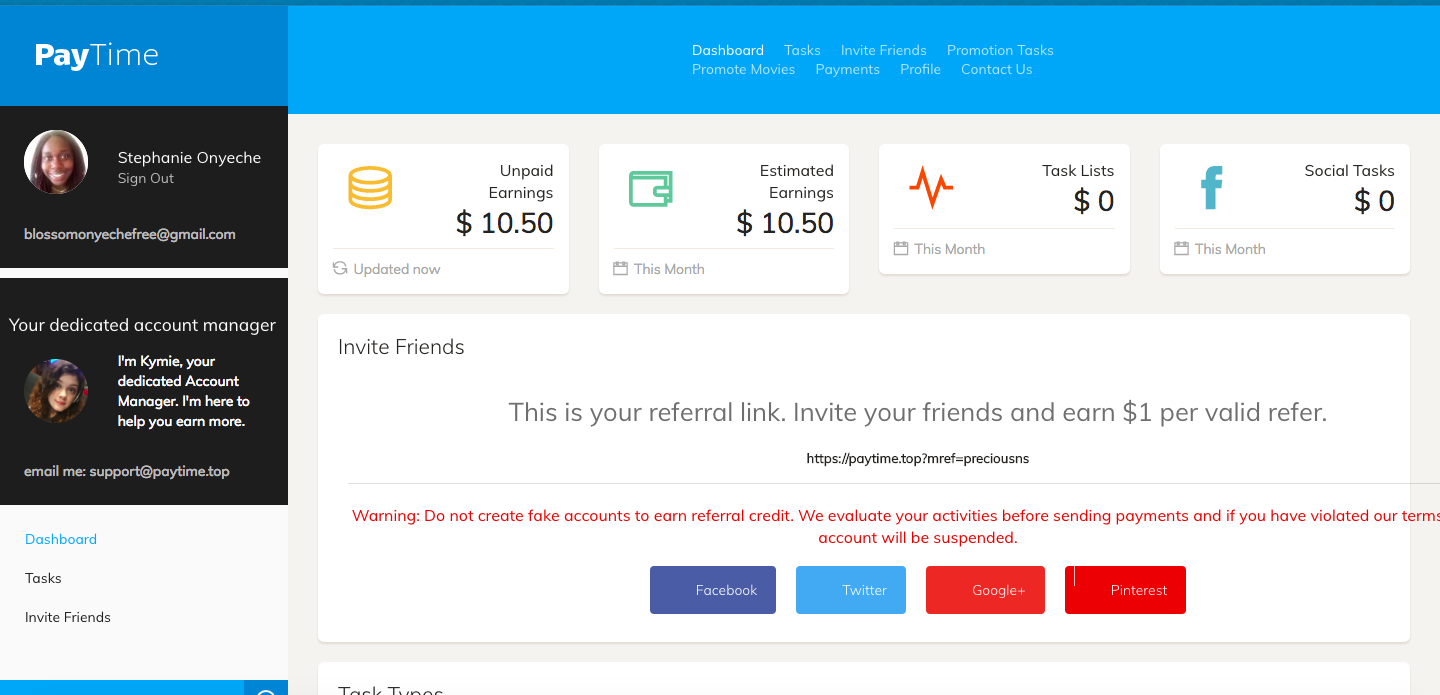 There are a few ways to earn with this website. You can:
1 – Download apps, Complete Surveys and Small Tasks/Offers–  Earn $2-$100
2 – Refer Friends – Earn $1 per valid referral
All you need to do here is refer other members and get them to sign up, using your referral link. The site is available for any country in the world, but referral earnings can differ depending on which country your referral is from.
Most countries will give you $1 referral earnings, however, there are some countries that only award you with $0.50 per referral.
3 – Promote Banners on Facebook Groups – Earn $0.5 per valid post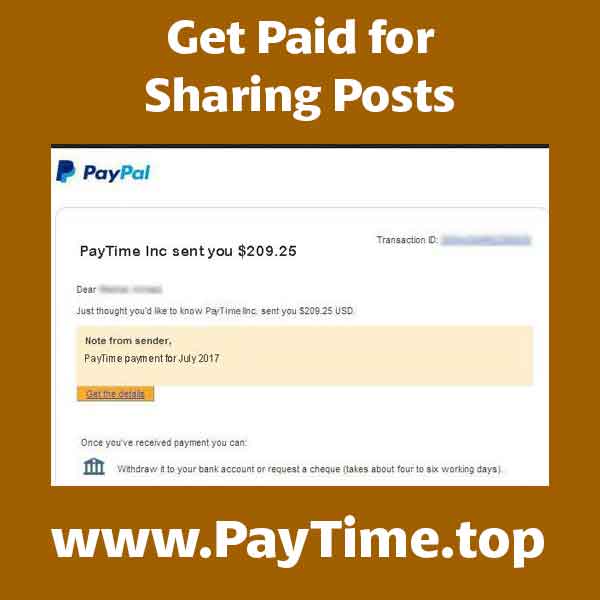 With this method, all you need to do is promote the Paytime banners on Facebook. They have a quick guide which shares with you how to join Facebook groups and promote the banners on there.
I noticed that all of the banners have the same "payment proof" image on them, which explains why this was the only "payment proof" I've seen online for this website.
Once you've shared your post, you then need to take a screenshot and upload it to Paytime.top in order to receive payment.
4 – Promote Movies and TV Shows – Earn $15 per sign up

To earn with this method, you need to promote your favourite movies/tv shows. Within the Paytime platform you can type in the name of the movie/tv show you want to promote, then Paytime.top will provide you with a link to the movie to share. You can promote on social media and forums etc.
You earn $15 when someone signs up for the movie service through your link, but they can't watch the movie/show unless they sign up.
However, I noticed that whoever signs up through your link will at some point need to enter in card details to access the movie/tv show. I personally wouldn't do this myself, and I'm sure a lot of people will be sceptical about entering card information when the service is supposed to be free. As a result, it may be difficult to earn with this method.
Paytime.top Payment Proof
---
You're expected to receive payment on the 30th of each month, and the minimum payment threshold is dependant on the withdrawal method you use.
Minimum Thresholds:
Paypal – $50
Payoneer – $100
Skrill – $100
Wire Transfer – $500

At the time of writing this Paytime.top review, I have not seen a single payment proof from users of this program. There has been one circulating on Facebook by different people, but as mentioned before, it's the "payment proof" shown in the promotional banners.
Forget This Scam! Discover My #1 Way To Make Money Online
Pros
---
Cons
---
High payment threshold – The minimum threshold is $50 – $500 depending on which withdrawal method you use.
No evidence of payment proof – I haven't come across any member that has actually successfully cashed out with Paytime.top. It's still early days for the site, so I'll be keeping an eye out to see if things change over the next few weeks/months. (Update: This site does NOT pay!)
Lack of customer support – A lot of users have reported lack of customer support. And there are no social media accounts either, to get additional support from. In addition, it is not clear at all who the owner of this site is.
Lots of negative user reviews – If you take a look at user reviews on forum sites such as BeerMoneyForum.com, you'll see straight away that Paytime.top is not paying its users. With this many negative reviews, it's clear this site is not a legitimate opportunity for making money online.
Very similar to 1DollarTask "scam" site – 1DollarTask is a website which claims to help you earn money online. But this website and Paytime.top are very similar. They both offer:

$10 sign-up bonus
$0.50 per social media post
$1 per referral
The same login design/layout
Even the favicon logo is the same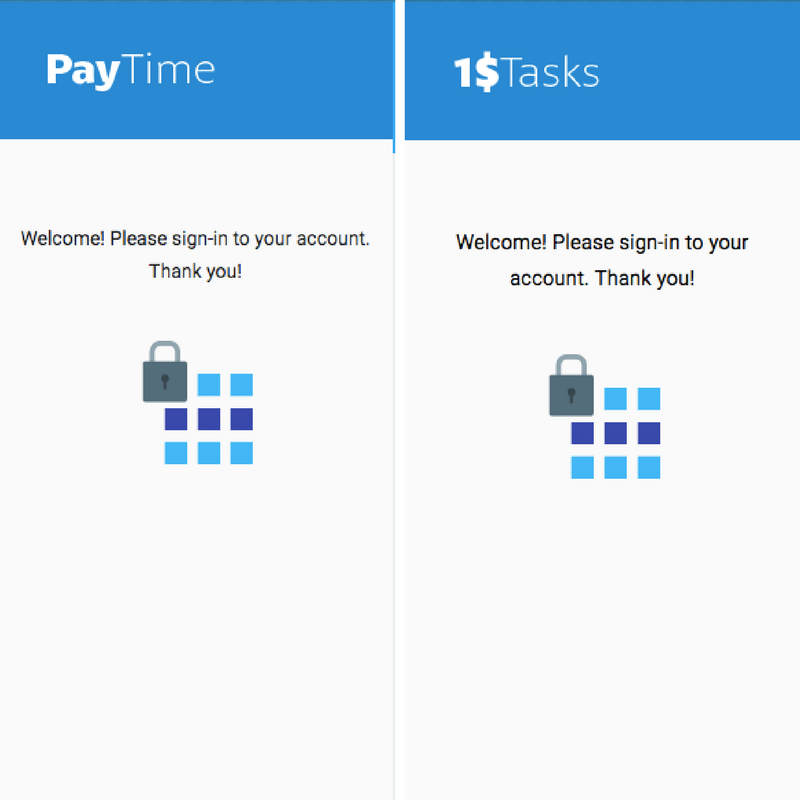 Although this could just be coincidence, I just found it really interesting how similar both programs were, and this flagged up alarms bells for me.
Is Paytime.top a Scam?
---
Based on the information I have gathered about this site, such as multiple negative user reviews, no support from the website owner(s), comparisons to other "scam" sites and no real proof of payment available, I believe this site has all the signs of a scam.
Therefore, I do not trust the website or recommend it to anyone looking for legitimate ways to make money online from home.
Final Thoughts
---
Hopefully I've been able to give you a well balanced Paytime.top review. Based on what I've seen so far, I do not feel this program will pay its users. I believe this site will disappoint a lot of people who have spent their time earning money through the program.
So, do I recommend Paytime.top? NO! Personally, I don't feel it is the best way to make money online. However, it is still new, so if there are any changes then I will update this review according. (Update: It is clear now that this site does NOT pay.)
Instead, why not try out some of my favourite/top sites to make money online completing surveys, offers and tasks:
Pin This For Later
---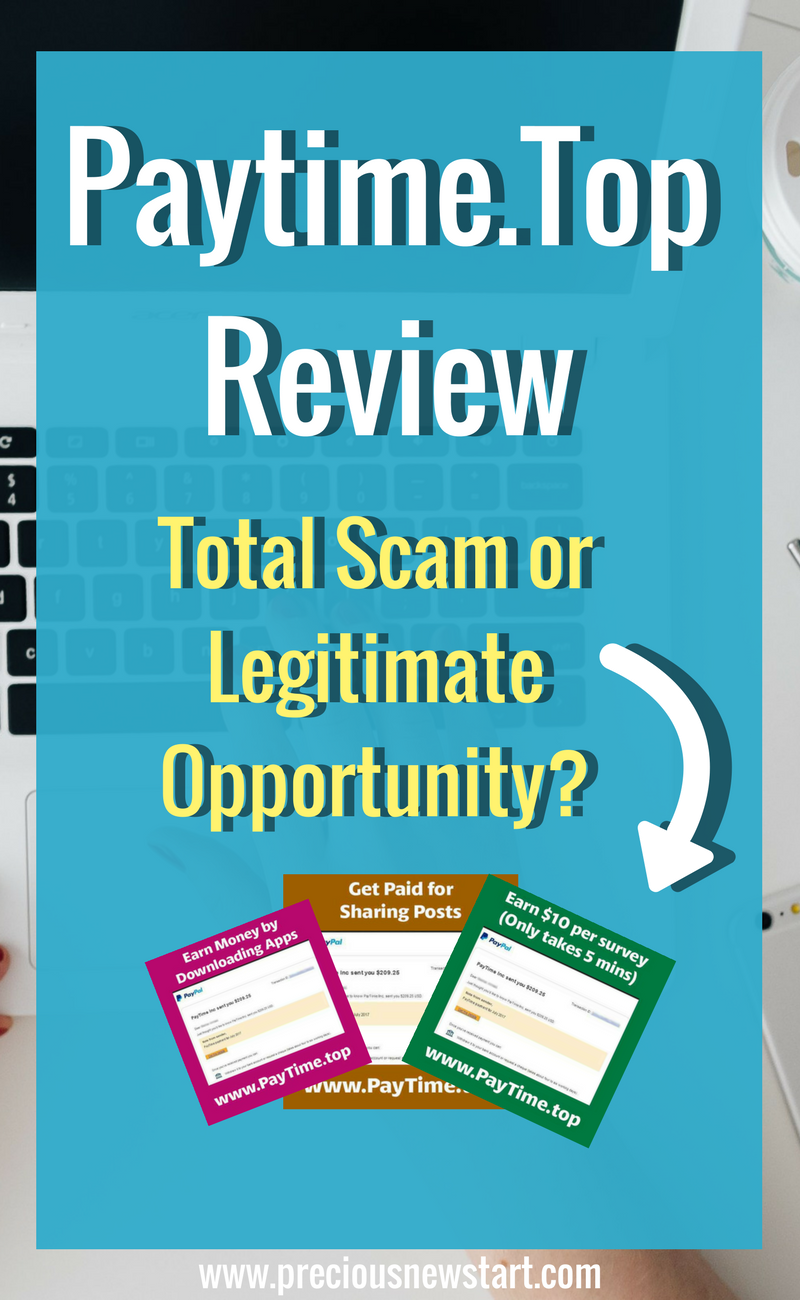 ---
What are your thoughts on Paytime.top
Did you find my Paytime.top review helpful?
If you're a user of Paytime.top, then I've love to hear how the site is working for you and if you've made any money with it.
Please share your thoughts, comments and/or questions in the section below.