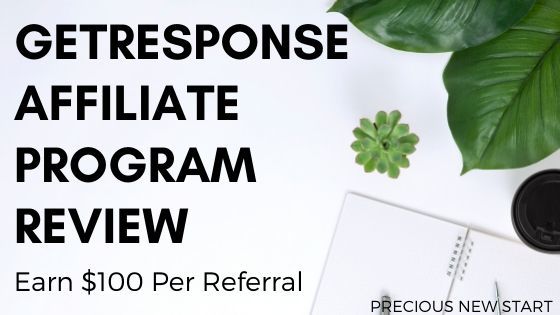 GetResponse Affiliate Program Review (2020) – Earn $100 Per Sale!
This post may contain affiliate links. If you choose to purchase something through one of my links, I will earn a small commission at no extra cost to you.
Are you here looking for an honest GetResponse Affiliate Program Review?
Want to know more about the GetResponse Affiliate Program?
I'm sure you've heard about GetResponse as being a top platform for Email Marketing Services, but what about using GetResponse to earn money online as an affiliate?
The GetResponse affiliate program let's you earn a generous commission while promoting it's Email Marketing services to new potential customers.
And, in this review, I'll be sharing my thoughts and personal experiences of the GetResponse Affiliate Program as well as the main features about the platform that I believe make it a great option for making money online as an affiliate.
So, keep on reading to find out more...
More...
What is GetResponse?
GetResponse is an email marketing service that gives online marketers a platform to promote their business via email messages.
With access to a range of email marketing tools, online marketers and business owners are provided with the basics they need to launch a comprehensive and effective email marketing campaign.
This is why GetResponse is a great service to promote as an affiliate, as it is trusted by many bloggers, online marketers, and small business owner, and now you also have the opportunity to earn for new customers you introduce to this list building platform.
How Much Can You Earn As A GetResponse Affiliate?
The GetResponse Affiliate Program offers 2 affiliate commission structures:
Affiliate Bounty Program: Earn $100 one time commission for every account referred
Affiliate Recurring Program: Earn 33% recurring monthly commissions long term.
How To Join The GetResponse Affiliate Program?
Step 2: Select which affiliate commission structure you would like to promote ($100 per sale or 33% recurring)
Step 3: Complete the form, including your website details and how you wish to promote GetResponse
Step 4: Confirm you are not a "robot"
Step 5: Wait for GetResponse verification and approval
Step 6: Log in to your GetResponse Affiliate account.
GetResponse Affiliate Program [Video Walkthrough]
How To Promote GetResponse As An Affiliate?
As a GetResponse Affiliate, you have multiple ways to promote GetResponse, and you can find a list of promotional methods in their Affiliate Action Plan, as well as utilising their promotional tools.
Here are a few examples of my recommended ways to promote GetResponse:
1) Self-Hosted Blog
My top recommended method is to promote GetResponse on a self-hosted blog.
With a blog, you have control over the content you promote, and you can easily include your affiliate links or banners on your blog.
Here are some topic ideas for your self-hosted blog/website:
1) GetResponse Review
By writing a review post, you get to share with your readers exactly all they need to know about GetResponse, and why you think they should use GetResponse for their email marketing services.
You'll find that many GetResponse affiliates are earning through this method.
2) Banner and Text Ads
Placing banner and text ads on your blog/website is another way to promote GetResponse with just a few images and links.
3) Create A "How To" Tutorial.
For example:
How to set up GetResponse account
How to get started with Email Marketing
How To set up an email marketing campaign with GetResponse.
etc
4) Create A Resource Page
Furthermore, you can promote GetResponse on your blog by creating a resource page.
This is a page dedicated to all the tools and resources you use for your blog and/or your online business.
See an example of this below:
2) Record a GetResponse video review
If you're not a fan of writing, then you could create a Youtube channel and promote GetResponse with videos.
Using a tool such as Screencast-o-matic will allow you to record your computer screen to create simple videos online.
Perfect if you don't want to have your face on camera.
So you can follow the different topics above, but create a video instead of a blog article.
3) Create A "GetResponse Resource Centre"
This method is quite unique because I don't see many people offering this form of promotion.
Leslie Samuel from BecomeABlogger.com created a GetResponse Series which shows users how to use GetResponse and other important tips about using GetResponse effectively.
If you have a website, you can easy create a similar styled Resource Centre.
And, if you have a Youtube Channel, you can create various videos addressing different GetResponse related topics, and create a "GetResponse Resource Playlist".
4) Email your subscribers
Furthermore, you can send out emails to your subscribers relating to GetResponse.
Then, after some value-packed emails, you can include your GetResponse affiliate link to encourage others to sign-up.
One way to achieve this successfully is to create an email series related to email marketing, or online business tools etc, and include some form of step-by-step guide/list, but in a 5, 7 or 10 day email sequence.
5) Miscellaneous
How Does The GetResponse Affiliate Program Pay?
The GetResponse Affiliate Program has a minimum withdrawal of $50.
This threshold may be faster for you to achieve with the $100 affiliate bounty commission plan vs the 33% monthly commission plan.
Payments are made around the 20th of each month (depending on any bank holidays & weekends etc) via:
Cheque (Check)
EuroTransfer (in your selected currency)
PayPal in USD
Before you can receive any payment, you need to make sure you're account is fully set up, which includes:
Personal details
Tax details
Payout details
Once this information has been updated, you'll receive a notification that your tax form is "pending approval". You do not need to do anything else after this, except wait for your account to be approved.
GetResponse affiliate works on a "last affiliate owns the sale" rule. Therefore, if you were the last affiliate link that the customer clicked on, then you would be the one to earn from that sale.
Plus, there is a 120-day cookie on affiliate links.
Therefore, any one who clicks on your link last and signs up within 120 days earns you a commission.
What You Need To Get Started With The GetResponse Affiliate Program
GetResponse Affiliate Tools & Support
GetResponse offers a range of tools and support to help you promote it's services successfully:
Banners ads - Images with you can put on your website which is directly linked to the GR homepage
Email ads - Ready-to-use email messages which you can send to your email subscribers
Text ads - Can be placed on your blog or website
Infographics - Informative images which you can put on your blog/website, to inform the reader about GetResponse and Email Marketing
Video - Embedded with your affiliate link, which you can also place on your website
Signature - For use in emails and/or forums
Logo - Perfect for those creating their own affiliate material

Deep linking so you can choose any page on GetResponse's site to create an affiliate link
A Dedicated Affiliate action plan to kickstart your promotions with GetResponse
Final Thoughts - Is The GetResponse Affiliate Program Worth It?
Thank you for reaching the end of my GetResponse Affiliate Program review.
I hope I've given you a bit more insight into this popular email marketing affiliate program, and how you can use this platform to earn affiliate commissions online.
Below is a screenshot of some of my earnings with GetResponse:
Therefore, based on my experience, I definitely the GetResponse Affiliate Program recommend to anyone looking for a good email marketing affiliate program to promote.
Plus, you'll find that the platform offers a user friendly affiliate dashboard with various tools and tips to help you promote GetResponse successfully.
For more training on building an Affiliate Marketing business, be sure to visit my recommended training platform (perfect for beginners).
If You Liked This Post, You Might Want To Check These Out:
Want To Discover How I Use Affiliate Marketing To Earn $300+ In A Day?!
Want To Discover How I Use Affiliate Marketing To
Earn $100+
In A Day?!
---
Let's discuss:
What did you think of my GetResponse Affiliate Program review?
What email marketing services do you promote?
I'd love to hear your thoughts, comments and experiences in the comments section below.
---
Pin This For Later