About Me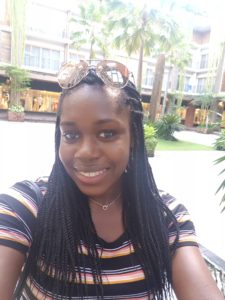 Hi, and welcome to Precious New Start! Thank you for dropping by.
My name is Stephanie and I enjoy learning different ways to make money online and working on building an online business from home.
I'm 20-something and currently self-employed and living in London. I have a Masters degree in Pharmacy, and have now successfully registered as a Pharmacist!
When I'm not working I like to spend my time studying, making money online, and blogging.
I'm a super huge Michael and Janet Jackson, and really enjoy listening to music. I regularly play guitar hero and video games and watch countless episodes of Frasier on DVD.
Ok, enough about me…what about Precious New Start?
About Precious New Start
---
Precious New Start is a blog dedicated to helping aspiring bloggers and entrepreneurs like you, who want to find legitimate ways to make money online and build an online business through Affiliate Marketing
And I do this with honest reviews, in-depth research and a helpful dose of actionable tips!
So, whether you're looking for a side hustle, or enough to earn a full-time income, this site aims to provide you with the best tools, resources, training, and opportunities to help you achieve your financial goals.
Why I Started Precious New Start
---
To be honest, when I first started online, I didn't think it was possible to make any money online, especially when there are lots of scams about.
My first ever profit online was an item I sold on eBay, back in 2014. I listed a product I had bought from America but wasn't able to return, and it had sold within a few hours. I'd made about £24.
This sale opened up my eyes to what was possible online, and as I was unemployed at the time, I knew from that moment I needed to find a way to make money online, while I still looked for work.
In my search, I came across a Dropshipping "company", but unfortunately, it turned out to be a complete scam, and in the process, I had lost £400+. (Thankfully, I got the money back…but it took 2 months!)
Despite this huge setback, I was still determined to find ways to make money online, and thankfully I have been very successful in my search.
And that's why I created this site!
I want to show you the real ways you can make money online.
I've still come across a few scams in my time online, but I have wised up a lot since I started in 2014, and I'm able to separate the legit programs, from the not so legit.
Most of what I share will be legit websites/products that I've used myself, however, there will also be some that I haven't personally used myself, but know others that have been successful with. Thereby giving you multiple options to help you make money online. 
The reviews will be my own opinions, and I will share the pros and cons and my likes and dislikes.
Goals For Precious New Start
---
My ultimate goal for Precious New Start is to provide you with the tools and resources to make a success online.
Nowadays, it's so important to have access to different income streams. So, by following this site, I'm sure you'll find a number of the right income streams that you can use to make money online.
Note: I don't claim to be a master or a millionaire from using these tools, but I believe I am proof that making money online can happen, and you could make a good living from it too. All you need is the determination, and the willingness to put in the hard work to really succeed.
What You Should Do Next
---
Now that you've learnt more about me and what Precious New Start is all about, be sure to subscribe to stay up to date with all the latest content from the blog!
Plus, here are a few places you can start with to help you kickstart your online income success:
Want To Start A Blog On A Budget?
This in-depth guide will show you how you can get started with a self-hosted blog for less than $50
Want to Start Affiliate Marketing, but Have Little To No Money?
Here's how you can kickstart your Affiliate Marketing business, for free!
Looking To Make Some Extra Cash Online
Here are 12 legitimate ways to make money online to get you started
If you live in the UK, then here are some great sites you can make money from
If you have any further questions, you can reach out to me on any of these platforms:
Wealthy Affiliate –> (If you'd like to join me within Wealthy Affiliate for online business training, then you can register here to create your free starter membership.)
Email: admin@preciousnewstart.com