20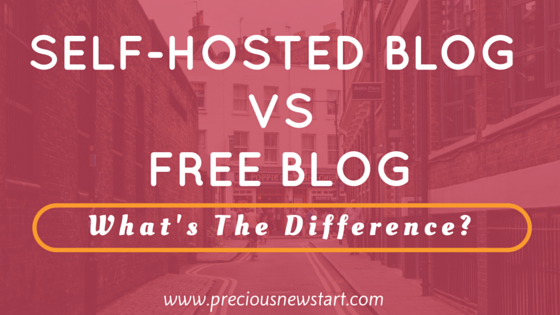 Self-Hosted Blog vs Free Blog: What's The Difference?
This post may contain affiliate links. If you choose to purchase something through one of my links, I will earn a small commission at no extra cost to you.
Are you thinking of starting a blog?
Not sure whether you should go for a free or paid (self-hosted) blog?
You may even be asking yourself, what's the point of creating a self- hosted blog when there are many free options out there to choose from?
Well, there are many factors that will affect which platform you decide to choose, and if you'd like to find out what those are, I encourage you to keep on reading as I share with you the details of a Self-Hosted blog vs Free blog, and why one platform may be more suitable for you than the other.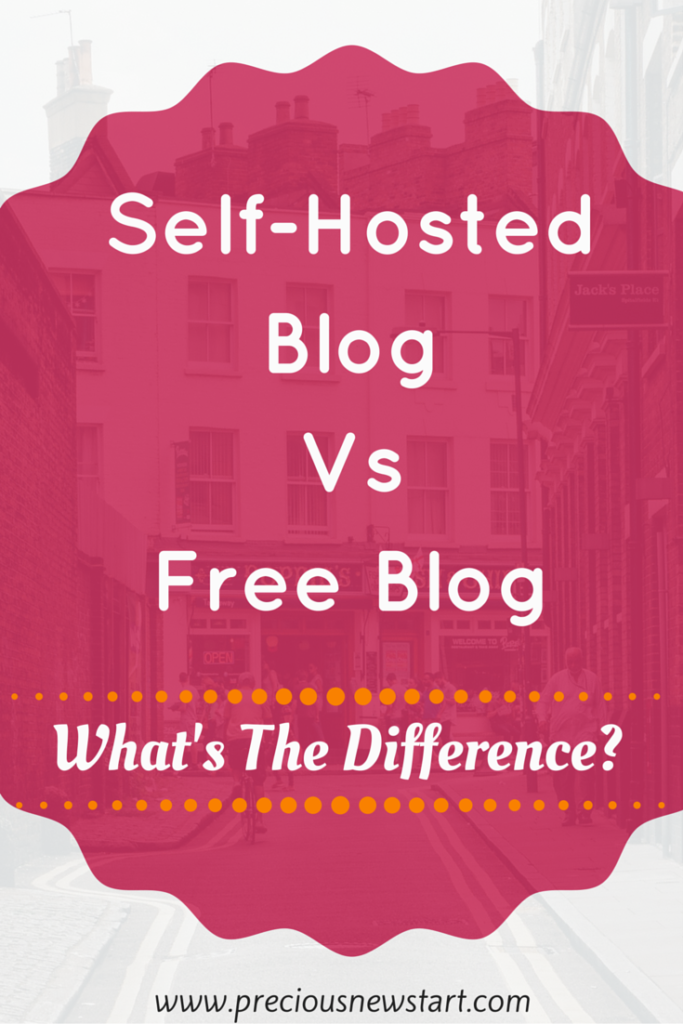 Free Blog/Website:
---
As the name suggests, a free blogging platform it is one that is completely free to sign up for and use. It's because of this that they are very popular compared to self-hosted blogs.
Advantages:
It's completely Free!
Anybody can create a blog, and it's very easy to set up and maintain.
Disadvantages:
Unless you pay for your own domain, you'll have a subdomain such as Blogger or WordPress attached to your blog. e.g. www.preciousnewstart.wordpress.com. If you're considering your blog for business purposes this doesn't come across as very professional
You have less control over your blog. Therefore, you won't be able to customise your blog with things such as plugins. Some platforms may offer more than others, but overall it can be a cause of frustration, which I have experienced myself in the past.
You usually have limited advertising options, making it harder for you to monetise your blog. If you want to blog/website for business purposes then you'll want to be able to monetise your site.
Overall, with a free blogging platform, you truly don't own your blog at all, which some will see as the biggest disadvantage.
Is A Free Blog/Website For You?
---
A free platform is suitable for those of you who are new and just exploring the blogging scene.
If you're mainly just blogging for personal reasons, then a free platform would be a great choice for you.
But a free platform may not be suitable for any of you who are serious about starting your own online business. There are many limitations to having a free blog which will hinder the growth of your business online.
A List of Free Blog/Website Platforms:
---
If you'd like to start off with a free website, then I'd encourage you to use the SiteRubix website builder.
You can create a blog or website in 5 mins, it uses the WordPress framework, and you don't have to have any unwanted advertising on your site.
Try it out now by entering a name for your new site in the bar below:
Along with your free website you get to sign up for a free membership with my #1 recommended training program (review here) to help you start your own online business.
Self-Hosted Blog/Website:
---
Self-hosting is a term used for when you have a website that is completely under your control. Therefore, a Self-hosted blogging platform is one in which you have full control of the blog, and can manage all aspects of the site.
Most people will use a third-party to host their blog (see list below for examples).
Advantages:
You get to have full control over your blog. Therefore, you can manage its layout, search engine optimisation (SEO), monetising methods, as well as having the freedom to edit your page. Existing templates are available, but you still have the opportunity to customise in a way that reflects your personal style, or you can upload premium themes from sites such as ThemeForest and ElegantThemes.
You can make any necessary changes to codes, themes, and your overall site by having complete access to backend programmes and files
You can pay less than $5 a month to host your website (see list below).
Disadvantages:
Requires an initial investment – however, it can still be affordable
New bloggers may find it all intimidating
Requires a certain amount of technical knowledge to set up
Is A Self-Hosted Blog/Website For You?
---
A self-hosted blogging platform is mostly suitable for those who want to use blogging to build their business, and for individuals who would like to improve their professional appearance while also having access to many blogging functions.
Generally a self-hosted platform may not be suited for anyone that's just looking to have a blog for personal use or as a way to get their feet wet in the online world.
The self-hosted method can seem a bit daunting at first, so it may be more suitable to start with a free method, then upgrade to self-hosted when you're more comfortable.
Either way, both options are available to choose from.
Popular Hosting Providers:
---
Below is a list of different hosting providers, along with the monthly costs.
If you're really serious about starting an online business, then I'd highly encourage you to invest in a self-hosted site.
This will give you the opportunity to really customise your site the way you want. As you can see from the hosting providers above, it's not too costly to get started. I even created a post which shares with you How To Start A Blog On A Budget (Step-By-Step) – For Less Than $50!
If you're looking for some training on how to build a business, then I'd definitely recommend you check out my #1 training program (review here). You can get started with a free membership, but if you're serious about your business, then I think a premium membership is worth going for. It costs less than $50/month, and you can host your website with them at no extra cost. Furthermore, you get high-quality training to help you build your website, and grow your business.
FURTHER READING: 15 (Very) FAQs On Starting A Self-Hosted Blog
Final Words
---
Ultimately, there is no overall right/better option, and as you can see there are many things to consider when you decide which blogging platform to choose.
Hopefully, I have been able to shed some light on the differences between having a free blog vs a self-hosted blog, and I hope these points will help you make an informed decision as to which blogging platform is better suited for you.
Self-Hosted blog vs Free Blog: Which do you prefer?
Feel free to share your comments in the section below.
If you enjoyed this post, don't forget to share it with all your social networks.
[alert-note]
This post contains affiliate links. For more information please read the Affiliate Disclosure
[/alert-note]