2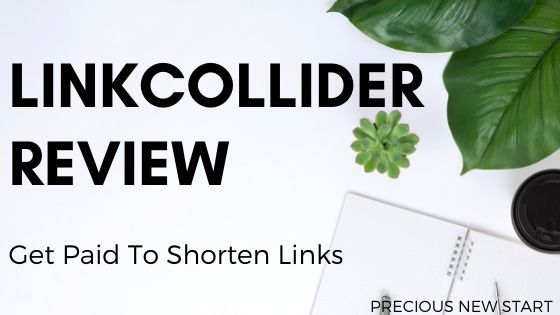 LinkCollider Review 2020 – How To Get Paid To Shorten Links? [+ Affiliate Program]
This post may contain affiliate links. If you choose to purchase something through one of my links, I will earn a small commission at no extra cost to you.
Welcome to my LinkCollider review.
If you've made it to this page, chances are you want to know more about LinksCollider.
Maybe you know it as an SEO, backlink and social media grwoth tool, but was interested in how you can use it to make money online through shortening links.
Whichever the case may be, I want to say "well done" for doing your research and making it to this page to find out the truth.
So, let's not waste any more time and get right into this review...
LinkCollider Review [At A Glance]
Product Name: LinkCollider
Website: www.LinkCollider.com
Price: Free membership; $19/month Premium membership (or Annual memberships available)
Rating: 6 out of 10
Type of Opportunity: Traffic & SEO + URL Shortener
Verdict? LEGIT ​
More...
What is LinkCollider?
LinkCollider is a collection of free SEO tools that aim to help you improve SEO and increase website traffic, as well as building your social following through likes, tweets, subscribers and followers.
There are currently 350,000+ members from over 200 countries.
How To Join LinkCollider?
LinkCollider Explainer [Video]
How Does LinkCollider Work?
There are 2 main features of LinkCollider that outline how it works. Click on any of the links below to find out more:
Get Followers & Traffic to your Social Media & via Backlinks
Make Money with URL shortener and affiliate program
How To Use LinkCollider To Get Followers & Traffic?
The first feature of LinkCollider is to allow you to generate followers to your social media accounts, and to also generate traffic to your sites via the use of backlinks.
It works by you visiting other members sites and following their social media, and earning tokens.
Those tokens can then be used on your own websites and social media accounts to give incentives for others to view/follow your websites.
This video below give you an overview of how it all works:
How To Make Money Online With LinkCollider?
Making money online with Link Collider is the part that I really wanted to focus on.
Although it has a lot of benefits in terms of gaining traffic and followers, there are mixed reviews regarding the authenticity of followers that users receive.
Plus, as my blog is primarily about making money online and achieving financial freedom, I will focus more on this aspect of Link Collider
And, I feel LinkCollider has some good ways for users to earn.
1) URL Shortener
The first way you can make money online with LinkCollider, is by using the website's URL shortener.
A URL shortener is a tool that turns long website links like this:
https://example.com/product?ref=01652&type=shirt
...in to short links, like this:
https://lc-s.co/O33bq
Some URL shorteners don't pay you to do this, but there are a number of URL shorteners, such as LinkCollider, that do actually pay you to share shortened links.
The way this works is this:
Step 1: Shorten your link
Step 2: Share your shortened link on social media, youtube, blog etc
Step 3: Users click on your shorten link
Step 4: The user sees a short 10 sec ad
Step 5: After 10 secs, the user is redirected to the original link
Here are some answers to FAQs about Link Collider URL Shortener:
1) How much do you get paid?
For every 500 unique clicks you receive, you get paid $1
2) What's the minimum payout threshold?
The minimum is $30
3) What payout methods are available?
Payment are made out via PayPal only
4) When are payments made?
Payments are paid out on the 30th of each month automatically when the $30 threshold is met
2) Affiliate Program
As well as being able to earn from the URL shortener, user can earn through the Link Collider affiliate program.
The above screenshot shows how much you could earn for each member that upgrades their LinkCollider account.
Here are some answers to FAQs about the Link Collider Affiliate Program:
1) How do I join the affiliate program?
You can join directly through the LinkCollider website, or you can sign up via the ShareASale affiliate network.
2) How much can I earn per referral?
Affiliates can earn 20% commissions, up to $55.99 per referral, depending on the membership your referral upgrades to.
3) Do I earn a recurring commission?
No, you only earn when the referral buy a membership plan for the first time.
4) How and when are payments sent?
Payments are sent via PayPal within 15 days of the purchase.
How Much Does LinkCollider Cost?
LinkCollider is free to join, and you can remain a free member forever. But there are some limitations to being a free member.
So, if you would like to upgrade, here is a breakdown of the LinkCollider membership costs:
What's Good About LinkCollider?
LinkCollider Complaints...
Despite LinkCollider being a legitimate traffic generation platform and a legitimate way to make some money online, there are a few complaints that I and other users have, which I'd like to touch on:
Final Thoughts - Is LinkCollider Worth It?
Thank you for taking the time to read through this LinkCollider review.
I hope it's given you some further insight into this traffic generation and earning platform.
So, is LinkCollider worth it?
Personally, I think LinkCollider is worth it for earning money online via the URL shortener, and the affiliate program.
But you do need to know how to get visitors to make any money from these methods.
Luckily, that's why we have social media, forums, Youtube and blogs, so you can use those platforms to create content and promote your links.
Furthermore, I feel that you should focus on growing an organic audience for these platform. I encourage you to focus on building an audience and foundation that is sustainable, so you can look back and be proud of it.
You can click here to find out about my most recommended sustainable business model.
If You Liked This Post, You Might Want To Check These Out:
Want To Discover The Method I Use To
Earn $300+ In A Day?!
---
Let's discuss:
What did you think of this LinkCollider review?
What are your thoughts LinkCollider as a way to make money online?
Are you already using LinkCollider in your business? What have your results been?
I'd love to hear your thoughts, comments and experiences in the comments section below.
LinkCollider
FREE + Upsells
Pros
FREE Membership
No pressure to upgrade your account
2 ways to earn
Pays via PayPal
Can grow your social media following faster
Cons
May not always receive followers/subs and views
Not available to earn worldwide
Only earn affiliate commissions on the first sale
Not growing an authentic following