6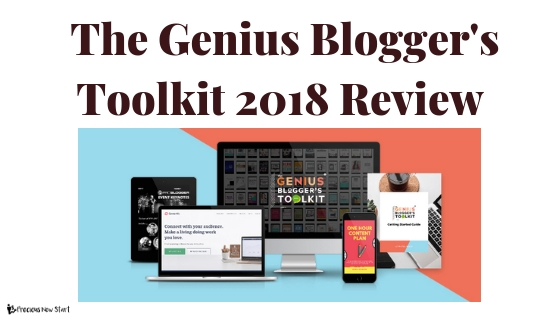 The Genius Blogger's ToolKit 2018 – Is It Really Worth The Hype?!
This post may contain affiliate links. If you choose to purchase something through one of my links, I will earn a small commission at no extra cost to you.
Welcome fellow bloggers to my review of The Genius Blogger's Toolkit.
We've reached that time of year and again, and if you've landed on this page, chances are you've seen TONs of promo around The Genius Blogger's Toolkit 2018.
If that's the case, then well done for taking the time to check out this review, and discover for yourself whether The Genius Blogger's Toolkit is really worth all the hype.
In this review I want to be open and honest about my personal experiences, and help you uncover the truth about this "ultimate" bundle, and whether it's the best blogging resource for you.
So, let's not waste any more time, here's what you can expect from this review...
More...
What Is The Genius Blogger's Toolkit?
The Genius Blogger's Toolkit is the "must-have" resource for any blogger in 2018.
The owners at Ultimate Bundles have come up with an "ultimate" resource guide which covers all the main aspects of blogging in 2018.
From basic blogging tips to Pinterest strategies and from building your email list to branding your blog...you'll get guides to help you at any point in your blogging journey.
What's Included In The Genius Bloggers Toolkit 2018?
77 Products worth $5867.88
41 eCourses
15 eBooks
9 Printable packs and workbooks
5 Templates
5 Stock photo packs
2 Membership sites
Pricing
$97 Full Bundle
$147 Full Bundle + Cheat Sheets
Product List
Ultimately, that works out to $5867.88 worth of resources for ONLY $97
Now, that's definitely worth the money!
But, as you see from my personal experience below, it's not always about the money.
It's also about the time you spend studying and implementing the resources, and whether you'll make use of all the resources available to you.
My Personal Experience
I found The Genius Blogger's Toolkit to be an invaluable resource for bloggers.
There are TONS of resources, from ebooks to courses and all at an amazing price point.
My main goal for purchasing the bundle last year was not just to get access to tons of resources, but one of my favourite bloggers Emma Drew, had her course included in the bundle, which meant I was already made a saving on the cost of the course, and getting a huge bundle of other resources.
At first, I was really excited to have all these training and tools at my fingers tips.
I began downloading and going through the resources I felt most interested in, and would try to implement the steps as best I could.
However, despite having all these resources, I eventually found it to be quite overwhelming.
Although I had a year to process all the information, I personally didn't find enough structure in the resources.
The thing is, the content is aimed for bloggers at different stages in their blogging lifecycle.
This meant I wasn't accessing the content that was most appropriate to me, and as a result, I was overwhelmed.
In addition to that, I found it difficult to stay up to date with the content, and in the end, I left it all behind and forgot about it.
That's why I recommend that people choosing to buy this bundle make sure that they are going to make use of the training and resources available to them.
Luckily, I already got the cost of the training through Emma's course, so I wouldn't say it was a waste for me at all...and I did gain a lot of additional skills from Pinterest training etc.
But I wouldn't want you to get this course, just because everyone is promoting it.
If you believe you can set a goal and use the resources available to actively make a plan, then you won't regret it!
Who Is It For?
The Genius Blogger's Toolkit is for those who are:
Looking for a range of blogging resources, in one place
Ready to take action and implement the strategies they learn
Able to commit the time to study the training and working out a strategy for their blogs
Already have a course in mind they want to purchase, and the cost of this bundle is less than that individual course/resource
Who Is It NOT For?
Although there is a lot of benefit in this resource, there are some people that this bundle may not be suitable for.
Therefore, The Genius Blogger's Toolkit may not be for you if you are:
Not willing to put in the time to go through the resources
Prone to starting a course and not finishing it.
One who prefers structure to your resources. If you study better in bite-sized modules, then you may find it difficult to sift through some of the information and study at a pace that is suitable for you, without getting overwhelmed.
My Recommended Resources
Here's a quick look at some of the resources I'm looking forward to using in this year's edition of The Genius Blogger's Toolkit.
Emma Drew's - How To Smash Affiliate Marketing As A UK Blogger
Value: $75
Meera Kothand's - The One Hour Content Plan
Value: $11
Smart Mom Blogger's - The Little Black Book Of Affiliate Programs For Bloggers
Value: $47
Testimonials


---
It has everything that I need as a new blogger! I don't have to buy another book or course.
---
​

---
​So many resources in one place, Its amazing! So glad I made this purchase!
---
​

---
I've learned so much - I can't just narrow it down. But I recommend your bundles to everyone and I'm looking forward for next year!
---

Final Thoughts
Thank you for taking the time to read my review of The Genius Bloggers Toolkit.
​

As you can see from this review, purchasing this toolkit will give you great access to a vast number of resources, and it could turn out to be cheaper than buying your favourite course at full price.
Not only that but if you've been looking for the #1 blogging resource to purchase this year, then this is definitely worth your investment
If that's the case, then I'd encourage you to ​click here to purchase this bundle as soon as possible!
However, from my personal experience, I wasn't able to make much use of all the products available as it was too much information, and I found it difficult to find the right kind of structure.
If you're anything like me, then I would encourage checking out my #1 online training platform. You get access to a free starter membership, and you'll learn the basics of starting a blog for profit.
Thanks to my growth as a blogger since last year, I now have a better idea of how to make the most of The Genius Blogger's Toolkit for 2018!
The most important thing is to have a goal, and make a plan to fit that goal using the resources available...and I'm sure you can see, that at only $97, it'll be an investment worth every penny!
P.S. If you'd like to make money online as an affiliate for The Genius Blogger's Toolkit (or any other Ultimate Bundles packages), then click here to sign up today.
---
Let's discuss:
What did you think of this review of The Genius Blogger's Toolkit?
What are your thoughts on this "ultimate" blogging resource?
Are you thinking of purchasing this bundle? What resources are you most excited to learn from?
I'd love to hear your thoughts, comments and experiences in the comments section below.