8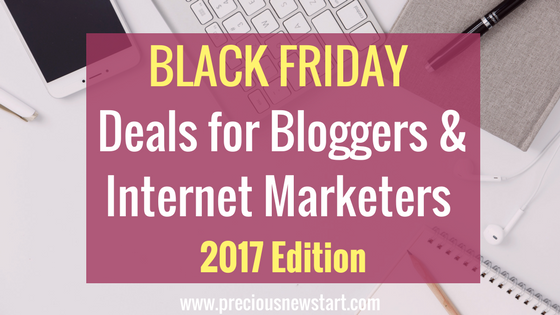 Best Black Friday/Cyber Money Deals For Bloggers and Internet Marketers 2017
This post may contain affiliate links. If you choose to purchase something through one of my links, I will earn a small commission at no extra cost to you.
It's that time of the year again!
Black Friday is one of the most anticipated times of the year, where you can get access to thousands of discounts. So there's no need to push and shove this year, as you can enjoy them from the comfort of your own home.
Whether you're a beginner blogger or more advanced in your online journey, I want to share with you some awesome Black Friday/Cyber Money deals that'll take your online business to the next level.
From Friday 24th November to 27th November, you can expect to find some of the best deals on products for your business.
So, let's get started on this list for the best Black Friday deals for Bloggers (2017)…
Best Black Friday/Cyber Monday Domain and Hosting Deals
---
 SiteGround – up to 70% off
If you're interested in starting a blog then you may want to consider using Siteground to host your new blog.
I've come across a lot of bloggers that have migrated over to Siteground and have nothing but positive reviews, so this is definitely an option to think about.
They are offering 70% off their shared hosting packages, for 24 hrs only on Friday the 24th.
This package will include all you need to get started with your own professional blog/website in minutes and 24/7 customer service.
Also, if you decide to change hosts, they even offer FREE website migration.
Offer Dates: 24th November (24 hours only)
Namecheap – ".com" Domains $8.88
Namecheap is offering .com domains for only $8.88. And they also include 1 year of WhoIsGuard for free, along with 2 months of private email.
Offer Dates: Until 31st December 2017.
Furthermore, they are also providing free SSL on domains for 1 year for all shared hosting customer, then 50% for the second year renewal. There is currently no expiry date on this specific offer
Bluehost – Hosting from only $2.65/month
Bluehost is another hosting provider you may want to consider for your blog. It's a popular option amongst bloggers.
You can expect web hosting rates for as low as $2.65/month, plus add-ons up to 60% off!
The Best Black Friday Deals For Bloggers You Don't Want To Miss! #blackfriday #cybermonday #hosting Click To Tweet
Best Black Friday/Cyber Monday Premium WordPress Theme Deals
---
MyThemeShop – Any Theme Or Plugin Only $19
MyThemeShop are offering quality affordable themes and plugins, and this Black Friday, they are the perfect option for anyone wanting to get a theme they'll love at a super huge discount.
Whether you're looking for an awesome new theme for your newly purchased blog/website, or you're interested in a fresh new look for your site, then I'd totally recommend checking out MyThemeShop for it's amazing Black Friday/Cyber Monday deals!
Buy any of their premium themes or plugins for only $19 by entering the coupon code "BFCM17".
In addition, they are also offering their extended memberships for just $199 (discounted from $349)
Coupon Code: BFCM17
Offer Dates: November 20th until December 3rd
Not ready to purchase a theme yet? That's ok. You can sign up for their free membership to use any of their free themes and plugins.
StudioPress – 25%-50% discounts
This Black Friday/Cyber Monday weekend, StudioPress will be offering:
New members: 25% off all new themes
Existing members: 50% off all new themes
The discount also includes the Pro Plus Pack (normal price: $499.95)
Offer Dates: Tuesday 21st November til Tuesday 28th November, 8 pm Eastern Time.
Elegant Themes
Elegant themes is a very popular WordPress theme provider for bloggers, and they are offering huge discounts this Black Friday weekend.
They are also the creators of the highly talked about Divi theme, and they recently released their Divi 3.0 edition.
Further details about their Black Friday offer will be updated soon.
Best Black Friday/Cyber Monday Online Business Training Courses
---
 Wealthy Affiliate – Start an Online Business For Only $0.82 A Day!
If you've ever wanted to start an online business with Affiliate Marketing, then I believe Wealthy Affiliate is the best online training program for you.
As an active member myself, I have learnt so much about Affiliate Marketing and I'm able to build an online business with the teachings provided by Wealthy Affiliate. If you're interested then I'd recommend signing up for a FREE starter membership here, in the meantime.
Wealthy Affiliate is currently offering an amazing discount on their yearly membership this Black Friday weekend, should you choose to upgrade your account. You can purchase the premium membership for only $299/year. That means you can start your online business journey with Wealthy Affiliate for only $0.82 a day!
I'm currently on the yearly membership, and if you'd like to join me in this great deal, you can start by signing up for a free account and testing out the program for yourself for the next few days.
Offer Dates: 24th November till 27th November
FREE Wealthy Affiliate Starter Membership   
Udemy – All Courses $10/£10
Udemy is a platform that allows you to learn new skills with hundreds of courses to choose from.
If you're serious about being successful as a blogger and/or internet marketer, then investing in your education is a very important step to make.
Udemy offers a wide selection of courses to help you improve your knowledge, or learn something completely new.
During the Black Friday weekend, they'll be offering a 13-day sale.
This is the perfect time to work on that skill you've always to learn, or brush up on your knowledge.
Deal Code: 17HOLIDAY10
Offer Dates: 16th November to 28th November
"Turn Your Dreams Into Money" Course – £50/$50 off
One of my favourite bloggers, Emma Drew, is offering a discount on her "Turn Your Dreams Into Money: How To Build A 6-Figure Blog & Build The Life You Want" course.
As a member of the course, I highly recommend it for anyone starting out with blogging and wanting to turn their blog into a business.
Emma Drew has really grown over the years, and I've seen her blog grow massively in the last few years I've been following her, so why not learn from someone that's done it all herself.
The course itself contains over 20 modules, broken down into bite-sized chunks, and you'll learn step-by-step how to make money from your blog. Here are a few things that are covered:
Find out how to boost traffic
Gain fans on social media
Pin like a pro
Build & Make Money from your email list
Plus so much more!
To get your £50/$50 discount, click on the link below, then enter the code "BLACKFRIDAY" at the checkout.
Offer Dates: This offer ends on 30th November
View "Turn Your Dreams Into Money" Deal   
Best Black Friday/Cyber Monday Email Marketing Deals 
---
GetResponse – up to 40% off for life!
Anyone who's really serious about taking their business to the next level needs to get involved with email marketing. As the saying goes "the money is in the list"…therefore, as an online business owner you need to be working on building your list.
Getresponse is offering an incredible deal for you to take that next step. You can sign up now and get a 30-day free trial.
If you've already completed your trial, why not take this opportunity to upgrade at this low price, and get up to 40% off your plan for life!
I've been a Getresponse user since 2014, and I'm still using them!
ConvertKit – 30 Day FREE Trial
ConvertKit is offering an exciting deal, but it's only available for 24 hours on the 27th November (Cyber Monday), so make sure you save that date!
Note: The offer has now been extended and will be running from 24th – 27th November!
I've known so many bloggers to switch over to ConvertKit for their email marketing campaigns. It has grown into one of the biggest Email Marketing Providers online, within just a short period of time.
It's a platform for bloggers, made by bloggers. So they know what bloggers need to help build their list.
As I haven't used ConvertKit before, even I'll be taking advantage of this offer. I've always wanted to give them a try, and it'll allow me to give a personal review for you all too.
Offer Dates: 24th – 27th November (extended offer)
Miscellaneous Online Deals
---
I wanted to list some other exciting offers that are available online.
Although they are not Black Friday/Cyber Monday specific offers, they're still really great deals which are worth considering.
iPage (Web Hosting) – $1.99/month
With iPage you can get hosting for only $1.99/month with a FREE domain. They offer their 36-month deals at this rate, which means you can host your blog for 3 years for less than $100!
I have a niche site which is hosted by iPage, and I've had a good experience with them.
Also, I created this in-depth guide sharing how to start a blog on a budget...using iPage!
Jaaxy (Keyword Research Tool) – FREE Trial
As a blogger and internet marketer, you've probably heard loads about Keyword Research.
Well, it's highly important to have a good quality keyword research tool, and if you're looking for one that's advanced and affordable, then Jaaxy is definitely worth checking out.
Plus, you get to check where your site is ranked on Google for your chosen keyword(s).
You can get started with a FREE trial, with the option to upgrade if you choose.
Final Thoughts
---
Black Friday weekend only comes once a year…and it's the perfect time to get MASSIVE discounts on products and tools for your online business.
Hopefully, this list of the best Black Friday deals for Bloggers (2017) has provided you with some new and/or useful tools you can use to take your blogging and internet marketing business to the next level and right now is definitely the best time to buy the products you want and need.
I know I'll be making use of some of the deals…how about you?
---
What are your favourite/best Black Friday deals for Bloggers in 2017?
Which deals will you be purchasing this Black Friday/Cyber Monday for your business?
Are there any deals I could have added to this list? 
Feel free to share your comments and/or any questions in the section below
Pin This For Later
---
">