18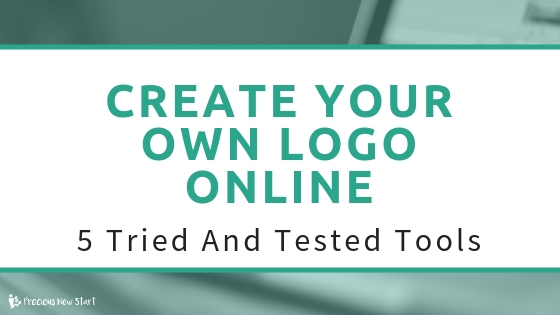 5 Tried and Tested Tools To Help You Create Your Own Logo Online
This post may contain affiliate links. If you choose to purchase something through one of my links, I will earn a small commission at no extra cost to you.
Starting a new blog or business can be really exciting for any aspiring entrepreneur.
Along with purchasing a domain and hosting for your new site, it's also important to create your own logo online...something that represents your blog and business.
Logos are very significant for branding, and they provide a visual association for your blog.
That's why, in today's post, you will discover my top 5 tried and tested tools to help you create your own logo online.
Not only that, but you'll also learn 3 tips to help you create a successful logo your first time around.
Here's what you can expect...
More...
Video Walkthough
LogoMakr is a free platform which allows you to design and create your own logo online for free.
You have the option to select the fonts and icons available.
With LogoMakr you won't receive any logo templates, so everything will be designed from scratch, which is good if you're really creative.
Logos are free to download with LogoMakr, at a lower resolution, provided you give proper credits on your website.
I personally have a "Credits" page where I have my credits listed, and I keep this on the sidebar so it's visible on the blog.
If you would like to have your logo at a higher resolution and on merchandise other than your website, then you may need to pay for your logo to have specific requirements.
2) LogoJoy
LogoJoy is a free and easy logo building tool which will have template designs for you in just a few minutes.
Using a few prompts from the site, you'll be able to select from a range of different sample designs.
It's a great way to design a logo when you don't have an idea where to start.
Note: You need to create an account to view your new logos.
3) LogoPony
Similar to other sites listed here, LogoPony allows you to create logos within minutes.
With the help of their easy to use platform, all you need to do is enter a few quick details about your business and you can get a range of logo templates to edit and customise your way.
Although you can edit and customise your logo for free, you will need to pay a fee in order to download it.
4) Hatchful by Shopify
Hatchful is a logo design site linked with Shopify.
If you're familiar with Shopify, then you'll know that it's an eCommerce site, and one of the features necessary for any eCommerce is to have a logo.
As a result, Shopify has introduced a logo maker to help you get a logo for your site in just a few short minutes.
It's super simple to use and the site is able to generate a range of different options.
Once you've created your design, then you can receive your new logos via email.
5) Canva
If you're in the blogging world, then chances are you've heard all about Canva.
Canva is an online graphics design website, which allows users to create a range of different graphics, from flyers to business cards, from logos to social media posts.
It's a great all-round platform for any quick graphics design projects.
But not only that, it's also a very useful tool for being able to create your own logo online.
You're able to select from a range of logo design templates, and you have the opportunity to customise them the way you wish.
Once you've created your logo, be sure to download it as a transparent file, so you can have it available for use on other merchandise.
BONUS: Tailor Brands
As a bonus for making it to the end of this list, I wanted to share an additional tried and tested tool to help you create your own logo online.
Tailor Brands is another great tool for you to create, design and customise a logo for your website, blog and/or brand.
With their easy to follow steps, you can have a high-quality logo within minutes.
However, it's important to note that there is a price for this quality, and you would need to pay at least £2.50/month (billed annually), in order to download any of the logo designs generated.
If it's something you are able to invest in, then I believe it's one of the best, quality, logo makers online.
3 Things To Consider When Creating A Logo
1) Choosing A Colour Scheme
It's important to know your colour scheme before creating your logo so that the colours you choose, run throughout your brand.
If you're not sure what colour scheme to go for, there are online tools that allow you to generate different colour schemes.
I personally use Coolors.co (it's FREE), which can automatically generate different colour schemes for your brand.
Also, this blog post on colour psychology was super helpful to me too.
2) Style
What style are you going for?
Minimalist?...
Feminine?...
Bold?...
These are things you might want to consider when choosing what fonts and colours to use, or even what logo designer to go for.
3) Simplicity Is Key
You don't need to make your logo too complicated. Sometimes the most simple logos are the most effective.
Just think of the Apple logo as an example.
Final Thoughts
Creating a logo doesn't need to be hard...or expensive.
I've listed a solid selection of affordable logo design tools, which means there's no excuse for you not to have a logo for your blog/business.
Ultimately, I hope you've found these tools useful, and hope you've gained a new perspective on the importance of having a logo for yourself, as well as tips to help you successfully create your own logo online.
Still thinking about starting that blog? Think no more!
Discover how to successfully start your own
"money making" blog today!
Let's discuss:
Which of these tools is your favourite, if any?
Do you already have a logo for your blog/business? If so, which tool did you use
Do you think it's a good idea to create your own logo online? Or is it better to hire a professional logo designer?
I'd love to hear your thoughts, comments and experiences in the comments section below.
---
Pin This For Later