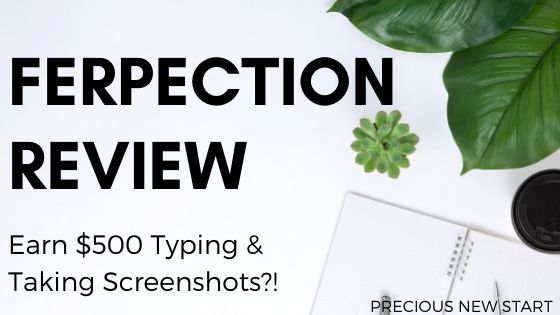 What is Ferpection.com? – Earn $500 Typing & Taking Screenshots?!
This post may contain affiliate links. If you choose to purchase something through one of my links, I will earn a small commission at no extra cost to you.
Welcome to my Ferpection review.
If you're here because you want to know the truth about Ferpection.com, and whether it's worth your time...then you've made it to the right place!
I've come across various YouTubers promoting this site and claiming that you can earn $500 just typing and taking screenshots.
But what's the truth?
Well, Ferpection is a site I've personally used myself, and received multiple Paypal payments as a result, so I believe that I am in the best position to share my personal experience of this site.
So, if you'd like to discover more about this increasingly popular earning site, then keep on reading!
More...
What Is Ferpection.com?
Ferpection is a site that pays it's users to test websites and mobile apps.
You can earn €5 - €10 depending on the test that you complete.
Unlike other usertesting websites that require you to record your screen for the test, with Ferpection you just need to take screenshots of the site/app being tested.
Then you'll write a description of your screenshot along with your positive and/or negative thoughts.
How Does Ferpection.com Work?
Working with Ferpection is very simple, and you can complete the "missions" in 4 easy steps:
Explore the sites/apps using your smartphone or tablet device
Take screnshots and type your positive or negative feedback
Wait for tasks to be reviewed by Ferpection moderators
Get paid
This demo video shows more details on how to complete a "mission":
What Do You Need To Get Started?
Register your "become a tester" account here
PC, Laptop, Smartphone or Tablet device
Internet connection
Tool for taking screenshots (most devices have this built in)
How Much Can You Earn With Ferpection.com
From my experience, I've seen Ferpection tests pay users from €5 - €10 per "mission".
And "missions" may not always be available.
So, don't expect to get rich or quit your day job with Ferpection.com
Just like other sites I've reviewed on this blog, such as this one, Ferpection.com is just another way to earn some extra cash reviewing websites and apps.
Ferpection.com Video Walkthrough
In this video walkthrough I share an insider look into the Ferpection platform, and how you can use this site to earn some extra cash:
How To Get Paid With Ferpection.com?
Ferpection.com pays it's users on the last Friday each month via Paypal.
At the time of writing, this is the only payment method available.
In order to receive payment, you need to reach the minimum payout threshold of €25.
Please note: Unfortunately, some users have claimed you can earn $500 with Ferpection, but as a real user myself, I can confirm that a more realistic earning is just €5 - €10 a "mission".
Which Countries Are Eligible For Ferpection.com?
It's not 100% clear on the Ferpection website which countries it is available to, but as far as I am aware, Ferpection is currently available in the following countries:
UK

US

France

(If Ferpection is also available in your country please comment below)
What's Good About Ferpection.com?
Ferpection has some positive features to offer, which include:
Ferpection.com Complaints
Despite the positives of Ferpection, there are also a few complaints, which are:
Final Thoughts - Can You Earn $500 With Ferpection?
Thank you for making it to the end of my Ferpection review.
I hope this review has given you a deeper insight into the Ferpection platform and the opportunities that are available for you to earn some extra money online with this site.
Based on my own personal experience since 2016, I would say that Ferpection is a legitimate way to make money online testing websites and apps, and a great way to earn some extra money online.
However, you probably won't make $500 with Ferpection, unless you use it over many years. But you can realistically earn up to €10 per "mission".
Furthermore, in more recent years, I've noticed that the "missions" are less and less, and you may not see a new "mission" for months.
As the availability of "missions" is based on where you live, you may find that it's not worth your time if you're not in the UK, US or France etc.
Plus, this site is just for earning extra income online, so don't expect to leave your day job or use this as a "full-time income" opportunity.
Despite all this, Ferpection.com still offers a super easy, and genuine, way to earn some extra cash, while doing little to no work, so it's worth giving it a go.
So, if you'd like to join today, then click here to join Ferpection
Ferpection Alternatives
For those of you who are not able to use Ferpection, or want other sites to combine with, here are my top recommended Ferpection alternatives.
If You Liked This Post, You Might Want To Check These Out:
Want To Discover The Method I Use To Earn $100+ In A Day?!
---
Let's discuss:
What did you think of this Ferpection review?
Are you currently a member? What have your experiences been so far?
Not a fan of testing websites/apps? What are your favourite ways to earn extra money online?
I'd love to hear your thoughts, comments and experiences in the comments section below.
---
Pin This For Later
Pros
Free to join
No additional equipment required
Pays via Paypal
Pays regularly (monthly)
Can earn up to €10 per "mission"
Cons
Very few "missions" available
Don't recieve always emails of new "missions"
Need to reach €25 before you can receive payment
Number of available "missions" depends on the country you live in