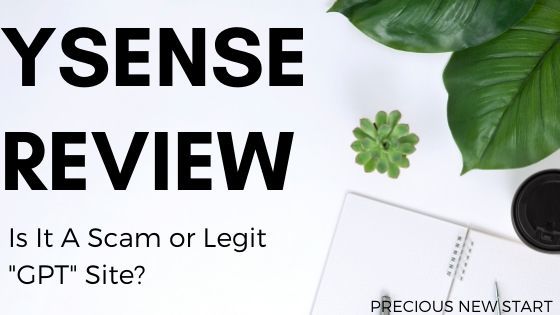 What Is ySense.com? – Is ySense A Scam? [2020]
This post may contain affiliate links. If you choose to purchase something through one of my links, I will earn a small commission at no extra cost to you.
Welcome to my ySense Review.
In this review I'll be sharing my thoughts on the website that allows you to earn with paid survey opportunities and completing various offers.
But what is ySense.com?
And, is ySense a scam...or a legitimate way to make some extra cash online?
Keep on reading to discover more...
More...
What Is ySense.com?
ySense is a site that pays you to complete surveys and various tasks online.
The ySense site was previously known as Clixsense, which I reviewed back in 2016.
Since then, it has replaced some of it's most popular earning methods with other high paying methods, and completely rebranded to what we now know as ySense.
With each task/survey completed, you earn cash rewards which you can redeem for cash and/or gift cards.
How Does ySense Work?
It's very easy to get started with ySense, and you can start earning right away. Here's how it works in 4 simple steps:
Sign up and verify your email address
Complete/Update your profile and settings
Complete online activities (surveys, offer walls, daily checklist etc)
Redeem cash
What You Need To Get Started?
To get started with ySense you will need:
Access to a computer/laptop and internet
An E-wallet account (if you want to cash out via Paypal or Skrill)
ySense.com Video Walkthrough
The video below uncovers more about what is ySense.com and a complete walkthrough of the various ways to earn with this site:
4 Ways To Make Money Online With ySense
Making money online with ySense is very easy as there are multiple options available to earn some extra cash, which I will outline below:
1. Paid Surveys
As you probably have figured out, you can earn money daily with ySense by completing paid surveys.
So far I've seen surveys pay between $0.50 - $5, which makes ySense of the higher paying survey sites.
2. Completing Cash Offers
Another way you can earn money with ySense is by completing cash offers.
These offers can vary from joining free trial offers to downloading mobile apps.
3. Figure Eight Tasks
With ySense you can also earn when you complete some jobs/tasks through FigureEight.com.
You'll need to create an account to be eligible for earning.
For the most part the sign up is simple, however you'll need a phone/mobile to verify your FigureEight account via text (which some network providers may charge for). which is something to bare in mind.
With each task/job available, you'll be able to see how much you can earn for that task.
Plus, you also have the chance to earn bonuses. So, for every $50 you make, you earn a $5 bonus.
As well as a weekly bonus, with the top 10 workers earning a total of $100 in bonuses ($10 each).
4. Referral Program
As with most survey and rewards sites, you can earn even more money through referrals, and ySense is no different.
There's a chance to earn up to 30% commissions from your referrals earnings.
Here's how it works:
0-99 referrals - Earn 20% commissions
100-199 referrals - Earn 25% commissions
200+ referrals - Earn 30% commissions
Note: Your referrals need to be active to be considered for any commission increases.
Therefore, the more active referrals you have, the more you can earn.
Furthermore, there is no limit on the number of people you can refer to ySense.
Not just that, but once your referral earns $5, you also earn a $2 bonus.
How To Get Paid With ySense?
All funds are in US dollars.
Electronic payouts (e.g. Paypal, Skrill etc) can take 5-7 business days to reach your account.
On new accounts, it can take up to 15 days.
A new account is considered if it less than 30 days since you created your account, or if it's your first payout request.
To request a payment, click on the "CashOut" tab on the top menu bar.
You can receive rewards as:
Electronic payout - Paypal, Skrill, Visa etc
or Giftcards - Amazon, Steam etc
The minimum withdrawal threshold is dependant on the payout method you choose.
For example, if you choose to cash out via Amazon, you only need $4 minimum.
Paypal is a $10 minimum threshold.
And Skrill is just $5.
How Much Can You Earn With ySense.com?
Your earnings with ySense can vary depending on a number of factors. For example:
How many tasks/surveys you complete
How many active referrals you have
How much time you spend using ySense to earn money
So, the more time you're willing to put into the site, the more you will get out of it.
How To Earn More With ySense [Hacks]
Here are some hacks you can use to earn even more with ySense:
#1 Download Browser Add On
The first hack to earning more with ySense is to download the browser add-on to your internet browser.
Ultimately, this add-on will notify you of any new surveys and tasks that become available, so you can earn from them right away.
The add-on is currently available on the following browsers:
Google Chrome
Firefox
Internet Explorer
If you don't currently have any of these browsers, they are free to download online. You can just do an online search. My recommendation is Google Chrome.
The key aspect with ySense is to be one of the first to complete the surveys, so this add-on will really give you an advantage over some other ySense users.
#2 Daily Checklist
The next hack is to complete the daily checklist.
Once you complete the daily checklist, you can earn a bonus of up to 16%, which is added to your account.
It's a nice incentive to encourage you to remain active on the site.
ySense Payment Proof
If you've reached this part of the review and you're still wondering is ySense a scam, then I encourage you to also take a look at some payment proofs from other users below:
Users of BeerMoneyForum have been sharing their payment proofs, and confirm that this website is legit and pays it's users.
Which Countries Are Eligible For ySense?
At the time of writing, it appears that ySense is available in:
But you need to be 13 years old to use this site in US, and 16 years old in other countries.
ySense Reviews
So far I've seen some mixed reviews for ySense.
The TrustPilot rating for ySense is currently 2.5 out of 5, so not the best.
Despite that, many users have reported being paid, just that the payments were slow.
For the reviews that are negative, the main issue users faced was being disqualified for too many surveys before eventually being accepted.
And some users also comparing ySense to it's previous Clixsense site, which they preferred.
​What's Good About ySense?
ySense has a lot of positive features to offers, which include:
ySense Complaints
Despite the many positives of ySense, there are also a few complaints, which are:
Final Thoughts -​ Is ySense A Scam?
Thank you for making it to the end of my ySense review.
I hope this review has given you a good insight into the ySense platform and the opportunities that are available for you to earn some extra money online with this site.
So, is ySense a scam?
Based on my experience and my research, ySense is NOT a scam.
It is a legitimate online earning website and a decent way to earn a bit of extra money online.
However, please note that this site is just for earning extra income online. Don't expect to leave your day job or use this as a "full-time income" opportunity.
Despite that, ySense offers a super easy way to earn some extra cash, while doing little to no work.
ySense Alternatives
Although ySense is legit, I feel there are better survey/GPT sites out there.
Here's a list of my top recommended ySense alternatives you may want to add to your list of online sites:
If You Liked This Post, You Might Want To Check These Out:
Want To Discover The Method I Use To Earn $100+ In A Day?!
---
Let's discuss:
What did you think of this ySense review?
What are your thoughts about what is ySense.com and is ySense a scam?
Are you currently a ySense member? What have your experiences been so far?
Not a fan of surveys? What are your favourite ways to earn extra money online?
I'd love to hear your thoughts, comments and experiences in the comments section below.
---
Pin This For Later
Pros
Free to join
Various opportunities to earn
Can cash out via Paypal
Good referral program
Has a forum where you can interact with other users. Include dedicated threads for various countries
Cons
Taking surveys can be tedious
May be disqualified from many surveys
Some users report rewards not always being credited
Can take 5-7 working days to receive payments. Up to 15 days for new accounts