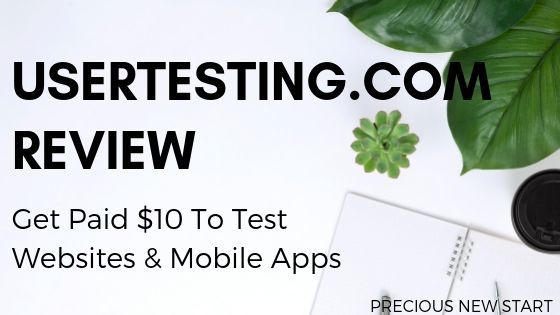 Usertesting.com Review – (Get Paid $10 To Test Websites & Mobile Apps!)
This post may contain affiliate links. If you choose to purchase something through one of my links, I will earn a small commission at no extra cost to you.
Welcome to my Usertesting.com review.
How would you like to earn $10 for only 20 minutes work?
That's equivalent to earning $30/hr!
Sounds great right?!
Well, ​thanks to Usertesting.com you can earn $10 just for reviewing websites and/or mobile apps.
It's a site I've used myself, and received multiple Paypal payments as a result.
If this sounds like something you might be interested in, then keep on reading to find out more about this money making opportunity.
If you'd like to discover more about this highly rated survey site, then keep on reading!
Overall Rating: 60/100
More...
What Is Usertesting.com?
Usertesting.com is a site that pays it's users to test websites and mobile apps.
You can earn from $3 to $15 depending on the test that you complete.
In some cases, you may even be able to earn up to $60 per test.
How Does Usertesting.com Work?
In order to get started with Usertesting.com, there are a 3 steps you need to follow first.
Create a "Get Paid To Test" account
Fill out your profile
Complete the sample test
What Do You Need To Get Started?
PC or Mac
Internet connection
Microphone (built-in or external)
Webcam (built-in or external) - not all tests require a webcam

How Much Can You Earn With Usertesting.com
Usertesting.com allows you to earn up to $60 a test, but the average test will pay out $10.
Some shorter tests will pay out $3, and the mobile app tests tend to pay out $15.
However, don't expect to get rich or quit your day job with Usertesting.com.
Thankfully, Usertesting.com are very upfront about how much you can earn.
Just like other sites I've reviewed on this blog, such as this one, and this one, Usertesting.com is just a way to earn some extra cash online.
Video Walkthrough
How To Get Paid With Usertesting.com?
Usertesting.com pays it's users on a weekly basis via Paypal.
At the time of writing, this is the only payment method available.
Which Countries Are Eligible For Usertesting.com?
Usertesting.com is available in most countries, but you can visit the sign-up page for more details about your country.
What's Good About Usertesting.com?
Usertesting.com has a lot of positive features to offers, which include:
Usertesting.com Complaints
Despite the many positives of Usertesting.com, there are also a few complaints, which are:
Final Thoughts - Is Usertesting.com Legit?
Thank you for making it to the end of my Usertesting.com review.
I hope this review has given you a good insight into the Usertesting.com platform and the opportunities that are available for you to earn some extra money online with this site.
Based on my own personal experience, I would say that Usertesting.com is a legitimate way to make money online testing websites and apps, and a great way to earn some extra money online.
However, please note that this site is just for earning extra income online. Don't expect to leave your day job or use this as a "full-time income" opportunity. And with more and more people joining the sites, the earning potential is less than it used to be.
Despite that, Usertesting.com still offers a super easy way to earn some extra cash, while doing little to no work, so it's worth giving it a go.
So, if you'd like to join today, then click through the green button below to get started right away:
If You Liked This Post, You Might Want To Check These Out:
Want To Discover The Method I Use To Earn $100+ In A Day?!
---
Let's discuss:
What did you think of this Usertesting.com review?
Are you currently a member? What have your experiences been so far?
Not a fan of testing websites/apps? What are your favourite ways to earn extra money online?
I'd love to hear your thoughts, comments and experiences in the comments section below.
---
Did You Find This Post Helpful?
If you found this post helpful, I'd be SUPER happy if you shared it!
​

My goal is to help as many people as possible "make their dreams of success a reality". But I'll need you help to help more people.
Thanks a bunch for your support...you're awesome!
Pin This For Later