2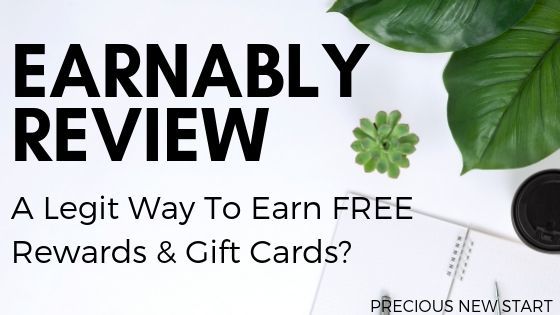 What Is Earnably.com? A Legit Way To Earn FREE Rewards & Gift Cards?
This post may contain affiliate links. If you choose to purchase something through one of my links, I will earn a small commission at no extra cost to you.
Welcome to my Earnably Review.
Today I want to share with you a website that allows you to earn rewards and gift cards online by completing tasks!
If you've been looking for ways to make money online, chances are you've come across the idea of taking paid surveys and completing tasks with "get paid to" websites.
Although surveys and "GPT" websites tend to get a bad reputation for being low paying and not having good earning opportunities, there are some legitimate sites that have the potential be worth your time, based on your needs, and can actually offer you many ways to earn.
Introducing...Earnably.
If you'd like to discover more about this top performing "GPT" site, then keep on reading!
Overall Rating: 55/100
More...
What Is Earnably.com?
Earnably is a website that allows you to earn money online through a variety of ways ranging from watching videos to downloading mobile apps.
Similar to many other "GPT" websites, there are different options available to earn with Earnably, which makes it a good way to earn some extra cash with little to know work.
But with all the available "GPT" sites out there, what makes Earnably different? Why has it become so popular?
Continue reading this Earnably review to learn the answers to these questions...
How Does Earnably Work?
There are 3 simple steps to get started with Earnably:
Register
Fill out your profile
Complete multiple tasks and surveys
As you go through the Earnably platform, you'll find multiple ways to earn.
With each task you complete, you'll earn points for those. When you earn a minimum amount of points, you can convert them into cash rewards and/or gift cards., which I'll talk more about later on.
Earnably Video Walkthrough
6 Ways To Make Money Online With Earnably
As Earnably is a "GPT", there are different options available to earn money. At the time of writing there are currently 6 ways you can earn money online with Earnably:
With Earnably, you can earn money by completing the offers from their partners.
Some offer partners include Peanut Labs, which many other "GPT" sites use.
Plus, you can find different ways to earn with the offer walls, from surveys to app downloads.
2. Daily Paid Surveys
Just like other GPT sites, you get to earn points through paid surveys.
Surveys are available daily, and the more surveys you do, the more opportunity you have to earn extra points.
3. Watch Videos/Ads
There is currently a new opportunity to earn with Earnably, by watching videos.
Although you'll be watching videos, you actually only earn when you watch the ads.
So for each video partner, you need to watch a certain number of ads in order to earn points.
For example, if you watch videos via Hideout.tv, you need to watch 3 ads to earn 0.7 points.
Additionally, with Hideout.tv, you'll need to create an account for that site to be eligible for those points.
But it's easy to sign up and get your account running.
4. Complete Tasks/Jobs
Along with the 3 options mentioned above, you can also earn when you complete some jobs/tasks through FigureEight.com.
Similar to Hideout.tv, you'll need to create an account to be eligible for earning.
For the most part the sign up is simple, however you'll need a phone/mobile to verify your FigureEight account via text (which some network providers may charge for). which is something to bare in mind.
5. Downloading Apps
Get paid to download apps on your mobile and/or tablet devices with Earnably.
Some apps can even allow you to earn up to 720 points.
Just remember to follow the steps involved in order to be rewarded for the task.
6. Referrals
Last, but not least, an additional way to earn money with Earnably is through referrals.
This is usually the most popular way to make more money with GPT sites, cause it gives you the opportunity to earn a passive income while other members earn for you.
Not just that, but Earnably offer quite a generous referral bonus. You can earn 10% for your referrals earnings...for life.
That's right!
There's no cap on the number of referrals you can have, and you get to earn from them for as long as they are members.
Furthermore, Earnably even offer promotional banners and tools to help you promote your referral link on your website and/or social media.
How To Earn BONUS Points With Earnably Promo Codes?
If you thought 6 ways to earn was a lot, then you'll be glad to know that Earnably also allow you to increase your earnings through bonuses.
You can earn bonuses on every point you earn by using their promo codes.
Promo codes can be found on their Twitter and Facebook accounts, as well as through email newsletters, ranging from 1%-5% bonus.
So be sure to keep an eye on those platforms in order to earn more.
For example, if you completed an app download task normally for 720 points, and you activated a 5% promo bonus, you could expect to earn 756 points instead.
==> 720 points + 5% = 756 points
How To Get Paid With Earnably?
As a Earnably user, you can redeem your points for Paypal cash or Gift Cards
You need a minimum of 160 points to cash out any method. But to cash out which a specific methods, you need to see how many points are required for that rewards.
For example, to cash out with Mastercard, you'd need 670 points.
160 points = £1 Paypal cash
There's also an option to "auto-redeem" your points into rewards. However, there is a 1% fee for this, which you would save if you manually redeemed.
Which Countries Are Eligible For Earnably?
Before 31st May 2019, Earnably was available Worldwide. However, since then, Earnably is now only available in the following countries:
Australia
Austria
Belgium
Brazil
Canada
China
Denmark
Finland
France
Germany
Iceland
India
Ireland
Italy
Japan
Netherlands


New Zealand
Norway
Portugal
South Africa
Spain
Sweden
Switzerland
United Kingdom
United States
What's Good About Earnably?
With Earnably, there are a number of positive features it offers, which include:
Earnably Complaints
Despite the many positives of Earnably, there are also a few complaints, which are:
Final Thoughts - Is Earnably A Legit Way To Earn Rewards & Gift Cards
Thank you for making it to the end of my Earnably review.
I hope this review has answered the question, what is Earnably.com and given you an insight into the opportunities that are available for you to earn some extra money online with this site.
Based on my experience and my research, I would say that Earnably is 100% a legitimate online GPT website and a great way to earn a bit of extra money online.
However, please note that this site is just for earning an extra income online. Don't expect to leave your day job or use this as a "full-time income" opportunity.
Despite that, Earnably offers easy options to earn some extra cash, while doing little to no work.
So, if you'd like to register then click through the banner image below to get started right away:
If You Liked This Post, You Might Want To Check These Out:
Want To Discover The Method I Use To Earn $100+ In A Day!
---
Let's discuss:
What did you think of this Earnably review?
Are you currently a member? What have your experiences been so far?
Not a fan of GPT sites? What are your favourite ways to earn extra money online?
What is Earnably.com - I'd love to hear your thoughts, comments and experiences in the comments section below.
---
Did You Find This Post Helpful?
If you found this post helpful, I'd be SUPER happy if you shared it!
​

My goal is to help as many people as possible "make their dreams of success a reality". But I'll need you help to help more people.
Thanks a bunch for your support...you're awesome!
Pin This For Later