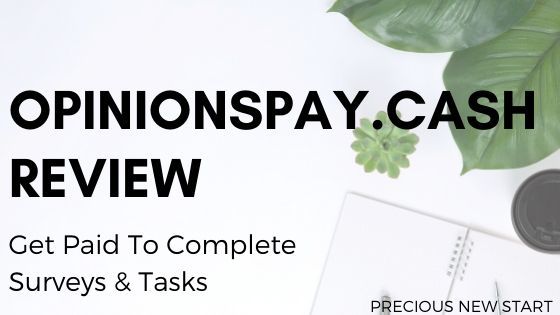 OpinionsPay.Cash Review – Is OpinionsPay.Cash A Scam or Legit? [+ Payment Proof]
This post may contain affiliate links. If you choose to purchase something through one of my links, I will earn a small commission at no extra cost to you.
Welcome to my OpinionsPay.Cash Review.
Looking for the truth about OpinionsPay.cash?
Want to know if it's really a legit way to get paid to take surveys and complete tasks?
Well, you've made it to the right place!
I have personally tested the site to help you determine the truth and to share my findings with you.
Not only that, but I haven't come across a single review of this site yet, so I felt more inspired to test out the website to give my honest opinion.
So, make sure you keep on reading to discover more...
More...
What Is OpinionsPay.Cash?
OpinionsPay.Cash is a site that pays you to complete surveys and various tasks online.
With each task/survey completed, you earn cash rewards which you can redeem for cash via PayPal, Bitcoin, Amazon and Transferwire.
As is it a brand new website, started in April 2020, I wanted to share my own personal experiences and test out whether it was a legitimate paid survey/GPT site, and whether it is worth your time.
How Does OpinionsPay.Cash Work?
It's very easy to get started with OpinionsPay.Cash, and you can start earning right away. Here's how it works in 4 simple steps:
Sign up here and enter your details
Verify your email address
Complete online activities (surveys, offer walls, daily checklist etc)
Earn points and redeem for cash
What You Need To Get Started?
To get started with OpinionsPay.Cash you will need:
Access to a computer/laptop and internet
An E-wallet account (if you want to cash out via Paypal) or TransferWire account.
Time to complete surveys and offers
OpinionsPay.Cash Video Walkthrough
The video below uncovers more about OpinionsPay.Cash and a complete walkthrough of the various ways to earn with this site:
3 Ways To Make Money Online With OpinionsPay.Cash
There are currently 3 mains ways to earn money with OpinionsPay.Cash, which I will outline below:
1. Paid Surveys
As you probably have figured out, you can earn money daily with OpinionsPay.Cash by completing paid surveys.
There are many survey partners to choose from, and they can be completed daily, and in some cases an unlimited number of times.
2. Completing Cash Offers
Another way you can earn money is by completing cash offers.
These offers can vary from:
Joining free trial offers
Playing online games
Downloading mobile apps
Clicking ads
...and more
3. Referral Program
As with most survey and rewards sites, you can earn even more money through referrals, and OpinionsPay.Cash is no different.
You're able to earn 20% commissions from your referrals earnings.
Therefore, the more referrals you have, the more you can earn.
So my tip is to earn a few dollars with the site first, then once you've cashed out and got the proof, share the link with your friends and get them to join so everyone earns :)...just like you'll see later on in my payment proof.
How To Get Paid With OpinionsPay.Cash?
As an OpinionsPay.Cash user, you get paid in cash, or in points which can be redeemed for cash.
You can redeem your earnings via:
Paypal (5% fees for withdrawals under $25)
Bitcoin ​
Amazon ​
TransferWire
The minimum withdrawal for OpinionsPay.Cash is just $1.
How Much Can You Earn With OpinionsPay.Cash?
Your earnings with OpinionsPay.Cash can vary depending on a number of factors. For example:
How many tasks/surveys you complete
How many referrals you have
How much time you spend using

OpinionsPay.Cash

to earn money
Which country you live in as some countries will have more opportunities than others.
So, the more time you're willing to put into the site, the more you will get out of it.
I was able to earn $0.70 per survey I completed, with some paying more and others paying less.
However, if you're spending hours filing out surveys, why not spend that time learning a new skill that could help you earn a full time income online instead.
How To Earn More With OpinionsPay.Cash [Hacks]
Here are some hacks you can use to earn even more with OpinionsPay.Cash:
#1 Membership Levels
OpinionsPay.Cash has a feature on the website where you can earn more by being active and completing tasks regularly on the site.
With each survey/task you complete you earn experience points (XP). So when you reach a certain number of XP, then you can level up.
Here's a breakdown of the different levels:
Level 1: Earn 100 XP completing free cash surveys (earn 10 XP per completion) from the free cash survey tab and 1XP for every offer you complete on the offer walls.
Level 2: Earn 1000XP from completing surveys in the free cash survey tab(10XP per Survey) and 1XP for every offer wall offer completed excluding clicks and earn 2% more per offer.
Level 3: Earn 10000 XP from completing surveys in the free cash survey tab(10XP per completed survey) and 1XP for every offer wall offer completed and earn 5% more for every offer completed.
OpinionsPay.Cash My Experience
When I first came across the site I was quite skeptical, initially due to the ".cash" domain name.
However, I felt that it was a bit more reliable in regards to their income claims, as they didn't claim $50 sign up bonuses and $30 to complete simple tasks etc.
So, I went ahead and created an account.

At first, it was quite confusing where to go and what to start first. But I managed to find the surveys tab and went on to complete 2 surveys, both worth $0.70 each.
After completing them I noticed my account wasn't credited right away, so I was a bit worried.

However, within 24 hours I rechecked my account and noticed 140 points had been added.
I was able to convert the points into cash, so my total came to $1.50 (including the $0.10 sign up bonus)

I cashed out via Paypal, but note there is a 5% withdrawal fee for Paypal, so I only received £1.11 after fees (approx $1.37).

Anyway, I cashed out and received the payment in a few hours.

Considering I created my account on 21st April and cashed out by 22nd April is quite good, so earning through the site overall was fast.

I don't like that it takes up to 24 hours to receive the credit for the surveys, but I have proof below that it does work and it really pays which is the main thing.
OpinionsPay.Cash Payment Proof
If you've reached this part of the review and you're still wondering if OpinionsPay.Cash is a scam, then I encourage you to also take a look at my own personal payment proof.
You can also find a thread on the BeerMoneyForum dedicated to OpinonsPay.Cash, where other users share their experience with the site.
Which Countries Are Eligible For OpinionsPay.Cash?
At the time of writing, it appears that OpinionsPay.Cash is available in:
But you need to be 18 years old to use this site.
OpinionsPay.Cash Reviews
At the time of writing, I have not come across any OpinionsPay.Cash reviews, which is why I felt I should share my own real experience of the website, to help you make an informed decision about whether to join or not.
But, if you're still on the fence, I do recommend keeping an eye on the OpinionsPay,Cash BMF thread, and seeing if others are sharing their payment proof, and what other experiences people are having.
What's Good About OpinionsPay.Cash?
OpinionsPay.Cash has a lot of positive features to offers, which include:
OpinionsPay.Cash Complaints
Despite the many positives of OpinionsPay.Cash there are also a few complaints, which are:
OpinionsPay.Cash Alternatives
If you're unable to join RewardingWays, or the similar sites listed above...or you're just looking for an alternative, here are some other options worth trying out:
Final Thoughts - Is OpinonsPay.Cash A Scam?
Thank you for making it to the end of my OpinionsPay.Cash review.
I hope this review has given you a good insight into the platform and the opportunities that are available for you to earn some extra money online with this site.
So, is OpinionsPay.Cash a scam?
Based on my own experience and payment proof, OpinionsPay.Cash is NOT a scam.
It is a legitimate online earning website and a decent way to earn a bit of extra money online.
However, please note that this site is just for earning extra income online. Don't expect to leave your day job or use this as a "full-time income" opportunity.
Furthermore, I believe there are many other alternatives which offer a less confusing user experience and credit users more quickly.
Despite that, OpinionsPay.Cash offers an easy way to earn some extra cash, while doing little to no work with surveys and GPT sites.
So, if you're interested in joining OpinionsPay.Cash, then join through this link to earn a $0.10 sign up bonus.
If You Liked This Post, You Might Want To Check These Out:
Want To Discover The Method I Use To
Earn $300+ In A Day?!
---
Let's discuss:
What did you think of this OpinionsPay.Cash review?
Are you currently an OpinionsPay.Cash member? What have your experiences been so far?
Not a fan of surveys and GPT sites? What are your favourite ways to earn extra money online?
I'd love to hear your thoughts, comments and experiences in the comments section below.
---
Pin This For Later
Pros
Free to join
Various opportunities to earn
Can cash out via Paypal
Low minimum payout threshold (just $1)
Available worldwide
Cons
Taking surveys can be tedious
May be disqualified from many surveys
Can take up to 24 hours to be credited (and in some cases can be up to 7 days)
Withdrawal fees up to 5%
Website is a bit confusing to navigate