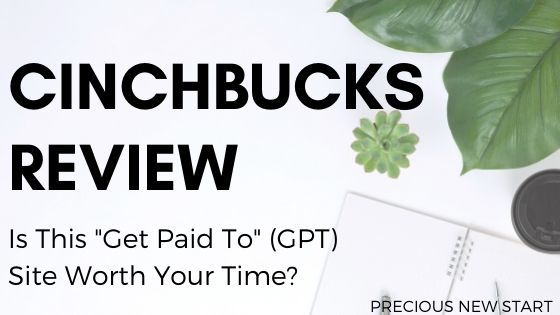 What Is CinchBucks.com? – Is CinchBucks Worth Your Time?
This post may contain affiliate links. If you choose to purchase something through one of my links, I will earn a small commission at no extra cost to you.
Welcome to my CinchBucks Review.
In this review I'll be sharing my thoughts on the website that allows you to earn with paid survey opportunities and completing various offers.
But what is CinchBucks.com?
And, is CinchBucks really worth your time?
Keep on reading to discover more...
More...
What Is CinchBucks.com?
CinchBucks is a site that pays you to complete surveys, watch videos, refer others and complete other various online tasks.
The site has been running since 2014, and has supposedly paid out over $1 Million to its users.
With each task/survey completed, you earn points, known as CinchBucks (CB) which you can redeem for PayPal cash and/or gift cards.
How Does CinchBucks Work?
It's very easy to get started with CinchBucks, and you can start earning right away. Here's how it works in 3 simple steps:
Sign up here and complete/update your profile
Complete online activities (surveys, offer walls, watch videos etc)
Redeem your points for cash or gift cards
What You Need To Get Started?
To get started with CinchBucks you will need:
Access to a computer/laptop and internet

An E-wallet account (if you want to cash out via Paypal)
And...the time to complete surveys & tasks
CinchBucks.com Video Walkthrough
6 Ways To Make Money Online With CinchBucks
Making money online with CinchBucks is made easier by the fact that there are multiple options available to earn some extra cash, which I will outline below:
1. Welcome/Sign Up Bonus
The quickest and easiest way to earn money with CinchBucks is to sign up using a CinchBucks referral code/link and entering the code "CBLAUNCH" to earn your first 50 CB points.
Plus, you can earn an additional 10 CB points when you complete your profile.
2. Paid Surveys
As you probably have figured out, you can earn money daily with CinchBucks by completing paid surveys.
I like that CinchBucks mentions the estimated length of each survey, so at least you have an idea of how much you'll earn for your time.
Another way you can earn money with CinchBucks is by completing cash offers.
These offers can vary from joining free trial offers to downloading mobile apps.
CinchBucks has partnered up with some of the most popular offerwalls, such as PeanutLabs.
4. Shop & Earn Cash Back
Similar to SwagBucks, CinchBucks allows you to shop for products and earn cashback in the form of CB points.
However, I noticed that the products you will be shopping for are not the shops you'd find in your local high street.
They are internet marketing related products, which most people simply filling out surveys may not be interested in.
For example, you can earn CB points for paying for hosting with BlueHost. But, unless you're interested in starting a blog, then you will not get much use out of this earning option.
So personally, unless you were thinking of signing up to any of the internet marketing tools, I would recommend staying away from the "shop & earn" method.
Additionally, if you do purchase any of these products, make sure you read the terms & conditions of the offer, because some of them require you to keep the subscription for 3 months before you can be credited.
5. Watch Videos
Another way to earn with CinchBucks is by watching videos.
Although you'll be watching videos, you actually only earn when you watch the ads.
CinchBucks uses the Hideout.tv video partner
So, if you watch videos via Hideout.tv, you need to watch 3 ads to earn 0.7 points.
Additionally, with Hideout.tv, you'll need to create an account for that site to be eligible for those points.
But it's easy to sign up and get your account running.
6. Refer & Earn
As with most survey and rewards sites, you can earn even more money through referrals, and CinchBucks is no different.
There's a chance to earn 20% commissions from your referrals earnings...for life.
Therefore, if you can refer many users to CinchBucks, then you could potentially earn a passive income for every time they earn on the site.
Quick Note - Can You Make Money Playing Games With CinchBucks?
Although there is an option to play games, you cannot earn any CB points for playing these games.
So, unless you find the games fun, don't waste your time trying to earn money with the games.
How To Get Paid With CinchBucks?
All funds are initially credited in CB points.
Every 100 CB points = $1
You need to reach 1000 CB ($10) minimum threshold to withdraw your earnings.
You can receive rewards as:
Electronic payout - Paypal, Visa etc
or Giftcards - Amazon, Walmart etc
How Much Can You Earn With CinchBucks.com?
Your earnings with CinchBucks can vary depending on a number of factors. For example:
How many tasks/surveys you complete
How many referrals you have
How much time you spend using CinchBucks to earn money
Which country you live in as some countries will have more opportunities than others.
So, the more time you're willing to put into the site, the more you will get out of it.
However, if you're spending hours filing out surveys, why not spend that time learning a new skill that could help you earn a full time income online instead.
How To Earn More With CinchBucks [Hacks]
Here are some hacks you can use to earn even more with CinchBucks:
#1 Download Browser Add On
The first hack to earning more with CinchBucks is to download the browser add-on to your internet browser.
Ultimately, this add-on will notify you of any new surveys and tasks that become available, so you can earn from them right away.
And you can use it to redeem your CinchCodes more easily (I'll discuss this further below)
The add-on is currently available on the following browsers:
If you don't currently have any of these browsers, they are free to download online. You can just do an online search. My recommendation is Google Chrome.
The key aspect with CinchBucks is to be one of the first to complete the surveys and redeems codes as soon as possible, so this add-on will really give you an advantage over some other CinchBucks users.
#2 CB Promo Codes
The next hack is to input CB promo codes.
Also known as Cinch Codes
These codes can be found on their Facebook, Twitter and Forum accounts.
The more active you are on their social accounts the more chance you have of redeeming the codes in the time limit.
Plus, with the use of the browser add on, you can redeem your Cinch Codes even more easily.
CinchBucks Payment Proof
So far I've not been able to see any clear payment proof from CinchBucks users.
I did come across this screenshot from a CB user, who was able to redeem an Amazon Gift card back in 2018.
But nothing more recent than this.
If I do come across more recent CinchBucks payment proof, I will update this review accordingly.
Which Countries Are Eligible For CinchBucks?
At the time of writing, it appears that CinchBucks is available in:
All countries (except Nigeria, Pakistan, North Korea & 11 other countries that cannot accept PayPal)
CinchBucks Reviews
So far I've seen some mixed reviews for CinchBucks
The TrustPilot rating for CinchBucks is currently 3.5 out of 5, which is a fair rating.
Even though some users reported being paid often, the main complaints I came across where that payments were slow and not many surveys available.
What's Good About CinchBucks?
CinchBucks has many positive features to offer, which include:
CinchBucks Complaints
Despite the range of positives of CinchBucks, there are also a few complaints, which are:
Final Thoughts - Is CinchBucks Worth Your Time?
Thank you for making it to the end of my CinchBucks review.
I hope this review has given you a good insight into the CinchBucks website and the opportunities that are available for you to earn some extra money online with it.
So, is CinchBucks worth your time?
Based on my experience and my research, CinchBucks is a legitimate site, but I don't think it's entirely worth your time.
Even though it is a real online earning website and a decent way to earn a bit of extra money online, I believe there are other survey and "get paid to" (GPT) sites that are more worth your time and are easier to earn with.
(See below for my recommended CinchBucks alternatives).
Overall, please note that CinchBucks is just for earning some extra income online. Don't expect to leave your day job or use this as a "full-time income" opportunity.
Despite that, CinchBucks still offers an easy way to earn some extra cash, while doing little to no work.
CinchBucks Alternatives
Although CinchBucks is real and legit, I feel there are better survey/GPT sites out there.
Here's a list of my top recommended CinchBucks alternatives you may want to add to your list of online sites:
If You Liked This Post, You Might Want To Check These Out:
Want To Discover The Method I Use To
Earn $300+ In A Day?!
---
Let's discuss:
What did you think of this CinchBucks review?
What are your thoughts about what is CinchBucks.com and is CinchBucks worth your time?
Are you currently a CinchBucks member? What have your experiences been so far?
Not a fan of surveys? What are your favourite ways to earn extra money online?
I'd love to hear your thoughts, comments and experiences in the comments section below.
---
Pin This For Later
Pros
Free to join
Various ways to earn
Pays via Paypal
Available in most countries
Decent referral program
Cons
May be disqualified from surveys often
Slow to pay
Not enough surveys available - depending on your country
No contact from the support team
High payout threshold - compared to other survey and GPT sites.