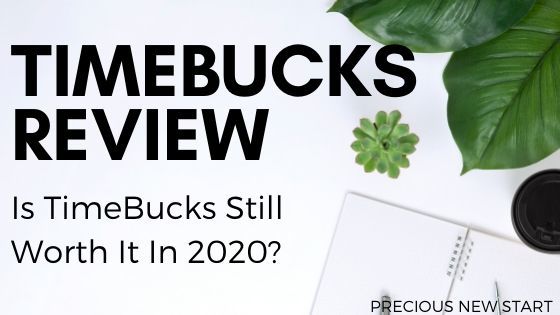 What Is TimeBucks.com About? – (Is TimeBucks Worth It In 2020?)
This post may contain affiliate links. If you choose to purchase something through one of my links, I will earn a small commission at no extra cost to you.
Welcome to my TimeBucks Review (2020).
Today I want to share with you my updated Timebucks review for 2020.
If you've been looking for ways to make money online, chances are you've come across the idea of taking paid surveys and completing tasks online.
Maybe you're already using sites like Swagbucks and looking for some alternatives to replace or add to your list.
Whatever your situation, I want to share with you my thoughts on what TimeBucks.com is about, and uncover is Timebucks worth it in 2020.
You can also take a look at my 2018 Timebucks review.
Although surveys and "get paid to" sites tend to get a bad reputation for being low paying and not paying in cash, there are some legitimate sites that can be worth your time and actually pays you in cash rather than points.
So, if you'd like to discover more about this increasingly popular GPT site, then keep on reading!
Overall Rating: 60/100
More...
What Is TimeBucks.com About?
For those of you new to Timebucks, it's basically a website that allows you to earn money online through completing a variety of tasks and paid survey opportunities.
As you read through this TimeBucks review, I will be discussing the different ways to earn and why Timebucks offers a few additional benefits compared to other GPT sites.
So stay tuned...
How Does TimeBucks Work?
There are 3 simple steps to get started with TimeBucks and to earn your $1 sign-up bonus:
Register
Fill out your profile
Complete the various tasks and surveys
10 Ways To Make Money Online With TimeBucks
There are currently 10 different ways you can earn money online with TimeBucks:
The quickest and easiest way to earn money with TimeBucks is to sign up through my link and complete your profile for the $1 welcome bonus.
Note: If you choose not to join through my link, I can't guarantee that you'll earn the $1 welcome bonus
2. Paid Surveys
Just like many other GPT sites, you can earn daily by completing the paid surveys. I'd advise you to check the site often to get the most up to date surveys.
3. Clicking Ads
An additional way to earn with TimeBucks is by clicking ads from different websites provided by TimeBucks.
To earn cash for this you must visit the ad/website for a specific length of time, so be sure to read the requirements before you close the page.
4. Get Paid To Post On Instagram
It looks like TimeBucks have removed the feature to earn through taking selfies, and have now added the option to allow you to earn through Instagram.
However, there's a more involved that you might expect.
With this method, you can get paid to post, but you will need to set up a brand new Instagram account and set up your account with a specific niche.
TimeBucks will give you the necessary images to fill your Instagram account with, to help you get started.
For more tips on how earn through Instagram with TimeBucks, take a look at this Youtuber's guide below:
5. Watching Videos
Similar to another GPT site I reviewed, Earnably, you can also get paid to watch videos with TimeBucks, via their partner provider Hideout.tv.
With this method, you don't actually get paid to watch the videos, you get paid to watch the ads.
Additionally, Hideout.tv, requires you to create an account with them directly in order to be eligible for those points.
But it's easy to sign up and get your account running.
Once you earn points on Hideout.tv, you can convert those points to TimeBucks cash.
6. Referral Program
One of the best ways to earn more money with GPT sites like Timebucks, is through referrals.
There's a 5-level referral ladder, which means you can be earning a passive income from 5 different members.
Not just that, but you also get a 50% bonus from your level 1 referrals if they earn in the free money tab.
Tip: I'd suggest getting some dollars in your account first, then once you've cashed out and got the proof, share the link with your friends and get them to join so everyone earns :).
7. Offer Wall
Another way to earn money with TimeBucks is by completing different offers with their partners.
Like other GPT sites, the offers on TimeBucks range from downloading apps to completing surveys.
8. Completing Tasks/Jobs
Along with the 7 options mentioned above so far, you can also earn when you complete some jobs/tasks through FigureEight.com.
Similar to Hideout.tv, you'll need to create an account to be eligible for earning.
For the most part the sign up is simple, however you'll need a phone/mobile to verify your FigureEight account via text (which some network providers may charge for). which is something to bare in mind.
With each task/job available, you'll be able to see how much you can earn for that task.
9. Earn CashBack On Online Purchases
An additional new feature of TimeBucks is the option to earn cashback on your online purchases.
You can earn from sites such as AliExpress and Bookings.com
As someone who shops on AliExpress often, this is a great way to earn a passive income with TimeBucks, as I'll be earning money without any extra efforts.
This is also useful if you're someone who buys and resells products from AliExpress.
10. Free Money Tab
Yep, that's right!
TimeBucks gives you the opportunity to earn some free money!
Who doesn't love free money?!
However, there are a few things to be aware of before you can earn with this tab.
You need to complete at least 10 tasks for that day in order to be able to "roll" the free money tab.
The earning potential for the free money tab ranges from $0.002 to $100
So far I usually only earn $0.002 from the free money tab, but you may be luckier than me and earn more...so why not give it a try 🙂
How To Get Paid With TimeBucks?
As a TimeBucks user, you have 3 ways to cash out your earnings:
Which Countries Are Eligible For TimeBucks?
Great news...TimeBucks is currently available worldwide, which means everyone can earn!
TimeBucks Pros & Cons
Final Thoughts - Is TimeBucks Worth It In 2020?
Thank you for making it to the end of my TimeBucks review.
I hope this review has answered the question, what is TimeBucks.com about, and given you some good insight into the TimeBucks platform and the opportunities that are available for you to earn some extra money online in 2020.
So, is TimeBucks worth it in 2020?
Based on my experience and my research, I would say that TimeBucks is a legitimate online survey website and worth your time if you're looking for a new or additional way to earn a bit of extra money online.
However, it's good to remember that TimeBucks is just for earning extra income online. Don't expect to leave your day job or use this as a "full-time income" opportunity.
Despite that, TimeBucks offers a super easy way to earn some extra cash, in a variety of ways, while doing little to no work.
So, if you'd like to register and receive a $1 sign up bonus, then click through the banner image below to get started right away:
If You Liked This Post, You Might Want To Check These Out:
Want To Discover The Method I Use To Earn $100+ In A Day?!
---
Let's discuss:
What did you think of this TimeBucks review?
Are you currently a member? What have your experiences been so far?
Not a fan of GPT sites? What are your favourite ways to earn extra money online?
Your turn...Is TimeBucks worth it in 2020?
I'd love to hear your thoughts, comments and experiences in the comments section below.
---
Did You Find This Post Helpful?
If you found this post helpful, I'd be SUPER happy if you shared it!
​

My goal is to help as many people as possible "make their dreams of success a reality". But I'll need you help to help more people.
Thanks a bunch for your support...you're awesome!
Pin This For Later