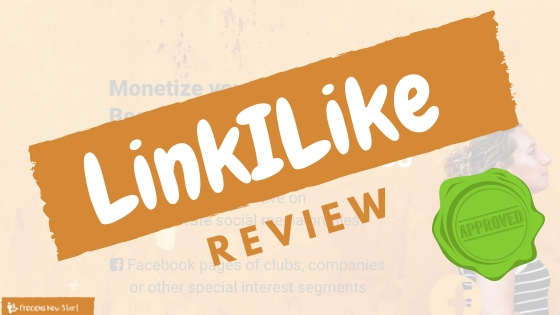 LinkILike Review – Earn Money Online With Social Media [+ Payment Proof]
This post may contain affiliate links. If you choose to purchase something through one of my links, I will earn a small commission at no extra cost to you.
Do you love social media?
Updating your Facebook status, sharing your latest thoughts on Twitter, uploading your favourite pics on Instagram?
How great would it be if there was a way to actually earn money online with social media?
I know, it would be pretty great!
There are a few programs out there which allow you to do this, but in this post, I'll be sharing my review of LinkILike...with payment proof!
So, stay tuned and discover a new way to make some extra money online today...
More...
What Is LinkILike?
LinkILike is a platform which allows you to earn money online with social media.
You get paid to complete the simple task of sharing content online.
It's a super easy way to earn a little extra money and do something you already enjoy doing.
How Does It Work?
LinkILike is very easy to use.
Essentially you share social media content on your social media accounts, and you get paid when you do so.
Here's a quick breakdown of what you'll be expected to do to start earning money online with social media.
Step 1: Set Up Your LinkILike Account
The first step to getting started with LinkILike is to set up your account. This includes connecting your social media accounts.
The social media accounts you can share to are:
Facebook
Google Plus
Twitter
Tumblr
Step 2: Start Your First LinkILike Campaign
With your account all set up, you should get access to some campaigns.
Campaigns are pieces of content which are available for you to share on your social media accounts.
Step 3: Review The Content
Before you go ahead an start sharing, it's a good idea to review the content provided to you. This may be in the form of an article or video.
By reviewing the content, you'll be in a much better chance of writing an engaging comment on social media.
Step 4: Select Which Social Media Accounts To Share Content
Ok, now that you've reviewed the content, decide which social media channels you wish to share the content on.
Note: You can share to more than one social media account, but you won't get paid per account. So if you choose to only share to one account, that's fine also.
Step 5: Write An Engaging Comment
Before you share the content, don't forget to write an engaging comment with your post, to make it more interesting for your reader.
Step 6: Share
Once all is done, it's time to finally share your cool new content.
Step 7: Get Paid
Share your content, and get paid! It's as simple as that!
LinkILike Payment Proof
Below is a screenshot of my payment proof, via Paypal. This is to show that you can earn money online with social media and that LinkILike is a genuine website.
LinkILike FAQs
Here are some answers to a few frequently asked questions.
1. How Will You Be Paid?
LinkILike pays via Paypal. If you don't already have a Paypal account, it's really easy to set up.
Additionally, you have the option to even donate your money to charity.
2. Is There A Minimum Payout Threshold?
Yes, there is a minimum payout threshold. You need to reach 10 euros before you can cash out.
Although the currency is in Euros, you can convert that into your own currency when you cash out via Paypal.
3. How Much Can I Earn?
Your earning potential depends on a few factors such as:
The number of campaigns that are available
How active you are on the site
The number of active referrals you have.
So far, the average payout I've seen per content is 0.35-0.45 euros.
How To Extra Money With LinkILike?
Another way to make money online with LinkILike is to get referrals, using a referral link provided by LinkILike.
If you get active referrals, then you get to earn a commission of their earnings.
So, you could potentially end up earning passive income with LinkILike, simply by having tons of active referrals.
I personally use a method of Affiliate Marketing to gain referrals, and it's allowed me to gain 400+ referrals on this online survey site.
If you'd like to follow the same training I use, then you can check out my #1 recommendation here.
Pros
Cons
Final Thoughts
Congratulations on reaching the end of this LinkILike review, and thank you for taking the time to read it through.
I hope it's given you some more insight about how to earn money online with social media, using this platform.
As you can see, from my own personal experience, this is a legitimate site, and a great way to add an extra income source to your list.
Do I Recommend LinkILike? YES! But only if you're looking for a way to make some side money online, and you get to earn money online with social media.
A much Better Way To Make Money Online...
---
After testing and review multiple ways to make money online, I've discovered Affiliate Marketing is one of the BEST!
Unlike LinkILike, you'll be building a REAL online business you can be proud of.
Please note, it's NOT some "get rich quick" scheme and there are definitely NO false promises.
Interested?
P.S. It's FREE to join...no credit card needed here!
Let's discuss:
What did you think of this LinkILike review?
Are you interested to know how to earn money online with social media? Will you use a site like this?
Maybe you're already earning, if so, what methods do you use to earn an income online?
I'd love to hear your thoughts, comments and experiences in the comments section below.
​Pin This For Later