2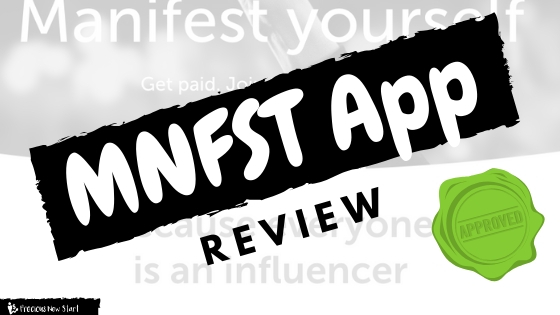 Get Paid Through Social Media With MNFST App [Review + Payment Proof]
This post may contain affiliate links. If you choose to purchase something through one of my links, I will earn a small commission at no extra cost to you.
Welcome to my MNFST App Review.
Today I want to share with you an app that allows you to get paid to post on social media.
Yes, you read that right!
There's a legit smartphone app that pays users to post on Twitter, Facebook and Instagram.
If you've been looking for a way to earn some extra cash, with little to no work, then you've made it to the right place.
Stay tuned to discover more about this app and keep an eye out for my payment proof!
More...
What Is MNFST App?
MNFST is a smartphone app that allows you to get paid through social media.
The idea is to promote content you believe in and that matches the style of your social media audience.
How Does MNFST App Work?
The MNFST app is very simple to use and it works in 3 steps:
Step 1: Choose A Campaign
The first step is to choose a campaign (aka Manifest) from the options available.
Step 2: Get Creative + Post
After you've chosen your campaign, the next step is to take a selfie video or photo.
You also have the option of selecting a selfie from your phone gallery.
Once done, post it to your favourite social media account.
Step 3: Run Campaign + Get Paid
Now that you've shared your campaign, step 3 is to let your campaign run for 24 hours, then withdraw to your Paypal account.
How To Get Paid With MNFST App
Once your campaign is complete, after 24 hours, you're now able to withdraw your earnings.
You only need a minimum of $1 to cash out, and so far I haven't experienced any processing fees.
There are currently 2 payment methods available:
Paypal
Revolut
Personally I'm only familiar with Paypal, which you can sign up for free here.
MNFST App Payment Proof
I joined the app on 18th December 2018, and was able to post my content on social media the same day.
After 24hours I was able to cash out my first balance of $2.66, straight to my Paypal account, which arrived within the hour.
See the payment proof screenshots below:
MNFST App Frequently Asked Questions
1. How To Earn More With MNFST App?
The first thing to do is connect ALL you social networks onto the app, then you can earn more by joining one campaign with multiple social accounts.
Plus, the higher your "Social Capital Score", the better offers you get. So to increase your score you need to:
Stay active on social media
Post something that's inspiring and gets more engagement
Interact with your friends/followers by reacting to their posts
Gain more followers and subscribers
2. What Social Networks Are Supported?
3. Is MNFST Mobile Only?
Yes, the MNFST app is currently only available on smartphone devices.
4. How Much Can You Earn?
All users of the app will receive personalised offers depending on:
An advertisers overall budget
You Social Capital Score
5. What Is A Social Capital Score
It's an index of how influential you are on social media.
The higher your social influence, the higher your score.
6. What's The Minimum Payout Threshold?
Thankfully, the MNFST app has a really low threshold of only $1.
Once you've reached this amount, you're eligible to withdraw.
Other Ways To Get Paid Through Social Media
If you're really interested in earning an income online through social media, here are a few other apps/sites available to do so:
You can either do these alongside MNFST app, or you can use then as alternatives to the app.
Final Thoughts
Thank you for making it to the end of the MNFST app review.
I hope it's given you an insight into a new way you can get paid through social media.
I was able to earn within the first 24 hours of joining the app, and it's really simple to use.
This app will not give you the kind of income to leave your job, but it is a nice easy way to build up a little extra cash.
Obviously, the more followers and engagement you have, the more opportunity you have to earn. So I'd encourage you to build you following in the process to help improve your earning potential.
I will continue to use this app and update my progress as I go along.
Discover The Method I Use To Earn 3-Figure Commissions In A Day
---
Let's discuss:
What did you think of this MNFST app review?
Do you get paid through social media? What other apps/websites do you user earn an income online with social media?
I'd love to hear your thoughts, comments and experiences in the comments section below.
Pin This For Later