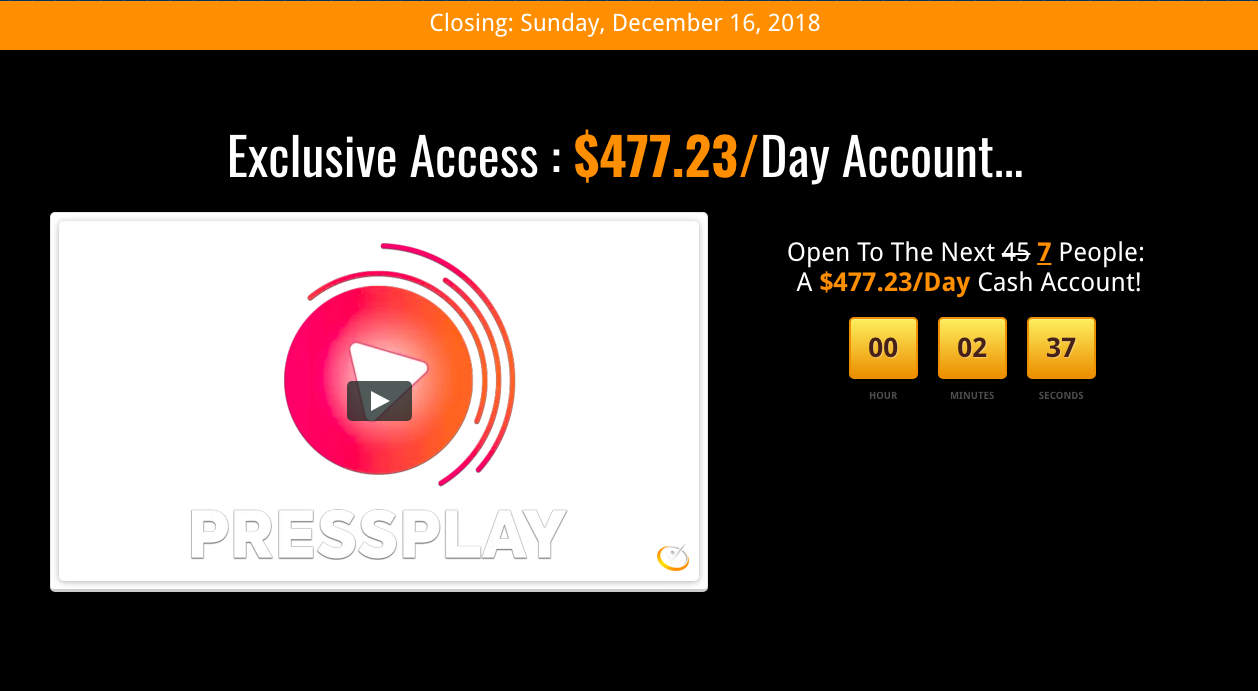 Is Greedy Mentor A Scam?! – 11 SNEAKY Truths Revealed [Review]
This post may contain affiliate links. If you choose to purchase something through one of my links, I will earn a small commission at no extra cost to you.
Welcome to my Greedy Mentor review.
Imagine you were given the opportunity to earn $477 per day with only 15-20 minutes of work online.
That sounds like a dream come true right?
So, what if Greedy Mentor was the product to help you achieve that?
Chances are you've made it to this page because you've been seen an email(s) about Greedy Mentor in your inbox, or you've come across it in your search for ways to make money online.
Whichever the case may be, I want to congratulate you on making it here and taking the decision to find out "is Greedy Mentor a scam?", or if it's a legit opportunity.
Now, let's uncover the REAL truth together...
Product Name: Greedy Mentor
Website: www.GreedyMentor.co
Owner: Meghan Harper (FAKE)
Price: $27-$67 + $2500 Upsell
Rating: 1/10
Recommended? NO
More...
What Is Greedy Mentor?
Greedy Mentor is an online "system" that claims to help you earn $477/day working online for just 15-20 minutes of "work" a day.
How Does It REALLY Work?
Based on the sales video, it's not clear at all how you'll actually be making money online with this system.
But wait...there are TONS of red flags in this system that I must bring to your attention too!
Is Greedy Mentor A Scam? 11 SNEAKY Truths Revealed...
There are SO many red flags in this program, and I can't believe how they are able to get away with such things!
Based on the points listed below, I believe that Greedy Mentor is a scam...read the following 11 points to discover why...
1. Overhyped Income Claims
Similar to other make money online "opportunities" I've reviewed in the past, the income claims are totally overhyped in the sales video.
They claim you can earn $100s in just 15-20 minutes of your time a day, but that's not the truth.
Plus, these screenshots above give the impression you can make $1000s with this system...but these same "income proof" screenshots were also used in this scam I reviewed.
My advice...don't believe the hype!!


2. FAKE Owner
This owner is completely fake and doesn't exist at all!
The image is a stock image taken from Shutterstock!
To make matters worse, this "owner" has also been used in similar scams such as "Your Freedom Mentor" and "Explode My Payday" ...just click my link or do a Google search, and you'll see exactly what I mean.


3. FAKE Testimonials
Again, just like other online products I've reviewed, the sales video contains a collection of fake testimonials.
This product, and others like, have NO shame at all in presenting you with these fake testimonials.
As usual, "testimonials" like this never mention the name of the product, they just say how happy they are with the results wit no effort at all. And they never talk about what they did to make the money.
In my opinion, "testimonials" like this look SO scripted and forced.
The lady in my first screenshot says she's never made a video like this before, but that's not true because she gets hired to make videos like this through Fiverr.
Plus, the man in the next screenshot is also featured in the Explode My Payday review.
4. "Owner" Claims You Don't Need To Spend Money, Then Asks For $67
Not too far into the first sales video, the "owner" mentions that you will not need to spend a single penny, nor will they be asking you for any money.
Yet, if you choose to enter your email, you'll get taken to the next sales video, and after 8 minutes or so you'll be asked to spend $67 to access to course.
Apparently, the $67 is to cover "server/hosting fees"
It's all FALSE!
They just want to take your hard earned cash, and they go by any means to do so!
5. TOO MANY Discount Offers
As I mentioned above, the "owner" just wants to take you money, and you'll be presented with about 3 discount offers just so they can get something off you.
First, they'll ask you for $67, then if you reject that then they'll offer $37, and if you further reject that, they'll offer $27.
If you're savvy enough to reject that offer, then they'll even try to present some "free" offers for you.
The truth about these "free" offers is that they are just affiliate links to other "make money online opportunities", and if you end up purchasing one of those products, then they'll earn a commission.
It's all a web of lies!
6. Disclaimer - Cannot Guarantee Success
I know that it's difficult to guarantee success of any program because it depends on the user and how they make use of the content provided.
But in the case of Greedy Mentor, the T&Cs even state that income and success aren't guaranteed.
This, to me, is a red flag and doesn't give me any hope that anyone could really ever earn from this system.
7. FAKE Account
During the course of the second video, you're told that an affiliate account has already been set up for you...and it's making money as you watch the video!
REALLY?!
Is that even possible?!
The simple answer is...NO!
It's not possible, and it's just another scammy sales tactic to get you to think that making money is super easy.
It's clear it's fake even by looking at the screenshots.
Apparently, this is all happening live, but just like Explode my Payday, the times on the screenshot are completely off!
The first screenshot shows $240 at 6:25pm...then the second screenshot shows $625 at 12:40am. (Exactly the same screenshots as EMP).
And there's no way you were watching the video for 6 hours!
You see, it's all fake!!
8. Enter Your Details and They May Sell Or Rent Your Data
Can you believe it?!...there's still more to expose!
Even if you choose not to purchase this "product", just by entering your name and email there's a high chance your data will be rented or sold.
You can see from the disclaimer in the screenshot above.
Would you want to be part of a program that does this to its customers?
9. FAKE Closing Date
The closing date of this offer changes every day I access this website. At first it was closing on 16th December and then after 2 days the closing date was on 18th December.
This program will continue to change it's closing dates until the website stops existing.
It's just another sales tactic to pressure you to make a purchase in a haste.
10. Hidden Upsells
I did some further digging into this product and I discovered that after paying the $27-67 entry fee, you're hit with a $2500 upsell to set up your webpage.
There's absolutely NO need for you to spend that much to have a website set up.
I'm able to host my site for only $3/month with Namecheap.
And there's also no need to spend that much for any upsell considering you were told there are no fees to pay in the sales videos.
11. Similar To Another SCAM I Reviewed
Throughout this entire review, I've pointed out many similarities this website has to another scam site I reviewed, Explode My Payday.
As you can see, I've mentioned EMP many times in this review because they follow the same structure, have the same screenshots and have the same scammy sales pitch.
My advice to you...avoid both sites at ALL costs!!
Pros
Cons
How I Make Money Online - NO Hype, NO Scams...
Despite the prevalence of online scams, such as this one, there is still hope for internet users like you, and it is still very possible to earn an incomeonline.
It's through a method known as Affiliate Marketing that I'm able to earn a monthly income online. Just take a look at the screenshot below which shows my monthly income increase dramatically over a 5 month period.
Plus...here are some other commission payments from other affiliate programs where I'm able to make $100+ in a single day.
I'm not sharing these to brag, but to give you a glimpse into the income potential that can be earned, thanks to Affiliate Marketing.
You could very well make more than me, or you could make less than me. It all depends on your hard work and determination.
All in all, Affiliate Marketing is a business model that I know works very well.
If that's something you believe you can do, then I'd encourage you to take a look my #1 recommended affiliate training platform for FREE.
Final Thoughts
Congratulations on making it to the end of the Greedy Mentor review.
You must be exhausted having to uncover all those red flags in this system.
So, to recap...is Greedy Mentor a scam?
YES, I believe it is a scam for all the reason listed above.
It's totally clear that the product "owner" is the GREEDY "mentor", out to take your hard earn cash.
There's nothing of value and it's just another renamed copy of Explode My Payday and My Freedom Mentor.
Unfortunately, online scams are all around us, which is why I'm extremely passionate about writing reviews, such as this, to warn future online earners like you of products which are clearly out to take your money.
As a fellow victim of online scams, I feel I have a duty to help internet users like you find the best legitimate opportunities online.
What To Do Next...
Ask Yourself:
Is Affiliate Marketing a business model you want to get involved in?
and...Would you like to follow in my footsteps?
Yes?!
Then you should click the GREEN button below to get access to the starter membership today...completely FREE.
Let's discuss:
What did you think of this Greedy Mentor review?
Is Greedy Mentor A Scam?
Are you already making money online? What legitimate methods do you use to earn an income?
I'd love to hear your thoughts, comments and experiences in the comments section below.