16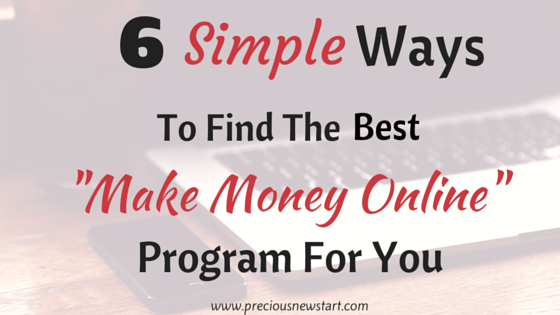 6 Simple Ways To Find The Best Make Money Online Program For You!
This post may contain affiliate links. If you choose to purchase something through one of my links, I will earn a small commission at no extra cost to you.
There are lots of "Make Money Online" programs available these days, which makes it hard to know which one is the best for you. So in this post I want to share with you some of the questions you should ask yourself when choosing a program, and before making any financial investment to the program. I will also tell you my #1 recommended program to help you make money online.
#1: Does The Program Allow You To "Try Before You Buy?"
---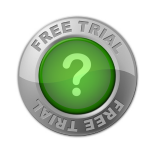 This is me basically saying, is there a free membership/free trial?. When deciding whether or not to go for a paid program, you need to be able to tell if it is going to be worth your money or not. So the first thing you'll want to do is find out if the program lets you test out its features as a free trial, or whether you can join as a free member, with the choice to upgrade when you want to. This is useful because it means you get to test out the program, which will allow you to make an informed decision before potentially paying for the program. Also, it's helpful to note that most free trial offers don't require any payment details.
If you are unable to do a free trial, find out if the program offers a refund policy. Some refund policies can be 14, 30 or 60 days, so it's important to find out what the exact policy is. If you're not too sure, take a look at reviews online to what others might say about the program, and whether the refund process is simple or not.
#2: Is The Program Suitable For Your Expertise?
---
If you're a newbie, or an expert in the world of making money online, then you need to join a program that fits you needs. As an expert, you won't want a program that covers only the basics of making money online, and likewise, as a newbie you won't want a program that's full of technical jargon. By choosing the wrong program for your expertise, you may feel that you've wasted your money.
This is one of the advantages of being able to "try before you buy" because it allows you to see what level of training and information the program offers.
#3: Are You Willing To Take Action?
---
Most of the programs you see will only teach you the methods you need to Make Money Online. In order to make it work, you need to be willing to take action and actually implement what they teach. If you spend too much time procrastinating, then you'll be losing money on the program, rather than making money from what the program teaches.
If you're not ready to make use of the information you are given, then no matter which "Make Money Online" program you join, it will not be worth your money.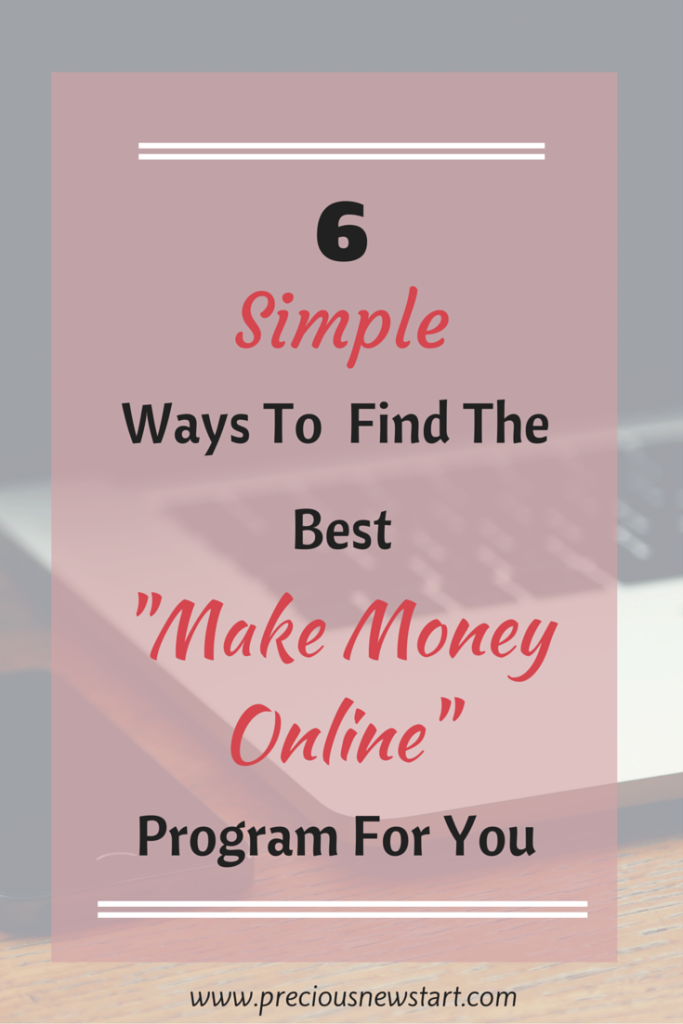 #4: Does The Program Offer Quality Training?
---
In order to succeed in making money online, you need to have the right training. Just like with any job, you need to have lessons/training that will allow you to be able to carry out that job effectively. Therefore, a Make Money Online program should be able to teach you, using quality training methods and materials, in order to help you really make money online.
That's another reason why I feel it's good to join a program that allows you to "try before you buy", so you can get a feel for the training that is being offered.
#5: How Will You Actually Be Making Money Online?
---
You need to find out from the program what you'll actually be doing in order to make money online. If the program's only method of being able to make money is by promoting that program, then I personally would not recommend joining…unless you truly believe the program is worth sharing with others, and you feel that people will benefit from joining it. However, it helps if a program offers you other ways you can make money online, cause I believe that the more alternative income streams you have to make money online, the more successful you will be.
#6: Are There Any Upsells?
---
Overall, there's nothing wrong with a program offering upsells in order to get you to purchase other products or services. However, the problem comes when the program is bombarding you with multiple overpriced upsells. If that's the case, then you may want to avoid that kind of program, as it seems they're more interested in your money rather than helping you. However, if you're able to look past the upsells and you feel you can still benefit from what the main program has to offer, then I'd say do what you feel is right for you.
My #1 Recommended Program & Why
---
My personal #1 recommended program is Wealthy Affiliate (check out my in-depth review here). As a hands-on member, I recommend it because it is a genuine program that is geared to help you make money online. I have gained so much from being a part of the program and want others to benefit from it too. Below is a table that compares what Wealthy Affiliate has to offer against the questions that were asked above: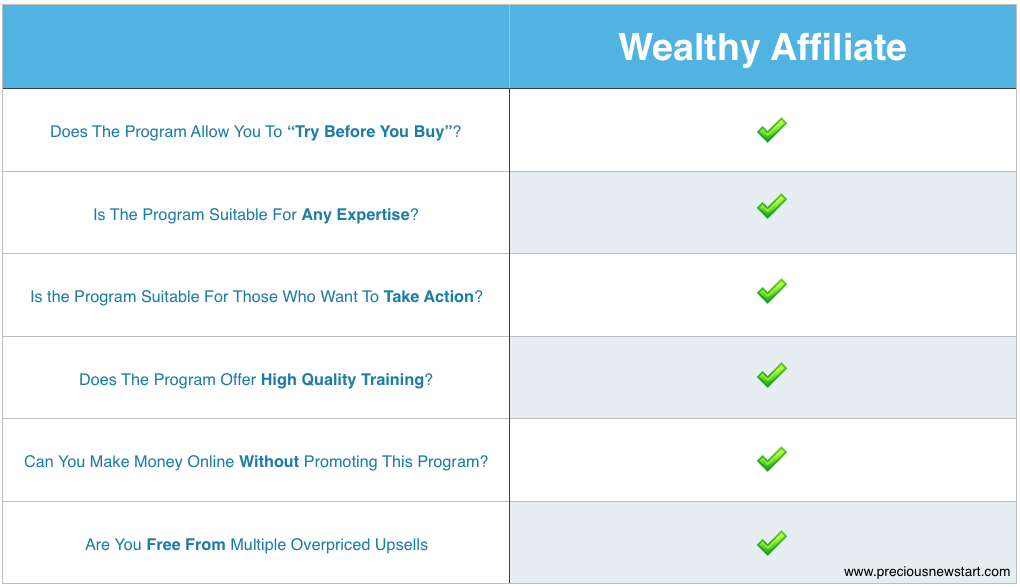 Final Words
---
When looking for information, it can take a lot of time to get the training and resources you need to make money online, and you'll likely end up jumping from one site to another this way. Therefore, having access to a Make Money Online program like Wealthy Affiliate, means you get most of the training and tools you need under one roof, and can make the overall process less overwhelming.
Whatever program you choose, always be aware that there is no 100% guaranteed success. What might work for me may not work for you, and vise versa. You need to work hard and be committed to get the results you want. I would still recommend you give Wealthy Affiliate a try, as it's free to join and you can test it out for yourself, and you can choose to upgrade or remain a free member depending on your experience with them.
To sign up for a totally free account at Wealthy Affiliate, click the link below
If you have any questions then please feel free to ask them in the comments section below, as well as share any other tips you may have on this topic.