15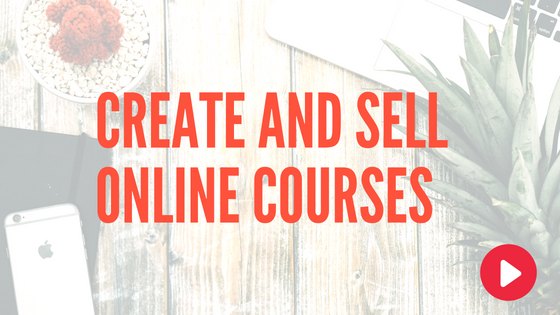 How To Create And Sell Online Courses – 5 Low Cost Options
This post may contain affiliate links. If you choose to purchase something through one of my links, I will earn a small commission at no extra cost to you.
Have you ever thought about turning your knowledge into a way to make money online?
Did you know, more and more people are turning their passions into online courses, by teaching others their knowledge?
If you have a vast knowledge and understanding of something or see a gap in the training of a particular area, why not use this opportunity to create an online course, and make money online!
This post is going to share with you how to create and sell online courses using 5 top online platforms.
Here's what you can expect from this guide:
Want To Read This Later?

Enter Your Best Email For Access To The

"Quick Start" Guide

PDF Download!
More...
How To Create And Sell Online Courses [Video]
1) Think About What You Want To Teach
Before you get into teaching online, you should do a quick brainstorm of areas you are knowledgeable in and determine where a gap may be online.
Think about a skill that might be related to your job or something that your friends and family always ask you about.
Maybe it's a hobby that you've learnt a lot about and want to be able to share that with others.
2) Market Research
Next, you need to do some research to find out if your course is something that people would actually want to buy.
Also, if your course is in a niche with a lot of competition, then think about:
How do I plan to stand out?
What can I add to the market that's unique?
3) Outline Your Course
Now that you've decided on a topic and you've done some research, it's time to start developing an outline for your course.
Think about:
How will I deliver the course? (videos, text, audio...a mixture)
Who am I catering for? (Beginner, Advanced etc)
Which platform shall I use? (see below for more details)
You should also try to think of your course in terms of modules and lessons. A module will be the overall sub-topic, while the lessons will go into detail about the topic.
4) Determine Which Platform to Use
Here's a list of 5 of the top online platforms for creating online courses.
1) Teachable
Teachable is a platform that allows you to create and sell online courses.
It has been used by top bloggers such as Pat Flynn from Smart Passive Income, and Melyssa Griffin.
You can upload video and/or written content for your courses, as well audio, image and PDF files.
Additionally, you can market your course by providing discount/coupon codes and integrating your own affiliate program.
It's a really great platform for bloggers to sell their courses, and you can link your course to your own site (school.yoursite.com).
How To Get Started?
Here's a video guide to give you an idea of how to get started with Teachable:
Pricing:
FREE plan
Monthly

Basic:

$39/month

Professional:

$99/month

High Volume:

$299/month

Annual

Basic:

$33.25/month

Professional:

$83.25/month
Teachable Examples:
Pros
Cons
Udemy is another platform to create and sell online courses, with a big difference.
With Udemy, you have a lot more potential buyers right away compared to Teachable.
With Udemy, you have the advantage of using the marketplace to drive traffic to your course.
Udemy has recommended standards for courses on the platform, which ensures that the course is beneficial to the students.
How To Get Started?
For more information about getting started with Udemy, check out this really in-depth series on getting started as a Udemy instructor.
Pricing:
There is no fee to create your course and host on Udemy. Instead, the pricing structure is based on Instructor revenue shares. These are as follows:
Udemy Examples:
Pros
Cons
Get The "Quick Start" Guide!

Enter Your Best Email To Download The PDF
3) Skillshare
With Skillshare you earn when students take your class. Students pay a membership to access many courses within Skillshare.
This makes it a bit easier for them to find your courses without you having to do a lot of marketing.
Additionally, Skillshare is offering a 30-day teaching challenge which gives you extra help to create your own class.
You get access to feedback, milestones and prizes to help keep you on track.
==> Use this link to get first 2 months FREE (premium student account)
​How To Get Started?
Skillshare is free to join, and there's a full getting started handbook to read for more details.
Pricing:
There's no need to pay a monthly fee to create and sell online courses with Skillshare. You just need to pay 30-50% royalties for every minute watched by students.
This is because students pay a monthly fee for the entire SKillshare platform, rather than paying per class.
Skillshare Examples:
Pros
Cons
4) Thinkific
Thinkific is another popular platform for creating and selling courses online. With Thinkific, you can get started for Free.
Similar to Teachable, you have much more control over your content, but you have to market it yourself.
A drag and drop editor is available with Thinkific, and all pricing plans allow you to integrate with email marketing services, such as Convertkit, Aweber and Mailchimp.
How To Get Started?
In order to get started, take a look at their in-depth resources and tools guide.
​

Pricing:
To create and sell online courses with Thinkific you can sign up for free, and prices go up to $279/month, depending on the price plan you choose.
See the pricing structure below:
Pros
Cons
Thrive Apprentice is a WordPress plugin, from the Thrive Themes company, which allows you to create and host courses on your own blog/website.
You're able to create video and writing guides, as well as include presentations and PDF downloads.
In order to actually sell through Thrive Apprentice you would need to have a membership plugin on your website too, such as Member Mouse.
How To Get Started?
You can get started by purchasing Thrive Themes and then installing the Thrive Apprentice plugin onto your WordPress site.
Here's access to a quick starter guide for more information.
Plus, here's another guide about how Thrive Apprentice works with Member Mouse plugin
Plus this in-depth video review below:
Pricing:


Pros
Cons
My Final Thoughts
Teaching courses online can be very rewarding, and quite lucrative if you're able to provide real value to your students/audience.
And nowadays, it's much easier and more affordable to create and sell online courses thanks to user-friendly platforms such as those listed above.
While it may take a while to create the courses, once set up and uploaded it can be a great source of passive income.
If you liked this guide on how to create and sell online courses, please share on your favourite social media platform.
Get The "Quick Start" Guide!

Enter Your Best Email To Download The PDF
Pin This For Later
What are your thoughts on how to create and sell online courses?
Are you currently selling a course online? Which platform are you using? And how did you get started?
Join the discussion and share your thoughts, opinions and experiences in the section below.