4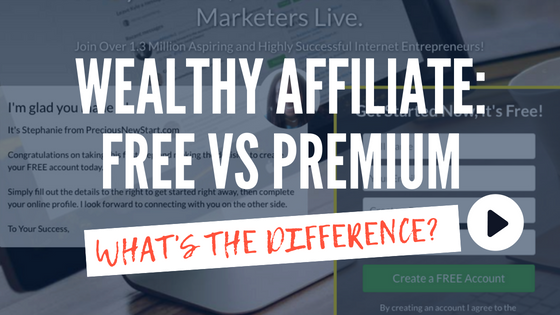 Wealthy Affiliate Free Vs Premium Membership: What's The Difference?
This post may contain affiliate links. If you choose to purchase something through one of my links, I will earn a small commission at no extra cost to you.
Thinking of joining Wealthy Affiliate, but not sure if it's worth upgrading to their premium membership?
I get it!
The Wealthy Affiliate free vs premium debate went through my mind a number of times before I made the decision to upgrade.
So to help others in a similar situation, this guide will help you understand the differences between the free and premium membership, and help you make the right decision for you.
Here's what you can expect from this guide:
Want Access To The Best Affiliate Tools?
Enter Your Best Email To Download The

"Super Affiliate Marketers Toolkit"
Today!
More...
What Is Wealthy Affiliate?
Wealthy Affiliate is a platform dedicated to helping people turn their passions into a successful business using Affiliate Marketing.
As you may know, Affiliate Marketing involves promoting a product and earning a commission when that product is sold. And Wealthy Affiliate teaches you how to use this process to earn a real income online.
The great thing about Wealthy Affiliate is that you can get started as a complete beginner, and learn all the necessary steps within the platform, for free.
Before we get started, take a look at my in-depth Wealthy Affiliate review, where I discuss the full features and training covered within Wealthy Affiliate.
So, now that we've covered the basics, let's discover the differences between Wealthy Affiliate free vs premium membership.
Wealthy Affiliate Free vs Premium Comparison Table
Below is a table with outlines the main differences between the 2 memberships.
Wealthy Affiliate FREE Starter Membership
Access to 2 Training Room Classes (approx 20 Lessons in total)
2 FREE websites (WA hosted with a ".

siterubix.com

" subdomain)
30 FREE searches on the Jaaxy keyword research tool
Option to earn through the WA Affiliate Program
24/7 Live help access for the first 7 days!
1-on-1 Coaching for the first 7 days!
Perfect for just getting started
Wealthy Affiliate Premium Membership
Unlimited access to ALL training classrooms (100+ lessons)
Ability to host 50 websites (25 on your own domain, 25 on "

siterubix.com

" domain)
Unlimited searches on the Jaaxy Keyword Tool (a must-have tool for Affiliate Marketers)
Can earn 2x higher commissions payouts with the WA Affiliate Program!
Full access to 24/7 Live Chat and 1-on-1 coaching! (As well as private access to the WA owners Kyle and Carson)
....PLUS SO MUCH MORE
Price: $49/month or $359/year
Special Bonus ===> Upgrade within the first 7 days and get the first month for only $19 (that's 63% saving!!)
Perfect for those ready to supercharge their affiliate success!
Wealthy Affiliate Starter Membership: FAQs
1) Can I Really Run A Business On The Starter Membership?
Technically, yes!!
You have access to 2 free websites and the basics to get yourself up and running for a short while...
but...you definitely need additional training and support to fully run an online business for the long run.
Additionally, if you're a complete beginner to marketing, then you may have some trouble making sales/commissions right away without upgrading your membership.
2) Do I Have To Promote Wealthy Affiliate To Make Money With Their Training Platform?
You don't have to promote Wealthy Affiliate at all to make money online with their training.
This is one of the biggest misconceptions about Wealthy Affiliate, which bothers me at times as you can definitely earn without promoting WA.
To be honest, there are many people within Wealthy Affiliate making ​money (sometimes more)promoting a niche that they're passionate about...including me.
Here's a screenshot of income I earned from my niche website last year.
I don't promote anything to do with Wealthy Affiliate on that site, and it doesn't even get a lot of traffic compared to this site. Yet I'm still able to earn a consistent monthly income, thanks for the training at Wealthy Affiliate!
3) There's A Lot Of Free Affiliate Marketing Training Available Online, Why Should I Upgrade?
Yes, it is true that there is A LOT of free training available online for Affiliate Marketing, however, due to this high influx of information, this can easily lead to information overload.
I've personally dealt with this and found it very difficult to know which methods to follow. As a result, I wasn't seeing any growth in my business as I was regularly switching from one strategy to the next.
Either you can spend A LOT of time trying to sort through the information that's available online and piece it all together...or you could be part of a platform that has all the information you need, in the order that you need it.
The huge advantage of upgrading to a WA premium membership plan is the ability to work through the training step by step, and in a structure that is super easy to follow.
The content flows and you learn different concepts one step at a time. Furthermore, there's a huge community of like-minded individuals to help you progress in your business.
4) I Can't Afford The Premium Membership. What Should I Do?
I totally understand, sometimes we just don't have enough money.
In this situation, I suggest using the starter membership to get your feet off the ground and find ways to earn some extra side money online to fund your membership at WA for the meantime.
For example, when you sign up through my link above you get access to the first month for $19.
So you can try and earn this money through "extra income" sites such as survey sites, Usertesting sites, and Get Paid To (GPT) sites.
Combine all these methods and you'll be able to pay for the first month in no time. Then follow these options to continue to fund your WA premium membership until you're earning consistent affiliate income.
But ultimately the decision is yours. There's no pressure or obligation to upgrade your account, but I want to let you know what options are there to get you through any difficult situations.
Want Access To The Best Affiliate Tools?

Enter Your Best Email To Download The "Super Affiliate Marketers Toolkit"
6 Reasons To Upgrade To Premium Membership
1) In-depth Training
Tons of written and video guides available
Access to all phases of the Online Entrepreneur Certification Course, which allows you to create a niche website and earn money from it.
In-depth Affiliate Bootcamp Training if you choose to promote Wealthy Affiliate
All with bite-sized tasks you can tick off as you go along
2) Regular Updates
The platform is always updating and the owners of Wealthy Affiliate really want to create a quality program for it's members.
3) Like-minded community
Wealthy Affiliate gives you access to a huge community of like-minded members who are looking to earn an income online.
As a premium member, you get to interact with others through the 24/7 live chat and search area.
It's a great way to interact with others, form friendships and to learn from others.
4) Website support
Wealthy Affiliate offers high-quality website support, and as a premium member you can host up to 50 websites within Wealthy Affiliate.
You can also contact Site support regarding any issues with your site as they tend to respond quite quickly.
5) Advanced web hosting features
Not only do you get great web support features, as a Wealthy Affiliate Premium member, you also get access to advanced web hosting features. Such features include:
Free SSL for all self-hosted websites.
SiteSpeed gives you the opportunity to speed up your website for better rankings and engagement.
Spam Blocker which blocks automated comments before they actually hit your site, so you don't have to worry about spam cluttering your database.
Additionally, there are other great features included (see below):
6) Access to LIVE weekly webinars
As a Wealthy Affiliate Premium member you can take advantage of the live webinars that are held live by one of the top members, Jay (aka Magistudios), who's been a member for 11 years.
These weekly webinars give you up to date strategies to really take your website and business to the next level. They're worth watching every week!
Wealthy Affiliate Free Vs Premium [INFOGRAPHIC]
Final Thoughts
The great thing about Wealthy Affiliate, free vs premium membership, is that you get the option to decide which membership plan you want to go for. There's no obligation to upgrade, and you can choose to remain a free member for as long as you like.
So, Wealthy Affiliate: Free vs Premium membership...what's the difference?
The main difference between the 2 memberships is based on what you actually want to get out of your membership.
Do you want something tojust help you get started as a beginner, or are you looking for a training platform that'll help you grow and earn more as an Affiliate Marketer? That's a decision you need to make for yourself.
However, my best advice to you, if you're wishing to join Wealthy Affiliate, is to test the platform for free during the first 7 days. Then try to consider the $19 offer for your first month, just so you can get a FULL taster of what the WA platform has to offer. Then you can really decide if Wealthy Affiliate is for you, otherwise, you have the option to cancel at any time.
Your turn...what will it be?
What are your thoughts on Wealthy Affiliate free vs premium membership?
Are you a starter member thinking of upgrading? What's stopping you from doing so?
Are you a premium member? What are your thoughts of WA since upgrading?
I'd love to hear your thoughts on this post and your experiences. Be sure to join the discussion below
Want Access To The Best Affiliate Tools?

Enter Your Best Email To Download The "Super Affiliate Marketers Toolkit"