9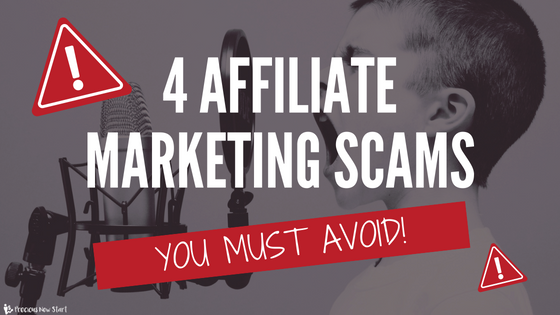 4 Key Affiliate Marketing Scams You MUST Watch Out For
This post may contain affiliate links. If you choose to purchase something through one of my links, I will earn a small commission at no extra cost to you.
I bet you're tired of falling for the same old affiliate marketing scams, right?
How great would it be to know exactly what kind of scams to look out for?
In this post, I want to share with you some of the key Affiliate Marketing scams that you MUST watch out for.
Personally, I wish I had a guide like this when I was getting started...I would have saved myself a lot of time and money.
So that's why I want to be able to share this with you.
Here's what you can expect to gain from this post:
Want Access To The Best Affiliate Tools?
Enter Your Best Email To Download The

"Super Affiliate Marketers Toolkit"
Today!
More...
1) Affiliate Marketing Training By "GURUS"
A lot of "gurus" claim they have the secret loophole to help you earn tons of money as an affiliate marketer, but many of these "gurus" are just out to get your money.
You may end up getting an e-book full of fluff and lacking substance or a "course" with information found very easily for free online.
How To Avoid?
Do your research before you purchase any new programs/products online
Find reviews on Google and Youtube (e.g. "[Product Name] + Review")
Watch Youtube videos to see if you can get an inside look at the program/product you want to invest in
Choose a program that fits your needs
Purchase a program that has longevity and a well-known name.
Try out Wealthy Affiliate - A complete step-by-step training platform that teaches you how to build a REAL online business based on your passion(s).
2) You're Not Selling A Real Product/Service
You already know that the main aim of Affiliate Marketing is to promote products and earn a commission when you make a sale.
So, when you join a new Affiliate Marketing program, look closely at what it is they are actually selling.
If they are promising overnight riches with no tangible product/service, then I would highly encourage you to stay away.
Additionally, many programs are designed like pyramid schemes where no one actually makes money, except the people right at the top, no matter how hard you work.
How To Avoid?
Join a program with a real tangible product/service
Be part of something you feel proud and confident to promote...a product you actually believe in.
3) Offers That Claim Overnight Riches With Little/No Work
Affiliate Marketing gets a bad reputation due to the endless supply of "Get Rich Quick" schemes.
Online "gurus" promise you thousands of dollars with little to no effort and in a really short space of time.
But you need to be very cautious and not fall for it!
One of the most key affiliate marketing scams is to make false promises of overnight riches, but a genuine program would not do this.
A real Affiliate Marketing program gives you the necessary training and/or tools to succeed, but the actual work comes from you, and not some push-button system.
How To Avoid?
Don't fall for anyone that tries to tell you about a "simple done-for-you" system or a "secret loophole" with no experience - Real, honest Affiliate Marketing takes time, patience and hard work. There are no secrets to success.
You need a strategy that you can implement, which is why choosing the right Affiliate Marketing training platform is important.
4) Affiliate Programs That Ask You To Pay Before You Can Join
Look...
Real, legitimate platforms with an Affiliate Marketing program are FREE to join.
There is absolutely no need to pay in order to promote a product/service as an affiliate.
Perhaps you've been lucky enough not to have to come across a program like this, but when I was a member of Empower Network, back in 2014, I was required to pay a $19.95 monthly payment, just to be an affiliate...and at the time, I, unfortunately, did pay.
Not too long after joining the program I realised that this is one of the key affiliate marketing scams to really stay away from!
How To Avoid?
Stay far away from any program that asks you to pay to be an affiliate!
Is Affiliate Marketing A Scam?
Don't worry, there's still hope for Affiliate Marketing, and it isn't totally doomed because of these scams.
Despite the bad, there is a lot of good in the industry, and you will always be able to find legitimate:
Final Thoughts
Don't be discouraged by the key affiliate marketing scams listed here. When you're starting out it's hard to know what's legit and what isn't.
That's why I created this post to help you identify typical scams within Affiliate Marketing, in hopes that'll help you avoid being victim to one of these scams.
So, here's what you should do next... Now that you can spot an Affiliate Marketing scam, get access to my Affiliate Marketers Toolkit. Here you'll find the best legitimate Affiliate Marketing networks to join, as well as some of the best tools and training to supercharge your Affiliate Marketing success!
Want Access To The Best Affiliate Tools?

Enter Your Best Email To Download The "Super Affiliate Marketers Toolkit"
Have you ever been involved in an Affiliate Marketing scam before?
What were your experiences?
Please join the discussion and share your comments below to help others who may be involved in one of these key affiliate marketing scams.