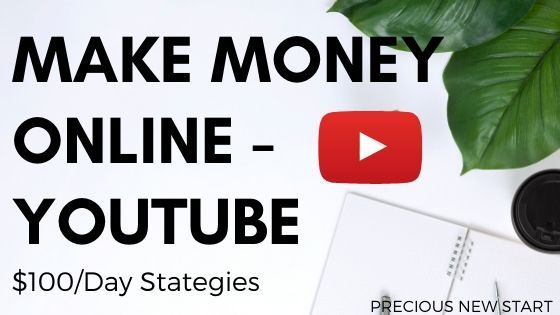 How To Make Money Online From Youtube in 2020 – [4 BEST Methods]
This post may contain affiliate links. If you choose to purchase something through one of my links, I will earn a small commission at no extra cost to you.
Have you ever watched your favourite Youtuber and wondered, "How can I join them and make money online from Youtube too?"
...then I want to congratulate you for making it to this article on how to make money online from Youtube!
In this article, I'll be sharing with you 4 BEST methods you can use to make money online from your Youtube this year, and you don't even need to have a huge number of subscribers to do so.
All you need is the passion to get started, and the willingness to work hard towards your goal...and a Youtube channel of course :).
So, let's not waste any more time and discover more about how to make money online from Youtube....
More...
How To Start (& Grow) A Youtube Channel
Before we go further into this article, it's important that you first of all have a Youtube channel to work with.
So this video guide below will show you step-by-step how to set up your Youtube channel:
Now that your channel is up and running, this next tutorial will give you further advice on how to actually grow your channel and make it successful.
This will in help you earn MORE money with the strategies I will be sharing in this guide.
Method 1: Monetise Your Channel With Ads
The first best way to make money online from Youtube is with advertising.
I'm sure you've watched videos on Youtube that are full with ads at the beginning, middle and/or end of a video.
Well, when you see video with ads like this, that video is making money through the Youtube Partner Programme.
This exciting program gives Youtube video creators the chance to make a passive income online through their channel.
That means, you can earn money even while your sleeping and people from all the over the world can watch your video and watch the ads placed on your video.
This is why Ads are one of the best ways for how to make money online from Youtube.
But how do you get started?
To be able to have ads displayed on your Youtube channel you need to join the Youtube Partner Programme.
However, there are some requirements that you need to meet before you can be accepted into the program.
These requirements are in the screenshot below:
Once you've meet those requirements and been accepted, you can start making money online from Youtube right away.
Also, this video below is a great guide on how to make money from Youtube with ads, and includes some bonus strategies to help you earn even more with ads:
Method 2: Promote Products As An Affiliate
The next best method to making money online from Youtube is through a method of Affiliate Marketing.
Affiliate Marketing is a method of promoting other people's products and earning a commission when a sale is made.
For example, if you are promoting a product that costs $10, and the commission rate is 50%. After the sale, you would have made $5 profit.
This is the method I personally use to earn an income online, and incorporating this method with a Youtube channel is the perfect way to earn a passive income, even with a small channel.
Below are a few screenshots of money I've been able to make with Affiliate Marketing:
Earning with Affiliate Marketing can be as simple as creating videos where you review a product or service, and sharing that on Youtube.
Then, you simply implement your affiliate link in the description of your video.
Not just that, but you can also implement your link in your channel's "About" section.
Just remember that the affiliate product you wish to promote should be in the scope of the niche you're in.
Watch this video below for further guidance on how to start Affiliate Marketing with Youtube, as a beginner:
Don't want to show your face? No Problem!
If you don't want to show your face on camera? No problem, you can use a software such as Screencast-o-Matic to record your computer screen for online product reviews.
Or, alternatively, you can use another software, Content Samurai, to create high-quality videos to promote a product or service.
Plus...readers of PreciousNewStart.com can get exclusive access to a 7-day free trial of the Content Samurai video creation software.
Where can you learn more about Youtube & Affiliate Marketing?
The first place I recommend to learn more about Affiliate Marketing is through Wealthy Affiliate. Here you'll learn everything you need to know about making money with the #1 affiliate program online...Amazon.
Amazon is one of the easiest platform to promote because it is the most trusted online marketplace.
Therefore, if you can learn how to generate sales and commissions with Amazon, then you've got a great chance of being a successful affiliate online.
==> Click here to learn more about Wealthy Affiliate
Additionally, I also recommend joining this FREE webinar training for making money online with Youtube and Affiliate Marketing, even with a small channel.
Method 3: Sell A Product/Merchandise
If you create products to sell that your target audience might be interested in, then this could be another great avenue for you to make money online from Youtube.
Effectively, you'd be indirecting monetising your Youtube channel and offering merchandise that relates to the subject of your channel.
The example above shows a family that has grown their channel and has now created merchandise in the form of clothing, which they can go on to sell and profit from.
You could create anything from custom t-shirts to coffee mugs with your logo.
Not only that, but you could also create information products, such as ebooks, printables, planners etc.
Whatever you plan to offer, you can choose to create videos on your products and link to your merchandise via the description box, or through clickable annotations in your videos.
Extra Tips for selling products on Youtube
You can use "Print-on-Demand" tools such as Printful to create products with your channel logo.
Shopify is an online store platform which gives you the opportunity to build an eCommerce store with your range of merchandise, which you can link in the description of your video. (And as a reader of

PreciousNewStart.com

you can click here to get access to a 14-day free trial of Shopify, and start your own eCommerce business with the help of Youtube.)
Method 4: Create Sponsored Videos
My fourth best method on how to make money online from Youtube is through sponsored videos.
Sponsored videos involves promoting a product or service in your video and being paid for the video or receiving the product for free in exchange for a review.
It can be as simple as mentioning the name of the product at the beginning of your video, or creating a full video review on the product you're sponsoring.
But before you start applying for sponsorship, it's important to get your channel set up correctly by following these top 3 tips:
Read the Youtube rules - Ensure your content is in line with Youtube's rules and you don't post any abusive content etc.
Quality content is important - The content you have on your channel will give potential sponsors a good idea of whether they can/should work with you. So aim to produce regular quality content.
Leave your business email - This can be easily added to your channels "About" page, and it gives a chance for potential sponsors to reach out to you and ask you to sponsor their brand.
Be sure to watch this video guide below for more information:
Recommended Tools & Training
TubeBuddy - This is a tool I recommend for anyone wanting to get started with Youtube. With Tubebuddy you can find top keywords that are ranking for your niche, and you can "spy" on your competitors to see what tags etc their using for their videos. There's a free version, and I believe it's a must-have for potential Youtubers!
Content Samurai - This video creation software tool allows you to create stunning videos in minutes, with built in stock images and videos, you can create high-quality video content without having to show your face, or even your voice. And as a reader of PreciousNewStart.com, you can click here to get access to their exclusive 7-day free trial.
Screencast-o-Matic - With this online tool, you can create screen recordings of your computer and upload them directly onto Youtube. You don't need to show your face if you prefer not to. Plus, there's also an option to record your screen and yourself on the webcam for extra engagement with your audience.
FREE Affiliate Marketing & Youtube Webinar - As mentioned previously, this FREE webinar will give you the beginner tips and tools to help you make money online as an affiliate with Youtube, even with a small channel and no experience. Students of this training are making $1000s online because of the training here. So be sure to check it out.
Wealthy Affiliate - The perfect platform for beginners wanting to learn how to make money online with Affiliate Marketing, and you can easily implement these strategies to your Youtube channel for profit.
My Final Thoughts - How To Make Money Online From Youtube?
Thank you for making it to the end of my guide on how to make money online from Youtube.
I hope you've gained a lot of insight into the best ways to make money with your Youtube channel, as well as actionable tips you can use to implement these simple strategies and begin making money online from today.
If you work hard and have the passion it's relatively easy to make money from your YouTube videos.
Ultimately, you just need to know the right methods and take the time to set them up properly.
So, if you'd like to fast-track your success with Youtube, then join this FREE webinar my fellow Youtube Entrepreneur is hosting, to uncover the secrets to success with Youtube.
If You Liked This Post, You Might Want To Check These Out:
Want To Discover The Method
I Use To Earn $100+ In A Day?
---
Let's discuss:
What did you think of this guide on how to make money online from Youtube?
Are there any other methods you would recommend on how to make money online from Youtube?
Are you an aspiring Youtuber? What methods do you currently use to earn an income?
I'd love to hear your thoughts, comments and experiences in the comments section below.
Did You Find This Post Helpful?
If you found this post helpful, I'd be SUPER happy if you shared it!
​

My goal is to help as many people as possible "make their dreams of success a reality". But I'll need you help to help more people.
Thanks a bunch for your support...you're awesome!
Pin This For Later