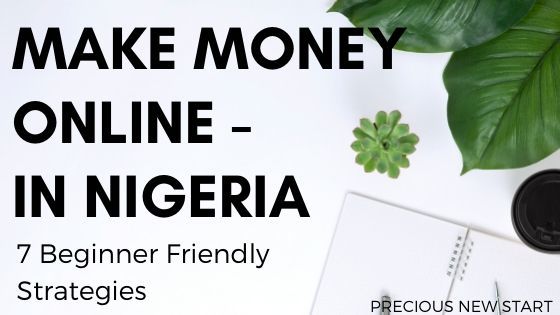 How To Make Money Online In Nigeria – [7 Beginner-Friendly Methods To Start in 2020]
This post may contain affiliate links. If you choose to purchase something through one of my links, I will earn a small commission at no extra cost to you.
Want to know how to make money online in Nigeria?!
Yes?!
Well, that's great!...because you've made it to the right blog!
Whether you're a stay at home mama, university student or full-time employee, in this guide I'm going to be sharing with you 7 beginner-friendly strategies for how to make money online in Nigeria.
Not just that, but you can get started with these opportunities with ZERO investment.
All you need is an internet connection and a willingness to work, and you can make the internet your next money making venture.
As a fellow Nigerian myself, I know how difficult it can be to find money making opportunities that work in Nigeria, which is why I wanted to create this guide.
So, enough talk...let's uncover these methods and make you some money...
More...
1) Sell Your Designs Online
Are you a creative person?
Have you ever thought about how to make money online in Nigeria by selling your designs?
Well, Printivo is an online marketplace that gives potential users like you the opportunity to create and sell your designs online.
It's similar to sites like "TeeSpring", and you get to earn money when Printivo users purchase your designs.
You can earn 15% royalties whenever your design sells. Plus, it's completely free and easy to set up your own Printivo store.
Tip: You can create designs using a tools such as Canva, and upload them onto Printivo.
2) Publish Books Online (NOT Amazon)
Another method you can use to make money online in Nigeria is by publishing books online.
Chances are you've heard about Amazon Kindle publishing, and maybe you thought that was the only way to publish your writings.
But, did you know there's another publishing website available to people in Nigeria?
OkadaBooks is an online publishing website in Nigeria, which offers a fast and easy way for you to make money online with publishing.
If you're an avid writer and enjoying sharing short stories, then this may be the platform to take your work to the next level, and earn money when your publications are read or downloaded.
3) Sell On eCommerce Sites
A third method you can use to make legitimate money online in Nigeria, for free, is by selling products on eCommerce sites.
You can sell products on sites such as Jumia and Konga.
These eCommerce platforms offer an easy way to you to list and sell your products online for free.
Plus, sites like these have millions of visitors that visit every day, so there's a huge market of potential customers for you to tap into.
4) Online Surveys
If you've been searching on Google for how to make money online in Nigeria, I can imagine that you've seen many people recommend completing online surveys for quick cash.
But the problem you often find is that many of these sites do not work in Nigeria.
However, I've found a solution to that and created a video which shares 5 of the best paid survey sites that work in Nigeria.
By using the sites mentioned in the video above, you should have a better chance of finally being able to make money online in Nigeria, with online surveys.
These can easily be done in your spare time and requires little to no time to complete.
5) Make Money Online In Nigeria With Affiliate Marketing
Affiliate Marketing is personally one of my favourite ways to make money online, and I believe it can be an excellent way to make money online in Nigeria.
The great thing is that it requires little to no investment, and you can get started even if you have no experience in this field.
If you've got a good following on social media sites such as Facebook and Instagram, or a blog/website, then you can use these platforms to promote products and/or services, and earn a percentage of the sale of that product.
For training on Affiliate Marketing I recommend this ​FREE training website, which offers tons of training, tools and tips to help you get started.
I also have a video guide below which shares how to make money online in Nigeria with Affiliate Marketing, even as a beginner.
I recommend applying for a website like Jumia which offers an affiliate program, which is free to join, as well as having a vast amount of products to promote.
6) Freelancing (NOT Fiverr)
An additional way for you to make real money online in Nigeria is by offering a service as a freelancer.
If you have a skill you're good at, or can learn, then why not sell your services on freelance websites and earn money doing what you enjoy.
Now, I know a lot of Bloggers and Youtubers talk endlessly about Fiverr, but this site is highly saturated, and it can be difficult for a beginner to make money online with this site.
So, instead, I want to recommend a different freelancing website to you called...Asuqu.
Asuqu offers Nigerians a free platform to promote their services and make money online.
You can sell skills such as:
Content Writing
Logo Design
Search Engine Optimisation
Social Media Management
...to name a few
Tip: Next time you come across a blog or video that talks about selling on Fiverr, why not offer that same service, but sell on a Nigerian platform such as Asuqu.
7) Start A Blog Or Vlog
Ok, congrats on making it this far in my list of how to make money online in Nigeria.
The next method I'm going to share is about making money online with a Blog or Vlog.
You see this blog you're reading now?... Well, I'm able to earn 3-figures a month part-time with Blogging, and there's no reason why you can't turn a Blog or Vlog into a money making method too.
To start a blog, you can set up your site for free on a platform like WordPress.com, Medium or Siterubix, and promote products, as an Affiliate, for free.
Plus, if you join Siterubix, you can also earn through advertising.
Or, you can build and grow your own self-hosted blog for as little as $1.99/month with iPage.
==> Learn more about How To Start A Blog On A Budget (Step-By-Step) here
If blogging isn't your thing, then why not give Vlogging a go.
You can create video content on Youtube and make money through advertising, and/or Affiliate Marketing.
==> Learn more about How To Make Money Online From Youtube here
My Final Thoughts - How To Make Money Online In Nigeria?
Thank you for making it to the end of my guide on how to make money online in Nigeria.
As you can see, there are many opportunities available to help you make money online and I hope this guide has given you some new strategies that you can begin implementing from today.
Let me know which method was your favourite!
If You Liked This Post, You Might Want To Check These Out:
Want To Discover The Method I Use To Earn $100+ In A Day?
---
Let's discuss:
What did you think of this guide on how to make money online in Nigeria?
Which of these methods will you be using to make money online?
Know other ways to make money online in Nigeria? Why not share them in the comments below.
I'd love to hear your thoughts, comments and experiences in the comments section below.
Did You Find This Post Helpful?
If you found this post helpful, I'd be SUPER happy if you shared it!
​

My goal is to help as many people as possible "make their dreams of success a reality". But I'll need you help to help more people.
Thanks a bunch for your support...you're awesome!