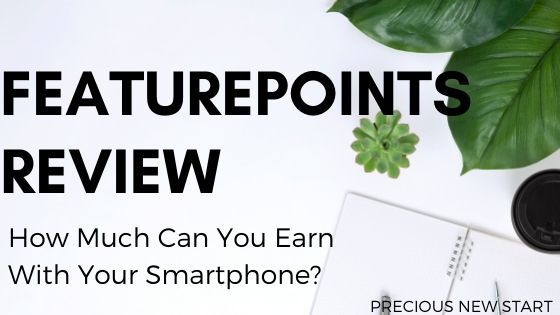 How Much Can You Earn With The FeaturePoints App? [Review]
This post may contain affiliate links. If you choose to purchase something through one of my links, I will earn a small commission at no extra cost to you.
Welcome to my FeaturePoints Review.
Today I'm going to be sharing my thoughts on FeaturePoints, a mobile app that allows you to earn cash and gift cards online by completing various tasks, direct from your smartphone.
If you've been looking for ways to make money online, chances are you've come across the idea of taking paid surveys and completing tasks with "get paid to" apps, right?
And, although surveys and "GPT" apps tend to get a bad reputation for being low paying and not having good earning opportunities, there are some legitimate apps that have the potential be worth your time, based on your needs, and can actually offer you many ways to earn.
You may be here because you're looking for a way to earn some extra income from your smartphone, or you heard about FeaturePoints through another person.
Whatever the case may be, I want to congratulate you on doing your research and reaching my blog.
If you'd like to discover more about this highly rated GPT app, then keep on reading!
The FeaturePoints App Review [At A Glance]
Verdict: LEGIT
Overall Rating: 6 out of 10
FeaturePoints Referral Code: preciousns (50 points sign up bonus)
More...
​What Is FeaturePoints?
FeaturePoints is a mobile app that allows you to earn points for completing surveys and tasks, and shopping online.
The points you earn can then be redeemed for cash and/or giftcards.
At the time of writing, they have paid out over $5 Million to their users since 2012.
There are various ways to earn with FeaturePoints which I will discuss further in this review.
How Do​es FeaturePoints Work?
It's very easy to get started with FeaturePoints:
Step 1: Download the app on your mobile device
Step 2: Register your account using a referral code/link (preciousns)
Step 3: Complete tasks (surveys, cashback, downloading apps etc)
Step 4: Earn points
Step 5: Redeem for Cash, Giftcards and/or Bitcoin
7 Ways To Make Money Online With FeaturePoints
Now I'm going to look at the many different ways to earn money with the FeaturePoints app:
2. Paid Surveys
Then, the next method to earning money with the FeaturePoints app is to complete paid surveys.
There are many different surveys available, but to get started you need to complete the "about you" questions.
This helps to set up your account and provide you with the best surveys for your demographic.
3. Complete Offers
The OfferToro partner allows you to earn up to 3000 points by completing various offers.
4. Earn Cashback
With this option, you can shop at your favourite stores online, and get paid a percentage of your purchase.
Some popular shops include, Forever 21, Walmart and Sephora to name a few.
5. Win Contests
A fun way to earn points with the FeaturePoints app is to enter into their contents and win prizes.
The way this works is that you earn tokens from apps, cashback and surveys.
So, earn 1 token for every 20 points.
Complete this every day and you have a better chance of winning the cash prize.
Note: The contests do not offer guaranteed money, it's all about luck.
Ultimately, the more points you earn with the FeaturePoints app, the more tokens you can earn, and therefore, the more chance you have of winning.
6. Download Apps
Download free games and apps to earn points (Android only).
You only need to try the app for a few minutes to be credited.
But be sure to always check the terms of the offer to make sure you complete the task for that app.
7. Referral Program
One of the best ways to earn more money with the FeaturePoints app is through referrals.
With FeaturePoints, you can expect to earn up to 50% of your referrals earnings.
Firstly, you earn just 25% for the first 3 referrals, then this increases to 50%
Plus, there is no limit to the number of points you can earn from your referrals.
So I'd suggest earning some points first, then once you've redeemed your earnings and got the proof, share the link with your friends and get them to join too, then everyone earns :).
How To Get Paid With FeaturePoints?
As a FeaturePoints user, you earn points for different tasks you complete, which can then be redeemed for either:
Paypal or Visa cash
Giftcards
Bitcoin
Overall, there is no set rule for how much the points are worth.
For example, to redeem a £1 amazon gift card you need 810 points.
But to redeem a $5 in Paypal cash, you'd need to have 3000 points.
Note: If you want to cash out via Paypal, the email address you use to sign up to FeaturePoints needs to be the same as your Paypal email.
Which Countries Are Eligible For FeaturePoints?
At the time of writing it is not 100% clear which countries are available, but it appears to be available in All countries.
What's Good About FeaturePoints?
FeaturePoints has a lot of positive features to offers, which include:
FeaturePoints Complaints
Despite the many positives of FeaturePoints, there are also a few complaints, which are:
Final Thoughts - How Much Can You Earn With The FeaturePoints App?
Thank you for making it to the end of my FeaturePoints app review.
I hope this review has given you a good insight into the FeaturePoints app and the opportunities that are available for you to earn some extra money online with this app.
Based on my experience and my research, I can say that FeaturePoints is a legitimate smartphone app and a great way to earn a bit of extra money online.
How much can you expect to earn?
Firstly, this app is just for earning a bit of extra income on your phone.
Don't expect to leave your day job or use this as a "full-time income" opportunity.
With this app you have a good chance of potentially earning up to $5-$10 a day depending on a few things:
The number and type of tasks you complete
How many friends you can refer
The country you live in
And, if you win the contests.
Overall, it may not be life changing money, but FeaturePoints offers a super easy way to earn some extra cash, while doing little to no work from your mobile device.
FeaturePoints App Alternatives
For some FeaturePoints app alternatives, I'd also recommend these:
If You Liked This Post, You Might Want To Check These Out:
Want To Discover The Method I Use To Earn $100+ In A Day!
---
Let's discuss:
What did you think of the FeaturePoints app review?
Are you currently a member? What have your experiences been so far?
Not a fan of GPT sites/apps? What are your favourite ways to earn extra money online?
I'd love to hear your thoughts, comments and experiences in the comments section below.
---
Pin This For Later
Pros
Free to join & download
50 point welcome bonus - with referral code
Various ways to earn
Can use same account on multiple devices
Paypal option
Cons
Minimum payout differs depending on your payout method
Taking surveys can be tedious
Some tasks don't always get credited, so you'll need to contact the support team
Need to stay active on the site for at least 60 days, or points will expire
Pays in points rather than cash