5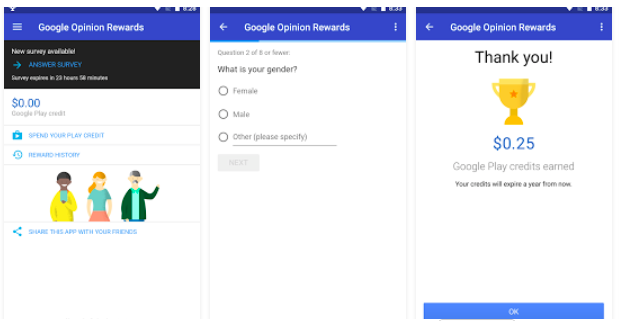 Make Money Using Your Smartphone: Google Opinion Rewards App Review
This post may contain affiliate links. If you choose to purchase something through one of my links, I will earn a small commission at no extra cost to you.
---
If you're looking to make some extra money using your smartphone, then I want to introduce to you the the Google Opinion Rewards app 
What Is Google Opinion Rewards App?
---
Google Opinion Rewards is a free android app which allows you to earn money while doing surveys on your smartphone. The money you earn is redeemable for Google Play credit. Which means you can use the money to purchase apps, game, music etc, within the Google Play store.
Why Google Opinion Rewards?
---
I think Google Opinions Rewards is a fast way to earn a little cash, and you are updated with new surveys very often. If you've always wanted to buy some apps from the Google Play store, then you can use this credit towards it, without having to put in your own money. The questions I have received are so simple, and you can get a few questions in a day.
How much can you earn?
---
So far, the money I've made per survey has ranged between £0.06 to £0.50, so it depends on the survey. Even if you don't fully qualify for a survey, you can still earn some money for taking part.
How often do you receive surveys?
---
I usually receive surveys almost every day, and can expect up to 2-3 a day.
Payment Proof:
---
Below is an example of a survey I did just before completing this review.
This image below shows an example of the types of questions you expect to get. As you can see, there are only 4 questions in this survey.
This image below shows how much I made from this survey
As you can see from the time above, it took less than a minute to complete!
Below is my Payment Proof to date:
How to install?
---
It's very easy to download, you can just search for "Google Opinion Rewards" in the Google Play store, and install from there. If you're doing it from the computer, you can click to Google Opinion Rewards here, and click install
Is it Worth It?
---
Although the money you earn cannot be cashed out, it can be used towards apps/games that you may have wanted to purchase, without having to actually put in your own money. You'll be able to complete simple surveys, and get paid for doing so. You won't be getting rich with this app, but it requires no experience at all and you can make a little extra money while you're on the way to work/school, or sitting at home watching TV.
Would I Recommend This App?
---
Yes! I would definitely recommend this app to any android users looking to make some extra money on their smartphone
What are your experience with Google Opinion Rewards? How much have you made so far? Feel free to share any apps/games you may have downloaded with the credit you earned too.
P.S.: If you'd like to create your own surveys for everyday people to answer via Google Opinion Rewards, you can find out more at 'Google Consumer Surveys