6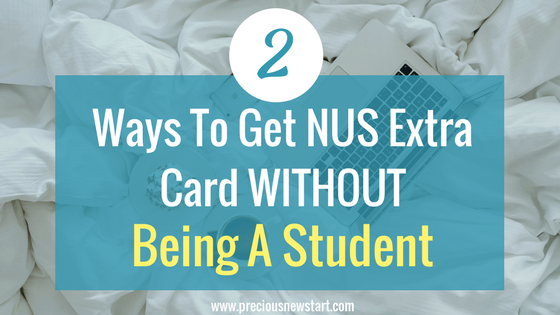 2 Ways To Get an NUS Extra Card – Without Being A Student
This post may contain affiliate links. If you choose to purchase something through one of my links, I will earn a small commission at no extra cost to you.
UPDATE: Unfortunately, it appears online courses are no longer being accepted for purchasing the NUS extra card. If anything changes I will update this post accordingly.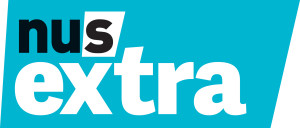 Don't you just love being able to save money on your purchases?
10% here, 5% there…it all adds up.
The great news is, you can even save money using an NUS extra card, without being a student.
These methods are 100% legitimate and will allow you potentially save £100s a year.
As a Uni student, I LOVED getting discounts and thought that would be the end of it when I finished…but luckily, I found 2 ways to continue to get the NUS extra card without being a student and keep on saving!
So, now it's my turn to share this great tip with you!
What is an NUS Extra Card?
---
NUS stands for the National Union of Students, and the NUS extra card is the #1 student discount card which allows you to have discounts at over 200 UK stores.
The good news is that you don't have to be a student in order to purchase the NUS extra card!
Why Should You Get The NUS Extra Card?
---
If you're someone who shops a lot and loves to save money, then and NUS extra card is definitely worth considering.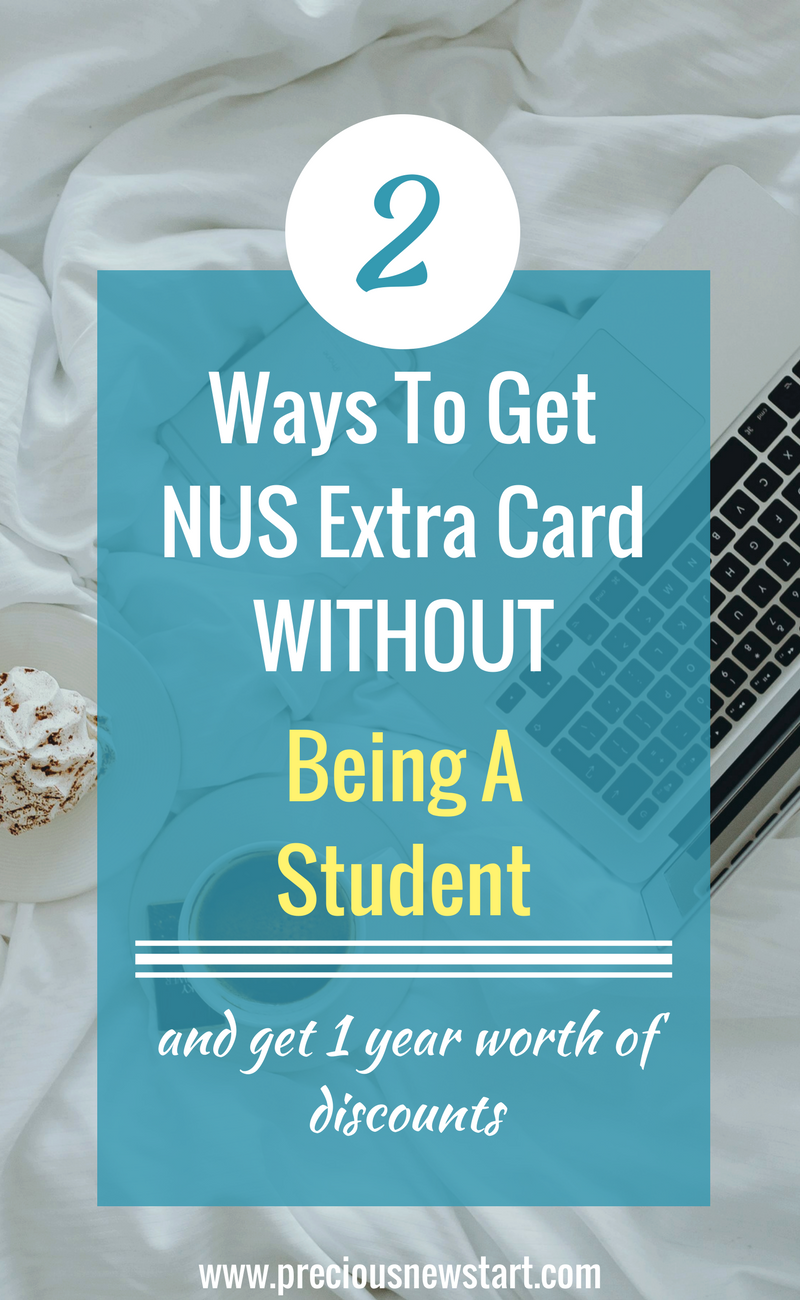 How To Get The NUS Extra Card?
---
I've found 2 methods of getting the NUS extra card without being a student, so hopefully, you'll find one that suits you.
Note: If you are a student, then you can head over to nus.org.uk and follow the steps from 'step 2' below, entering your University of study. You can get your card sent to your Uni free of charge, or pay an extra £1 to have it delivered to your home.
Method #1: Sign Up For An Online Course Using Discount Sites
---
You could apply for an NUS extra card by signing up directly for an online course at sites such as e-careers and New Skills Academy. However, this method would be more costly (generally over £100).
Instead, the most cost-effective way to do this is by using discount websites such as Go-Groopie, Living Social, and Groupon to purchase a course…at about 90% off. If you click the links below you will be taken to a range of courses that are currently available for you to choose from:
=> GoGroopie – Eligible Courses From Just £4!
=> Living Social – Eligible Courses From Just £8!
=> Groupon – currently don't have any eligible courses
Here's a list of eligible online course providers:
New Skills Academy
e-Careers
CareerMatch (Groupon)
Oplex Careers
NCC Home Learning
Blue Mountain Training Solutions
Tip #1: Remember to look at the online course merchant when purchasing through the discount site, to make sure your course is eligible.
Tip #2: Before making a purchase on these sites, take a look at cashback sites such as TopCashBack and Quidco, to see if you can also earn some of your money back.
There are a few courses to choose from, so maybe you could look at learning a new skill, and/or have something extra to add to your CV.
---
Step 1: Once you've purchased your e-course, you'll be sent a voucher code, which you will be able to redeem at the eligible course merchant. Here's an example below using e-Careers. (But the same should apply for other merchants.)
Once redeemed, you can now purchase your NUS extra card.
Step 2: Go to nus.org.uk and select "Buy your NUS extra card now", in the top right-hand corner.
Step 3: Enter your email address, then select "Buy or renew your NUS extra card now".
Step 4: Type your merchant course provider. In this example, you'll type in ECareers as your place of study, then Continue.
Step 5: Enter your course details. Most of the e-courses will last for 1 year, but yours could be longer, so check the course details to find out. Select the course level and course disciplines from the drop-down menus.
Step 6: Select a photo for your card. If you want to come back and finish it, you can also enter your email and "save for later".
Step 7: Enter your details, then view your order summary
Step 8: Select the home delivery option and then make your payment. (For home delivery, it's an extra £1)
Once you've paid, you can then view your order, and your card should be delivered within 7 days.
Method #2: Find out if your University offers the NUS extra card to its former students
---
When I first finished Uni I was able to get a 1-year NUS extra card as a graduate. I've recently learned they have stopped this, but it is possible to get the NUS card as a former student of your university.
However, not all Unis do this. I was a former student at Brighton University, and that's how I was able to get my current NUS card. I emailed the alumni team, and they sent me the instructions to get my NUS card.
So, if you're interested and want to know if the NUS extra card is available for alumni/former students at your University, I would suggest contacting them to find out or taking a look at their website.
NUS Extra Card Top-ups You May Want To Consider
---
Gormet society – £3.99/year
With the Gourmet society add-on, you get extra savings with 5,000 restaurants. Discounts include 2-for-1 meals, 50% off food or 25% off food bill. All this for an additional £3.99 a year.
OR you could get 3 months now for only £1

ISIC card – 1 year FREE with NUS extra card
ISIC stands for International Student Identity Card. This card allows you to have additional discounts internationally. Previously the ISIC card would cost an additional £1 with the NUS card, but they have recently included 1 year totally FREE. This is a great saving, as the ISIC card on its own is £12.00. It is accepted in 130 countries, and you can get discounts on worldwide flights and hotels. You can always take a look at their website for other discounts available.
What Discounts Are Available With NUS Extra?
---
There are so many discounts available, it would be very long for me to list them all, so I will list some that are popular below:
Health and Beauty:
Eating Out:
20% Giraffe
20% Frankie and Benny's
25% of £25 at dominos
up to 50% off at 5,000 restaurants with the Gourmet Society add-on
Entertainment:
up to 54% off at Thorpe Park
up to 53% off at Chessington
up to 42% off at Alton Towers
up to 40% off at Legoland
up to 40% off at Sea Life
25% off at Odeon cinemas
Fashion:
Health and Fitness:
No joining fee with 'The Gym' (now there's no excuse not to go!)
20% off Vision Express
Music:
50% off Spotify
5% off at Amazon
Supermarkets:
Travel:
£20 off your first Uber journey
25% off National Express Coaches
2 for 1 on first two driving lessons, then save £5/hour with RED driving school
12% off 16-25 Railcard (Also, if you get a 3-year Railcard just before your 24th birthday, you can keep the railcard discounts coming until your 27 yrs!)
After all that, there's still loads more discounts available!
You can check out the NUS website for a full list of current discounts. (and don't forget to keep an eye on the small print. For example, Odeon discount is only available Monday-Thursday)
NUS Extra Mobile App
---
Furthermore, you can download the NUS extra mobile app, and get to view discounts on the go, for Android and iOS

NUS Extra Card – Is It Worth it?
---
Overall, I think it is definitely worth it!  But only you can be the real judge of that. For example, if you were to purchase an e-course for £4 on GoGroopie, then pay £13 for the NUS extra card (inc. delivery), that would be a total of just £17!
I've already save £60 a year with my 50% Spotify discount, as well as more savings with other purchases. So, now think about all the savings you could make with your shopping/purchases in a year. You could easily save that much and lots more with the NUS extra discount card. In the end, all the discounts add up.
However, I feel you should only get the card if you believe you will benefit from the discounts. Take a look at the list above, do you shop/visit any of these places regularly? If so, then why not get the card. Maybe you're a parent and want to take your kids on fun trips during the holidays, you could make lots of savings on amusement parks, and coach travel etc.
Whatever your reasons are for wanting the NUS extra card, I hope you found this post useful! 
Be sure to join the conversation and let me know, what discounts will you be using your NUS card on?