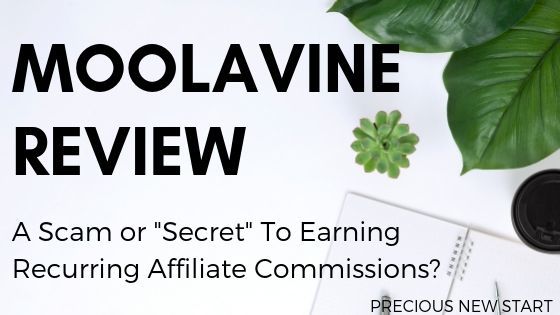 Is MoolaVine A Scam (Or The "Secret" To Making Money With Affiliate Marketing?!)
This post may contain affiliate links. If you choose to purchase something through one of my links, I will earn a small commission at no extra cost to you.
Welcome to my MoolaVine Review.
What if i told you there was a unique affiliate marketing system, that would allow you to earn affiliate commissions in reverse?!
Wait? What?!
I know...it's sounds crazy right?!
Well, think about it this way...
Affiliate marketing normally requires that YOU go out and find buyers.

But what if there was a way your customers could come to YOU...
...asking to buy the product of their choice through YOUR affiliate link to the product?
Introducing...MoolaVine.
If you've not yet heard of MoolaVine, then I highly recommend you stay tuned to this review.
MoolaVine is essentially a free to join, evergreen system that allows non-techies and newbies a unique twist to earning affiliate commissions online.
Continue reading this review as I uncover more about this increasingly popular opportunity.
Overall Rating: 75/100
More...
What Is MoolaVine?
MoolaVine is a "make money online" opportunity that allows it's users to earn money online through a method of "reverse" Affiliate Marketing.
Ultimately, you have buyers come to you with their purchase requests, and you send them your affiliate links for that offer.
When they make a purchase, you'll earn a commission.
This is one of the first products I've ever seen with this method of earning, and it's something I found very intriguing, so I signed up to test it out for myself.
How Does MoolaVine Work?
There are 3 main steps involved with Moolavine:
STEP 1: Keep Your MoolaVine Account In "Green"
MoolaVine has a system in place which allows users to be able to earn affiliate commissions, as long as their accounts are in "green".
In order to stay "in green", you need to purchase Clickbank or JVZoo products.
So, for every $1 you spend, you'll earn 1 green day. (e.g. A $25 product will give you 25 Green Days).
You get 5 Green Days just for joining MoolaVine for free.
If you run out of green days, then you won't be eligible to earn commissions from your vine/referrals.
However...
...you'll be glad to know that MoolaVine has a super useful upgrade optionto keep your account in "green" on autopilot, using their Unlimited Green Day Plan.
With the Unlimited Green Day Plan, you're able to receive buyer/purchase requests from all your current and future referrals, and you'll also benefit from the bonus incentive of making $10 a month for all your vine referrals who also upgrade to the plan.
And...you can upgrade for only $1.00 (trial)
STEP 2: Grow Your Vine
Now that you have your account in "green, you need to invite others to join MoolaVine through your referral link.
You can take advantage of free traffic methods, such as Facebook groups, sending emails to your list (if you have one), or inviting friends and family.
Or, you can take advantage of the next MoolaVine upgrade, which puts your invite link into a traffic rotator with other MoolaVine members. This gives you the opportunity to pay to have people join through your link without you putting in any effort.
STEP 3: Earn Commissions
This step is a bit harder than it sounds.
You don't make commissions unless you have MoolaVine referrals.
Therefore, just like any other "make money online" opportunity, you need to put the work in, in order to reap the rewards.
As long as you promote your link and get people to join, you have the opportunity to earn money online with MoolaVine.
If you'd rather pay to have everything set up for you via the MoolaVine upgrades, then you can also do this, but it will cost money to make money.
MoolaVine Demo [Video]
Still not sure how it all works?!
Then you should definitely check out the demo video below which explains the process in a lot more detail:
Furthermore, you can visit the MoolaVine sales page which has a very honest and in-depth video about how MoolaVine works.
Want To Join MoolaVine?
Sign Up Today & I'll Be Your Personal MoolaVine Mentor (Plus... Get 5 Green Days For FREE)
Understanding The "Unlimited Green Day Plan"
In my opinon, the Unlimited Green Day Plan is a must-have upgrade for anyone choosing to make money with MoolaVine system.
With this plan, your MoolaVine account is always "in green", so you never have to worry about not receiving affiliate commissions from your MoolaVine referrals.
If you didn't have this plan, you can still earn commissions, but you'd have to regularly make Clickbank & JVZoo purchases to keep your account active.
This is not too bad if you purchase from these platforms very often, like I do when purchasing products to review them, so a $100 dollar Clickbank product could give you 100 Green days.
But if you only purchase Clickbank products every now and again, or you purchase low cost products, then it may be more beneficial to upgrade your account.
Here are 2 main reasons to consider the Unlimited Green Day Plan:
The Green Plan keeps your MV account monetised on autopilot and gives you free reign over the MV cloud- based platform to grow and make money with your own personal list of buyers - that being your Vine.
As a free bonus, you'll also be racking up unlimited $10 to $15 monthly commissions (with zero additional effort) for every person on your Vine who also joins the Green Plan.
How Much Can You Earn With MoolaVine?
Just like any "make money online" opportunity, you get out of it what you put in.
If you're willing to work hard and put effort into inviting other members, then you have a good chance of earning some decent money with MoolaVine.
But, if you just set up your account and share your link here and there with no strategy in mind, then you probably won't be very successful with MoolaVine at all.
Here's a quick breakdown of the earning potential:
As a FREE Member:
You earn affiliate commissions via Clickbank & JVZoo, from purchases made by your MV referrals.
As an "Unlimited Green Day Plan" Upgraded Member:
Same as FREE member
Plus...$1 commissions on your referrals who trial the Unlimited Green Day Plan for 5 days
then...$10/month on referrals who keep the Unlimited Green Day Plan upgrade
Ultimately, this is definitely not a "get rich quick" scheme, and unless you already have an audience of buyers interested in this product, it will take some time to generate sales.
If you're new to affiliate marketing or internet marketing, then you'll need to work harder to get the results you want.
If you're willing to do this, then you can earn as much as possible.
How Much Does MoolaVine Cost?
MoolaVine is completely FREE to join, and you can earn money as a free member through affiliate commissions from purchases made by your MV referrals.
However, there are some upsells/upgrades available, which I will discuss next...
Want To Join MoolaVine?
Sign Up Today & I'll Be Your Personal MoolaVine Mentor (Plus... Get 5 Green Days For FREE)
What Are The Upsells?
There are currently 3 upsells/upgrades available when you create your free MV account.
They all have different purposes, and you don't have to purchase them all to be successful with MoolaVine, but you may find some more helpful to you than others.
Upsell 1: Unlimited Green Day Plan
Pricing: $1 Trial, then $20/month (cancel anytime)
Description: Keep your account in green, and never worry about losing out on affiliate commissions. Plus, keep 50% of the profits if your MoolaVine referral also upgrades to the Unlimited Green Day Plan
Upsell 2: MV Traffic Coop
Pricing: $40 to $120 (monthly fee)
Description: Get your invite link added to their traffic rotator, which gives you the chance to gain referrals without putting in the work yourself. The cost of traffic depends on the number of "traffic shares" you buy. You pay monthly for the traffic, and you can cancel anytime.
Upsell 3: DualSqueeze
Pricing: Free, or upgrade for $1 trial, then $27/month
Description: Dualsqueeze is a list builder that allows you to create eye-catching pop ups to help you build your email list while you promote MoolaVine. You can also send out autoresponders to your list to further promote other products.
What's Good About MoolaVine?
MoolaVine has a lot of positive features to offer, which include:
The NOT So Good
Despite the many positives of MoolaVine, there are also a few negatives, which are:
Final Thoughts - Is MoolaVine A Scam or Legit?
Thank you for making it to the end of my MoolaVine review.
I hope this review has given you a good insight into the MoolaVine platform and the opportunity it gives you to earn money online as an affiliate.
So, Is MoolaVine a scam, or legit?
Based on my experience and my research, I would say that MoolaVine is a legitimate opportunity and a great way to earn extra money online.
However, there are some things you NEED to be aware of:
You should at least have some basic knowledge of generating traffic to earn at all with MoolaVine
Don't buy products from the Clickbank or JVZoo marketplace you don't need
I'd recommend getting the Unlimited Green Day Plan at the minimum if you choose to earn with MoolaVine, to keep your account in green
You won't get rich quick! Just like any other opportunity, you need to put in the work.
So, if you're feeling confident about joining MoolaVine and like to register as my referral, then click through the green button below to get started right away:
If You Liked This Post, You Might Want To Check These Out:
Want To Join MoolaVine?
Sign Up Today & I'll Be Your Personal MoolaVine Mentor (Plus... Get 5 Green Days For FREE)
---
Let's discuss:
What did you think of this MoolaVine review?
And what's your opinion...is MoolaVine a scam?
Are you currently a member? What have your experiences been so far?
Not a fan of MoolaVine? What are your favourite ways to earn extra money online?
I'd love to hear your thoughts, comments and experiences in the comments section below.
---
Did You Find This Post Helpful?
If you found this post helpful, I'd be SUPER happy if you shared it!
​

My goal is to help as many people as possible "make their dreams of success a reality". But I'll need you help to help more people.
Thanks a bunch for your support...you're awesome!
Pin This For Later
MoolaVine
Pros
Free to join
Get 5 Green Day Bonus For Joining
Freemium Program - Easy To Get Signups
Good Opportunity To Earn
Don't Need To Upsells To Make Money
Cons
No Proper Training On Getting Traffic
Need To Purchase Products To Stay "In Green", Or You Upgrade
Autopilot Traffic System Isn't Guaranteed To Give Results