4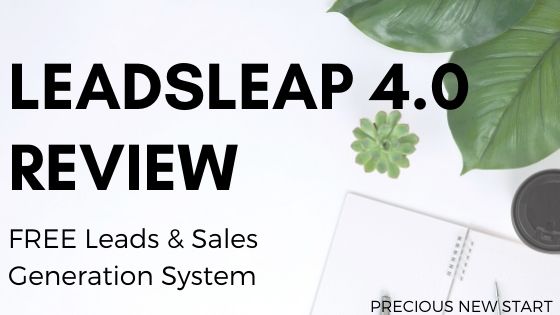 LeadsLeap 4.0 Review [2020] – Is LeadsLeap A Scam Or Legit?
This post may contain affiliate links. If you choose to purchase something through one of my links, I will earn a small commission at no extra cost to you.
Welcome to my LeadsLeap 4.0 review.
If you've made it to this page, chances are you heard about LeadsLeap through social media or on a traffic exchange site.
And you're wanting to know, what's the deal with this program?
Is LeadsLeap a scam, or a legit way to make money online and generate more traffic and leads to your online business?
Now that you're here, let's uncover the truth...
LeadsLeap 4.0 Review [At A Glance]
Product Name: LeadsLeap 4.0
Website: www.LeadsLeap.com
Owner: Kenneth Koh
Price: Free membership; $27/month Pro membership
Rating: 6.5 out of 10
Type of Opportunity: Lead Generation
Suitable for: Bloggers, Affiliate Marketers, Network Marketers
Verdict? LEGIT ​
More...
What is LeadsLeap 4.0?
LeadsLeap 4.0 is an online lead generation system created by Kenneth Koh in 2008, with the goal to help you build your online business through Traffic Generation.
One of the biggest problems people have with making money online is not having enough visitors and sign ups for their online business opportunity.
But LeadsLeap aims to change this and to provide a platform where members can have all the tools they need in one place to get more targeted visitors to their business, and make money online through sales.
With 119K members, LeadsLeap has been a long standing platform in the Internet Marketing space.
How To Join LeadsLeap?
Step 1: Access the LeadsLeap homepage here
Step 2: Click "Join Free" button at the top right hand corner of the page
Step 3: Fill out your details and click "Sign up now"
LeadsLeap Review [Video Walkthrough]
How Does LeadsLeap Work?
There are 3 main features of LeadsLeap that outline how it works. Click on any of the links below to find out more:
How To Use LeadsLeap To Get Traffic?
The first feature of LeadsLeap is to allow you to generate traffic and leads to your online business offer.
This is achieved by being able to:
1. Advertise To LeadsLeap Members
You can post ads within the LeadsLeap platform, which are shown to other LeadsLeap members.

The LeadsLeap members are given incentives to view your ads.
It may seem like another Traffic Exchange site because of this feature, but the unique aspect of LeadsLeap is that you do not have to wait for a countdown timer.
Instead, the longer a member of LeadsLeap stays on your site, the more they are rewarded, thereby encouragin a longer stay on your website/offer.
Most users of LeadsLeap are Affiliate Marketers, Website Owners, Bloggers, Network Marketers etc.
So promote opportunities that they are likely to be interested in.
Offers related to things like Weight Loss and Gardening will not work on these types of users.
Instead, focus on Traffic, Advertising, Make Money and Home Business related offers.
2. Advertise Worldwide
Furthermore, LeadsLeap runs a "Pay Per Click" (PPC) program where publishers and marketers are rewarded to show your ads on their websites

This is beneficial for getting more traffic because LeadsLeap potentially offers a shortcut to reaching an entire worldwide audience through the use of ad widgets.
3. Get Search Engine Traffic
Maybe you're already aware, but LeadsLeap is an authority site with operates a search engine optimised social review directory.
What this means is that users can write short reviews of the products/programs that they want to promote, via LeadsLeap, and automatically get their review ranked on search engines with their affiliate link embedded.
Reviews are known to be a proven way to generate leads and getting traffic through search engines, so LeadsLeap takes it a step further and makes the process simpler for anyone to use.
4. Multiply Your Leads
Additionally, you can get even more traffic with LeadsLeap via their 10 level network builder.
Don't worry, it's nothing like MLM (multi level marketing), because it's solely focused on list building, and not recruiting for sales.
For example, if you refer 10 people to LeadsLeap, and they do the same, you have an extra 100 followers in your LeadsLeap downline.
So, you could send a message to all those 100 people, eventhough you only referred 10.
How To Use LeadsLeap To Build Your Online Business?
A wide range of free tools are offered within LeadsLeap that make it easier for you to build your online business while on a budget.
Rather than spending tons of money on various online tools and resources, LeadsLeap offers a free solution for all your needs.
They're definitely worth checking out, especially when just starting out with little to no money.
These tools include:
1. List Management System (LMS)
Their free LMS, called SendSteed, offers the following features:
List building
Autoresponder
Automated Emails
Broadcast
Tracking
The same features you find in some of the top priced services, e.g. Aweber and GetResponse, are available with SendSteed for free.
2. PopupXpert
This tool lets you generate mobile friendly opt-in forms and pop-ups, that you can add to your website or blog.
3. The Real Tracker
A link tracker and rotator that lets you see how long your visitors have surfed your links, and observe whether they have taken any action.
How To Make Money Online With LeadsLeap?
Although you won't make lots of money with LeadsLeap, which the owner is honest about from the beginning, making money online with LeadsLeap is definitely possible, and it can be consistent, recurring and even unintentional.
Here are the 4 ways to currently make money online with LeadsLeap 4.0.
1) Participate In The "PPC" Program
As mentioned earlier, "PPC" stands for "Pay per click"
This method can be done with or without a website, and you can earn when people view ads that are run on other users websites.
So, if you have a website, you can add a widget similar to this:
When visitors click on any of the links on the website, you earn money for those clicks.
And, if you don't have a website, you can use the link tracker and enable the "monetise" option in order to earn.
2) Become An Active Member
You can become an active member of LeadsLeap when you click on at least 10 ads a day via your personal ads widget.
This is available within your LeadsLeap dashboard.
But, the more sites you click and rate, the more you earn.
You don't need to be a paying member in order to earn from being active, and every member is eligible.
It's LeadsLeap's way of saying "thank you" for being active.
3) Convert Credits To Cash
Credits are earned when you:
View someones ads
Rate ads
or Report problem ads
As an advertiser you can also use any credits to advertise your offers for free and get more targetted traffic.
Or, you can simply convert your credits to cash.
However, you need 50 credits minimum before being able to convert.
4) Earn Recurring Affiliate Commissions
There are 2 memberships with LeadsLeap.
Free membership and Pro membership.
So, if you're a free member and you refer someone who upgrades to Pro, then you earn 25% commissions.
But if you upgrade to the Pro membership, and go on to refer a Pro member, you can earn 50% commissions.
These are monthly recurring commission, which you can earn the lifetime of your referral.
How Much Does LeadsLeap Cost?
Here's a breakdown of the LeadsLeap 4.0 pricing + the earning ability for each membership:
You can pay for the Pro membership using your LeadsLeap balance.
For example, if you earn enough through the PPC program and affiliate commissions, you can use this balance to pay for your membership.
How To Get Paid With LeadsLeap?
Payments from LeadsLeap are made via:
Paypal
Transferwire (make sure your bank account details are added)
What's Good About LeadsLeap?
LeadsLeap Complaints...
Despite this being a legitimate lead generation platform and a legitimate way to make money online, there are a few complaints that I and other users have, which I'd like to touch on:
Final Thoughts - Is LeadsLeap A Scam?
Thank you for taking the time to read through this LeadsLeap 4.0 review.
I hope it's given you some further insight into this high renowned lead generation system.
So, is LeadsLeap a scam?
I can proudly say that LeadsLeap is NOT a scam.
Not only does LeadsLeap offer a great system of tools for generating traffic and leads to your online business, but it also gives you the opportunity to earn some money directly with the site.
You won't get rich with LeadsLeap alone, you need to have a high converting offer for your visitors which you can use to earn more money through your online business.
Plus, LeadsLeap is more suited for those who already have an online business offer to promote.
If you don't have one yet don't worry, you can find out how to start an online business for free here.

If You Liked This Post, You Might Want To Check These Out:
---
Let's discuss:
What did you think of this LeadsLeap 4.0 review?
What are your thoughts, is LeadsLeap a scam?
Are you already using LeadsLeap to grow your business? What have your results been?
I'd love to hear your thoughts, comments and experiences in the comments section below.