2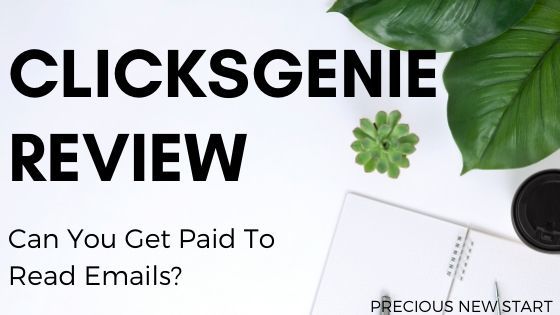 Can You Get Paid To Read Emails With ClicksGenie? [Review]
This post may contain affiliate links. If you choose to purchase something through one of my links, I will earn a small commission at no extra cost to you.
Welcome to my ClicksGenie Review.
If you've been looking for an honest ClicksGenie review and wondered "can you get paid to real emails", then congrats on making it to my blog.
Today I want to share with you a website that allows you to earn by reading emails, right from your inbox!
Similar to Get Paid To (GPT) websites that pay you earn money for completing simple tasks, in this case the task you'll be completing is reading emails.
But, as a result, sites like this tend to get a bad reputation for being low paying, but could ClicksGenie be different?
If you'd like to uncover the truth about this increasing popular site, then keep on reading as I share my findings!
ClicksGenie Review [At A Glance]
Verdict: LEGIT
Overall Rating: 4 out of 10
More...
What Is ClicksGenie?
ClicksGenie is a website that allows you to earn money online by reading emails.
Emails you receive are sent right to your inbox, and you click on the link in your email to access the website that you will be paid to visit.
It can take up to 12-24 hours to receive your first email, and you can make up to $0.042 for every email you read.
Payments are made in Bitcoin and you only need $0.01 to meet the minimum payout threshold.
As well as getting paid to read emails, there's also another way you can maximise your earnings with ClicksGenie, which I will discuss further below.
How Does ClicksGenie Work?
ClicksGenie is very simple to use:
Step 1: Register your account here
Step 2: Validate your account
Step 3: You will start receiving daily emails in your inbox
Step 4: For every email you open, click on the link and stay on the advertisers site for the required number of seconds
Step 5: Get paid
How Can You Make Money With ClicksGenie?
There are currently 2 main ways to make money online with ClicksGenie:
1. Reading Emails
As you would have guess from the title, the first method is by reading emails.
You'll receive regular emails right to your inbox from ClicksGenie advertisers, and you can earn up to $0.042 for each email you read.
2. Referral Program
As with many GPT sites, you can earn even more money by referring others to the website, and ClicksGenie is no different.
The main advantage of ClicksGenie is that you can get paid for your referrals up to 5 levels deep.
Here is a breakdown of the referral commission plan:
Level 1 = 100% commission
Level 2 = 70% commission
Level 3 = 60% commission
Level 4 = 50% commission
Level 5 = 40% commission
* Level 1 referrals are your direct referrals
** Level 2 referrals are direct referrals of your Level 1 referrals
*** Level 3 referrals are the direct referrals of your Level 2 referrals
...and so on
Therefore, if you can gain a lot of referrals, you have a huge potential to earn passive income without reading any emails yourself.
Please note: You do not need to rely solely on referrals to make money, you can focus on reading the emails yourself. However by adding referrals you will be maximising your earning potential by up to 320%.
How To Get Paid With ClicksGenie?
As a ClicksGenie user, each email pays out in Bitcoin.
Once you reach the $0.01 withdrawal threshold, you can withdraw your Bitcoin via:
FaucetPay (1.5% withdrawal fee)
Payeer (0.95% withdrawal fee)
Please note, you will need to have an account with at least one of these free platforms to receive your Bitcoin payments.
Plus, there will also be a withdrawal fee with each method, with Payeer having the lower fee.
Which Countries Are Eligible For ClicksGenie?
Based on my research, it appears that ClicksGenie is available WorldWide.
What's Good About ClicksGenie?
ClicksGenie has a few positive features to offer, which include:
ClicksGenie Complaints
Despite the positives of ClicksGenie, there are also a number of complaints, which are:
Final Thoughts - Can You Get Paid To Read Emails With ClicksGenie?
Thank you for making it to the end of my ClicksGenie review.
I hope this review has given you a good insight into the ClicksGenie platform and the options that are available for you to make some extra money online with this site.
Based on my experience and my research, yes, you can get paid to read emails with ClicksGenie.
However, it's important to highlight that this website only pays in Bitcoin. Therefore, you would need to have one of the required Bitcon wallets to receive payment.
If you would like to convert the Bitcoin in cash, then you can find many Youtube videos to help you achieve this, but it will require some time to learn if it is new to you.
Plus, even though you won't make a ton of money with this site, it can be used for earning extra income online. Don't expect to leave your day job or use this as a "full-time income" opportunity.
Despite that, ClicksGenie offers a legitimate and super easy way to earn some extra cash, while doing little to no work.
So, if you'd like to register free today, you can click here to join ClicksGenie now.
ClicksGenie Alternatives
Personally I believe there are better ways to make money online than earning pennies to read emails, such as my recommended way to make money online.
But if you're interested in any ClicksGenie alternatives that pay you to read emails, and in cash, then the videos below share some of my top recommendations:
If You Liked This Post, You Might Want To Check These Out:
Want To Discover The Method I Use To Earn $100+ In A Day?!
---
Let's discuss:
What did you think of this ClicksGenie review?
Do you think you can get paid to read emails with ClicksGenie?
Are you currently a member? What have your experiences been so far?
I'd love to hear your thoughts, comments and experiences in the comments section below.
---
Did You Find This Post Helpful?
If you found this post helpful, I'd be SUPER happy if you shared it!
​

My goal is to help as many people as possible "make their dreams of success a reality". But I'll need you help to help more people.
Thanks a bunch for your support...you're awesome!
Pin This For Later
Pros
Free to join
Low withdrawal threshold - only $0.01
Referral program pays 5 levels deep
Emails sent directly to your inbox
Available worldwide
Cons
Only pays in Bitcoin rather than cash
Withdrawal fee up to 1.5%
Very little pay
Some users have reported their account being closed when they gain too many referrals.
Some important business pages missing from the website, such as the "About" page.