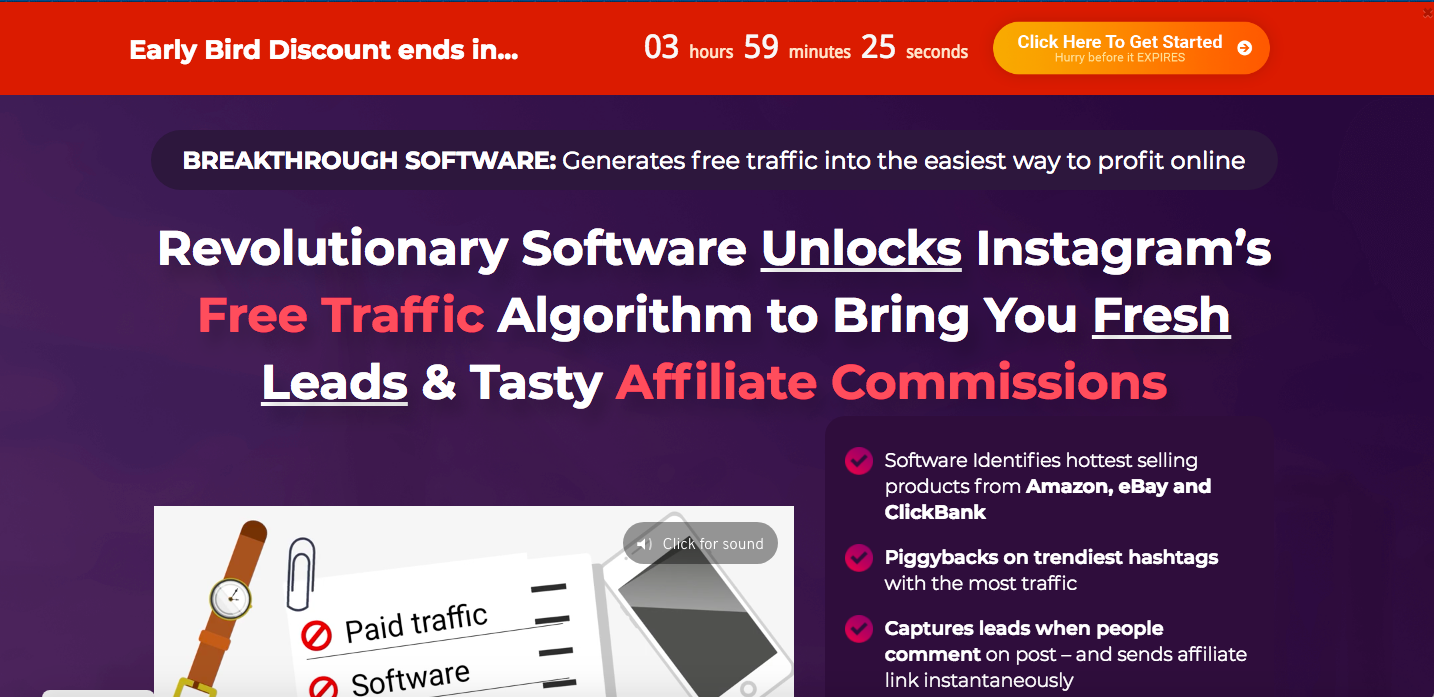 What Is Affiliate Hero? – Is It A Scam Or A Legit Way To Make Money & Build Your List With Instagram?
This post may contain affiliate links. If you choose to purchase something through one of my links, I will earn a small commission at no extra cost to you.
Welcome to this Affiliate Hero review.
How often do you post on Instagram?
A little? ...A lot?
Would you post more if you knew you could potentially make money online doing so?
Affiliate Hero claims to be the tool to help you do that, using Affiliate Marketing.
So, what if Affiliate Hero was the perfect productto combine Affiliate Marketing and Instagram to help you successfully build your list...and earn money online?!
The fact that you've reached this page shows me you're here to discover "what is Affiliate Hero?" and learn more about how it can build your list and boost your sales.
If that's the case, then congrats on making it to this review.
Today you're going to discover the truth about Affiliate Hero and whether it's your ticket to earning big with Affiliate Marketing.
So, let's not waste any more and uncover the truth...
Product Name: Affiliate Hero
Website: www.Affiliate-Hero.kyvio.com
Owner: Daniel Ashendorf & Simran Pall
Price: $32 + Upsells
Rating: 5/10
Launch Date: 30th November 2018
Type of Opportunity: Traffic Generation/List Building
Recommended? Under Review ​
More...
What is Affiliate Hero?
Affiliate Hero is a traffic generation software that claims to enable you to search the "hottest affiliate offers" on Amazon, Clickbank and eBay, and post them on Instagram using the most trending hashtags.
Ultimately, it was designed to help you gain traffic, build your list and make more money.
Who Is Affiliate Hero Aimed For?
Affiliate Marketers
Newbies
Bloggers
Youtube Video Marketers
Social Media Managers
Anyone Else Looking For Traffic & Sales
How Does Affiliate Hero Work?
There are supposedly 4 simple steps involved with Affiliate Hero:
Step 1: Affiliate Hero finds hashtags with the most traffic for your affiliate offer or product
Step 2: Then the software will attach your offer or products to hashtags and posts on Instagram
Step 3: Affiliate Hero will then send your affiliate link to the inbox of those who comment
Step 4: It'll build your list while helping you generate affiliate sales
Affiliate Hero Demo [VIDEO]
Here's a quick video demo giving you a further look into the software and how it works:
Pricing + Upsells
Wondering "What is Affiliate Hero pricing?" Here's a quick breakdown:
Affiliate Hero (Main Product) -

$32-37

Discover trending products on Amazon, eBay and Clickbank
Search most popular hashtags
Software can autopost using most popular hashtags
Comments made on Instagram can be captured as email leads

OTO 1 -

$27

​

Create images with built-in image designer

Link cloaker for sharing product links on social media

OTO 2 -

$1 trial (Downsell)/$37 recurring

Boost followers through auto-commenting, following, liking and unfollowing

OTO 3 -

$197

30 Front-end licences so you can resell them on as your own

OTO 4 -

$1 trial (Downsell)/$67 recurring



Affiliate Hero Bonuses
There are some bonuses included if you decide to purchase Affiliate Hero, they include:
Live Training - Inside secrets to a "six-figure" Affiliate Marketing business, from a super affiliate
Instagram Marketing Secrets
Commission Fire - Teaching you how to "crush it" as a super affiliate
Traffic Scorpion - "Set and Forget It" search engine traffic generation tool
List Building Firepower - Gain more information about growing your list (100 ways to "ignite" your opt-in subscriber)
The Good...
The NOT So Good...
Despite the positives found in this product, there are a few downsides that I feel are worth mentioning:
Is There An Alternative To Affiliate Hero?
Affiliate Hero is quite a unique product, and I don't think there are any direct alternatives to it.
Although there are positives to this platform, I've listed an equal number of cons which make me believe it may not the most appropriate tool for a sustainable business.
If you would like to be part of a platform that doesn't have the risk of tools shutting down or breaching highly enforced regulations, I'd encourage you to check out my #1 recommended Affiliate Marketing training platform.
In my recommended training, you can expect to find:
FREE starter membership

2 FREE websites with Hosting
1-on-1 Support
2 Training Modules (20 lessons)

Premium Membership (Only $49/month)

Top of the range Keyword Research tool
Live Chat support
Hosting for up to 50 websites
SSL included on all website domains
More Than 10 Training Modules
Weekly LIVE Webinars
1-on-1 Coaching
Personal Contact with the Owners
Interact with a community of 1.4M users (and counting)
Personal Affiliate Blog
Site Content Builder
Regular Updates To The Training and Platform
Taught How To Use Free Traffic
plus much much more

(all for only $49/month, no upsells)
With my #1 recommendation, you have the opportunity to earn and build a business for yourself, based on a passion, with the option to run Affiliate Hero alongside it, if you wish.
It's through Affiliate Marketing that I'm able to earn a monthly income online.
Just take a look at the screenshot below which shows my monthly income increase dramatically over a 5 month period.
Plus...here are some other commission payments from other affiliate programs.
I'm not sharing these to brag, but to give you a glimpse into the income potential that can be earned, thanks to Affiliate Marketing.
You could very well make more than me, or you could make less than me. It all depends on your hard work and determination.
All in all, Affiliate Marketing is a business model that I know works very well.
If that's something you believe you can do, then take a look my #1 recommended training platform for ​beginners (it's free to join, no credit card needed).
Final Thoughts
Thank you for taking the time to read through this Affiliate Hero review.
I hope it's given you some further insight into this software tool.
So, what is Affiliate Hero, and can it help you build your list + make money with Instagram?
Affiliate Hero looks like a promising software tool, however, it does have some flaws which can have a negative effect on a growing business.
Overall, I feel there is a place for a tool such as this, and there are people that can benefit from using this alongside their current affiliate businesses.
As the product has only just launched I will continue to keep this product "under review" and see how things pan out in the coming days/weeks.
If you feel Affiliate Hero is the right tool for you, and you would like to build your list and make money online with Instagram, then click here to get instant access.
(Any current Affiliate Hero users, I'd love to hear your experiences and thoughts on this product)
However, if you're a complete beginner and prefer to follow my footsteps to discover more about Affiliate Marketing, then you should click the GREEN button below to get access to the starter membership today...completely FREE.
---
Let's discuss:
What did you think of this Affiliate Hero review?
Do you feel you've learnt more about what is Affiliate Hero and how it works??
Are you already an Affiliate Hero user? What have your experiences been?
I'd love to hear your thoughts, comments and experiences in the comments section below.