13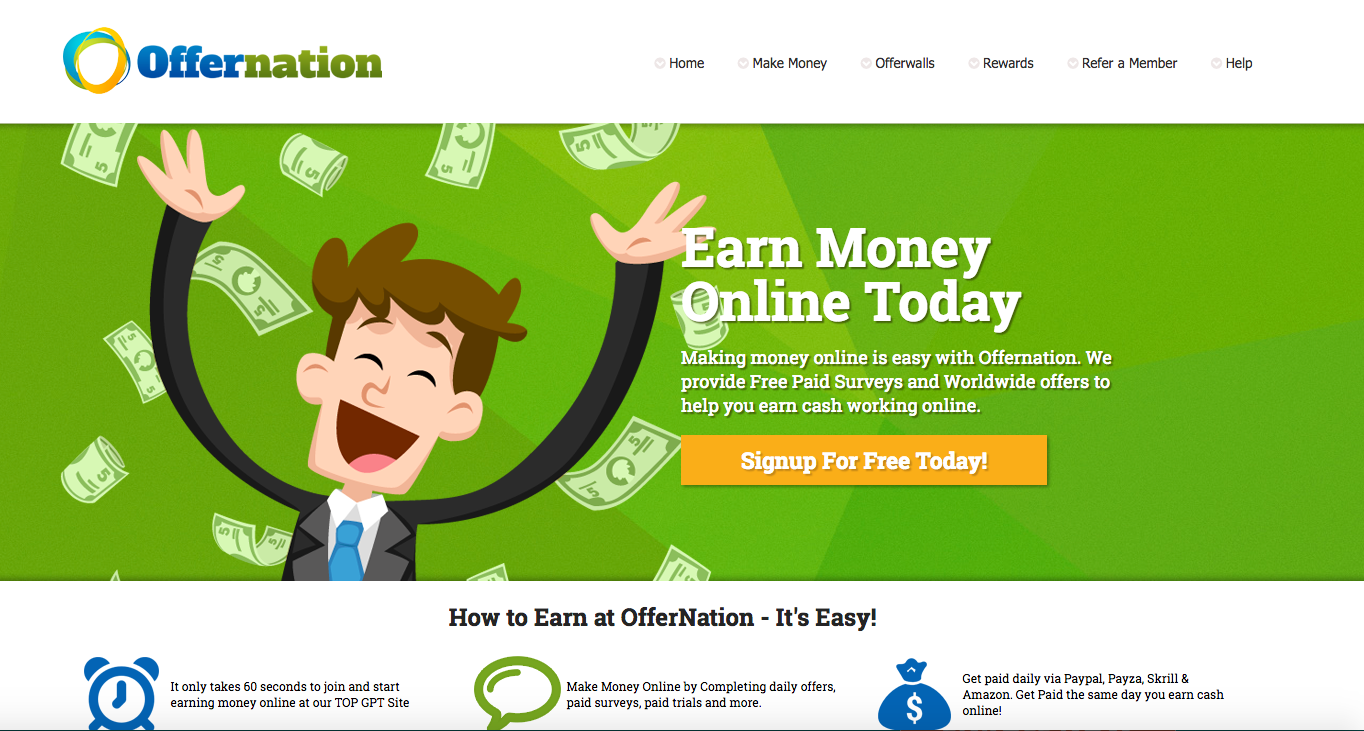 OfferNation Review: What Is OfferNation?
This post may contain affiliate links. If you choose to purchase something through one of my links, I will earn a small commission at no extra cost to you.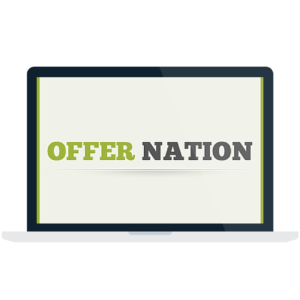 While looking for ways to make money online I came across a website called OfferNation.com. I spent a little time using the website in order to test it out and find out if OfferNation is legit. I will share my thoughts on the website, as well as my payment proof. Hopefully, the information I provide will help you decide if this website is a good way for you to make some extra money online. If you're looking for a quality OfferNation review, then you've come to the right place!
What is OfferNation.com?
---
OfferNation is a Get Paid To (GPT) site that's been online since 2013. A GPT site  is a website that provides multiple ways to earn money online by doing different tasks. Most GPT sites involve completing surveys, clicking ads, sign up for offers, watching videos etc.

Who Can Join OfferNation?
---
OfferNation is available to all countries, so you can join from anywhere in the world
You need to be over 18 to participate
Ways To Make Money With OfferNation:
---
#1: Online Surveys
This is the most profitable way to make money online with OfferNation, because the surveys offer higher payouts. You can see from the image below that you are told how much the offer will pay, and the instructions of what you need to do in order to receive the payment.
You'll also get a list of Top surveys and some New surveys that are available to complete.
#2: Complete Offers
There are many offers available that you can complete. You can find them in the "OfferWalls" tab at the top. Each offer awards you in points, rather than cash. However, the points you earn can be converted into cash if you like. The offers that usually award higher points, tend to involve making a payment. I personally stay away from those types of offers, but you can still earn from the if you'd like. Some of the offers at "OfferWall" also have additional surveys that can be completed for higher paying rewards.
#3: Paid To Watch Videos
With OfferNation you can also get paid to watch videos, but not many points are awarded for doing so. However, at least this option is there if it's something you would like to do to earn points.
#4: Paid To Click
With this method, you can earn some points by clicking on ads. The earning potential is very low with this method, as some ads pay as low as $0.0009, which is almost useless in my opinion. (I guess it's good if you've got an ad to advertise though, due to its low cost). There are some that offer higher amounts, but overall, it's still pretty low.
#5: Get Paid To Search
You're able to get paid to search with this website. They pay you up to $0.018 for each search you do.  There are instructions about what specific keywords you need to search for in order to get rewarded.
I seemed to have a few problems finding the websites with the search terms. I'm not sure if one of the reasons is because my Google browser would automatically set to .co.uk instead of .com. In the end, I wasn't able to really earn with this method, but who knows, you may have better luck than me.
OfferNation Extra Info and Tips:
---
Make sure you follow the instructions carefully and complete the task that is required in order to earn your reward.
Most offers will be credited within 1 hour, however, some can take up to 24 hours, and a few have been known to take up to 30 days.
If you find that you have a lot of "pending" offers, it could mean that you're not completing the offers correctly. So you can potentially prevent this by:

Clearing your web browser cookies after you complete an offer
Some advertisers will send an email for verification, so be sure to keep an eye on your inbox and verify any emails to receive your credit.
Remembering to "Submit" the offer once you've completed it in full.

In order to keep your account active, you'll need to log in at least once every 90 days
Pros:
---
Multiple ways to earn money
Low payment threshold: You only need a minimum of $1 in order to cash out.
Pays via Paypal: If you're a regular reader, or you've browsed through my site, you'll see that I'm a big fan of products/services that use Paypal . I  just find it much easier to deal with than credit cards etc. Other payment methods are available, but Paypal is my favourite.
Fast Payment: When I withdrew my cash I received it into my Paypal account within a few hours.
Referral program: This means you are able to earn more money – up to 25% per active referral.
Cons:
---
You won't know how long a survey will take before you decide to do it.
You may end up answering lots of pre-qualifying questions before you find out you don't qualify for the survey.
Some offers just aren't worth the points: For example, some of the pay to click ads reward as little as $0.0009, this is just way too low in my opinion.
Don't get sent emails of new surveys: Most survey sites I've joined send regular emails of new surveys to complete, however, OfferNation does not do this.
Geotargeted Offers: Most of the offers available are for those in the USA, UK, Canada, Australia, Spain and Italy. This means that if you are from other countries, you may get less offers available to you.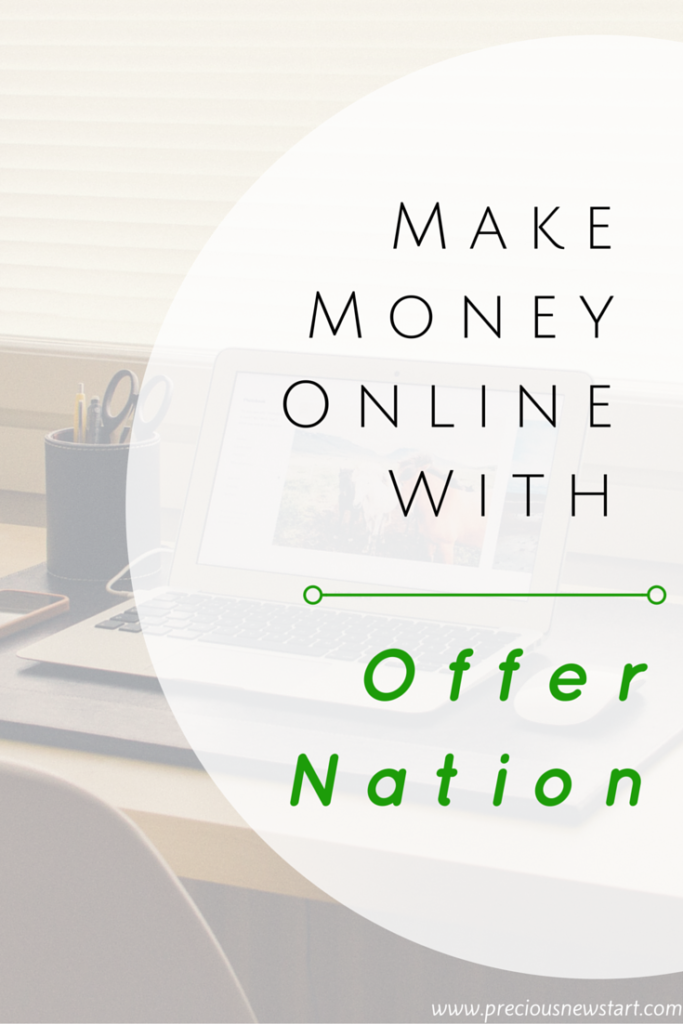 How Much Can You Earn?
---
The offers are credited as either cash or points. Points are usually awarded for completing sign up offers. These points can then be converted into cash. The amount you earn depends on the offer you complete.
Payment Methods:
---
Your cash can be redeemed via any of these 4 e-wallet vendors listed below. Each vendor also has a minimum withdraw amount:
Also, points can be redeemed for Amazon Gift Cards
Who is OfferNation for?
---
This is a good site for anyone looking for a way to make a little extra money online. Maybe you've used other GPT sites and you're looking for an alternative, if so, then this is a good option. You have multiple ways to earn, and you can probably find a method that works well for you.
Note: If you're looking for another quality survey site to make some extra money online, then I would highly recommend using Mintvine. It's my favourite survey site because you can see how long a survey will take before you do it, and even if you don't qualify for a survey, you can be awarded up to 30 points (30¢). If you'd like to know more about MintVine, then you can check out my review by clicking the link below.
---
Further Reading: MintVine Review – Make Money Online With Surveys
You May Also Like: Clixsense Review 2016 – The Best Paid To Click Website?
---
Who is OfferNation NOT for?
---
If you don't like GPT sites or survey sites, then this website is definitely NOT for you. I know some of you just don't want to spend your time doing offers and surveys, which I understand. So if that's you, then I'd recommend NOT joining this site, as you probably won't find it beneficial. If you're looking for a more profitable income earner, I'd suggest starting an online business. If that's something you'd be interested in I'd encourage you to check out my #1 recommended training program.
Tools and Training:
---
They offer a help guide and a FAQs section to help you get started and understand the ways to make money with them.
Support:
---
They offer a support ticket service which aims to contact you within 12 hours. I haven't had to contact support, but if I do I can update my experience here.
You can also find them on Facebook and Twitter
Payment Proof:
---
As soon as I reached the $1 threshold I decided to withdraw my cash and see if they pay out as fast as promised on the site. I am pleased to say that it does. I received my payment within a few hours straight to my PayPal account. The only downside is that they take 2% transaction fee when you withdraw to Paypal. However, I'm not sure if this is the case for other e-wallet vendors.
Also, you'll need to provide a phone number for verification. This was pretty easy, I just selected my country and entered my number. You can choose when to receive the call, and you'll get given the verification number to input onto OfferNation (see screenshot below)
Please see the image below for Paypal payment proof. (Note: the name on Paypal will show up as 99 ventures. This is because OfferNation is owned my 99 Ventures)

You can also take a look at their payments proof page here, and you can see that people are cashing out payments on a daily basis.
Would I recommend?
---
It depends…!
Yes –  If you're looking to make some extra money online through GPT sites. I think OfferNation has potential for earning money online as there are multiple ways that you can earn some money from this site.
No – If you're looking for a program that has more earning potential, and don't want to spend your time completing online surveys/offers.
Final Thoughts:
---
OfferNation is a genuine way to make some additional money online. There are multiple ways to earn, and it's totally free to join. If, however, you're not interested in GPT sites, and you'd like to start an online business and making more money online, I would encourage you to check out my #1 recommended training program. This program will allow you to start an online business based on something you're passionate about, which could lead to much higher earning potentials.
Overall, OfferNation is a legit program, and good if you're looking for a way to earn a little extra money online. I think it's definitely worth a try, and you may find that OfferNation works well for you.
If you're interested in joining you can click the link below
---
Are you an active member of OfferNation? What have your experiences been? Have you made any money from it? Or are you new to this program, and interested in giving it a go? Feel free to share your comments and/or questions in the section below.
If you found this review helpful, please feel free to share.