6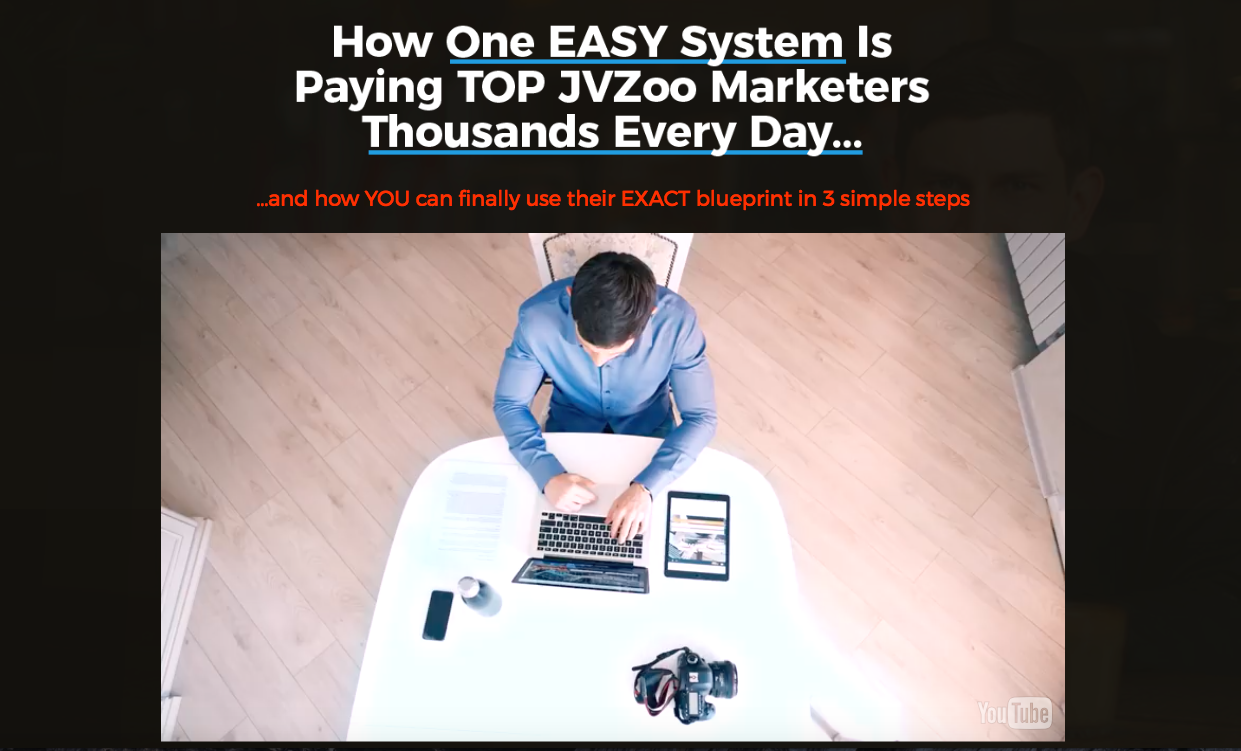 JVZoo Academy Review + Insider Look Into The First Product Ever Endorsed By JVZoo
This post may contain affiliate links. If you choose to purchase something through one of my links, I will earn a small commission at no extra cost to you.
If you're looking for an honest JVZoo Academy review then this is the place for you. Not only that, I was also able to test out the program, so in this review I get to share with you an insiders look (with screenshots) into what you can expect if you decide to purchase this program.
---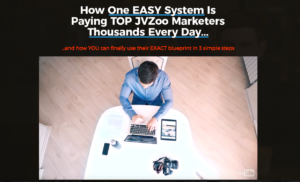 Name: JVZoo Academy
Website: JVZoo-Academy.com
Owner: Sam Bakker
Rating: 6/10
Launch Date: 9th May 2017
Promo period: 9th May 2017 to 15th May 2017 (Early Bird Discounts)
[alert-success]
Interested in joining JVZoo Academy during the launch period? Click here to get the special early bird discounts
[/alert-success]
What Is JVZoo Academy?
---
JVZoo Academy is the one of the latest "hot" new product launches to hit the internet marketing space. But what's all the hype about? Well, JVZoo Academy is the first ever product to be fully endorsed by JVZoo.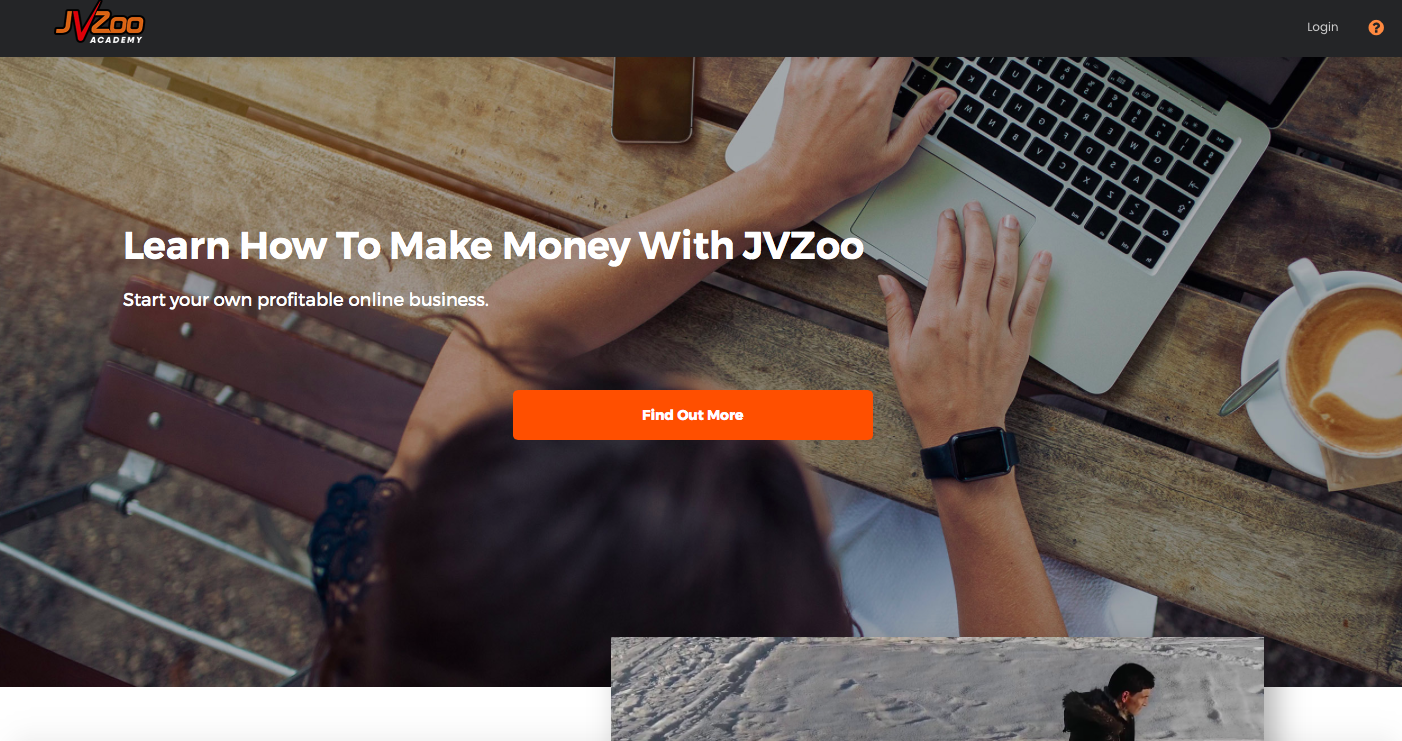 JVZoo Academy addresses their top 3 reasons that hold people back from succeeding online.
Lack of Results
A lack of Focus
And a lack of a Proven System
Their goal is to address these issues within their program through their training system.
JVZoo Academy is definitely NOT a "get rich quick" scheme. It's a program that will require hard work and your focus to get the work done in order to see results. This is a method that Sam claims he's used himself over and over again, so it's definitely a repeatable model that you can use to earn online.
Within the product you'll also gain access to video and written guides, along with downloadable pdf guides/cheat sheets you can read on the go.
Owner of JVZoo Academy
---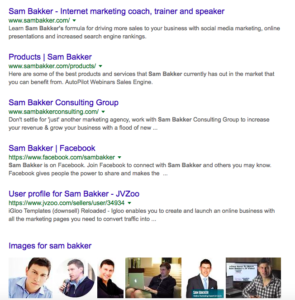 The owner of JVZoo Academy is Sam Bakker. He is an internet marketing coach and trainer and has been very successful within the online business space. He has created products and launched them on JVZoo, and he has earned as an affiliate marketer through JVZoo.
He has definitely gained a lot of creditability in his time, and therefore I think he is someone worth learning from if you're interested in product launches and affiliate marketing.
Just Google him and you'll easily find information about him and his products through his website, and his JVZoo seller page. You can also reach out to him via Facebook.
Sam doesn't hide from his products, he's at the forefront, which is encouraging to see and I feel that he will aim to work towards providing value in whatever he creates.
What Training Is Included?
---
Getting Started Area (Front End Product $19.95)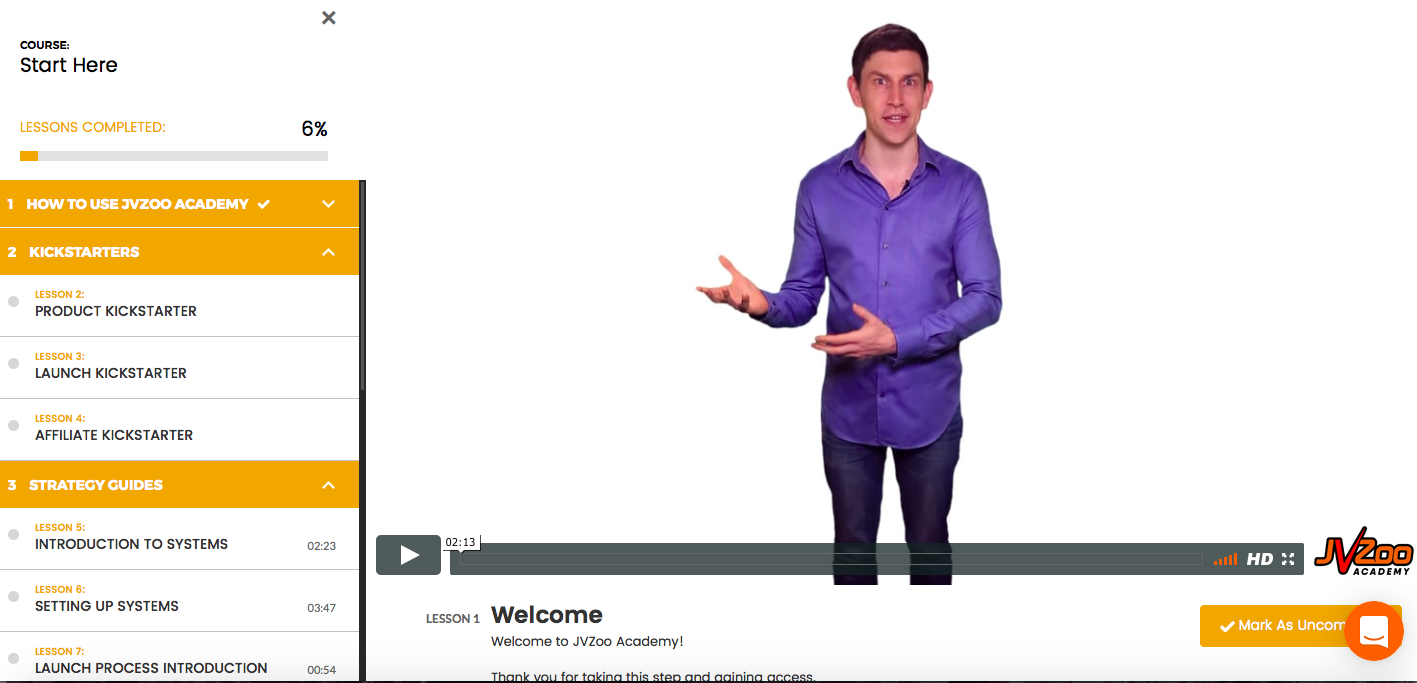 Once you've purchased the main product you'll have access the area where you learn about JVZoo Academy and how to use it, as well as some "kickstarter" guides to help you get started. This area covers the process of how to launch your product from start to finish, and how to succeed as an affiliate. The "Kickstarter" guides are available as downloadable PDFs which you can access at any time.
What's Included in the Front End Product?
18 Lessons
PDF files for helping create products, people looking to launch their products and affiliate marketers
Quick videos for each lesson
At first glance it appears there is more focus on creating products and launching them, with only a few lessons on the affiliate marketing side of things.
Within the Affiliate Marketing Kickstarter guide there's a lot of focus on Email Marketing. And if you're a beginner Affiliate Marketer then you might struggle to get started just on that information alone. There's no proper beginner training in my opinion, and not enough focus on other types of traffic methods such as social media and blog sites.  But if you have some experience with Affiliate Marketing and you want to tackle Email Marketing, then you'll get a list of useful tools and resources to help you be successful with it.
If you're interested in launching a product, then you'll get a lot of information to help you choose a product to create and launch it on JVZoo. You'll get access to his recommended tools and resources to take your launch to the next level. Overall, you're offered a very informative guide that should help you successfully launch on JVZoo.
JVZoo Academy Mastery  ($37/month or $197 One Time Offer)
This program includes 4 core modules to help you set up your business, create and launch your product and find "winning" affiliate products to promote and earn from.
Core Module 1: Fundamentals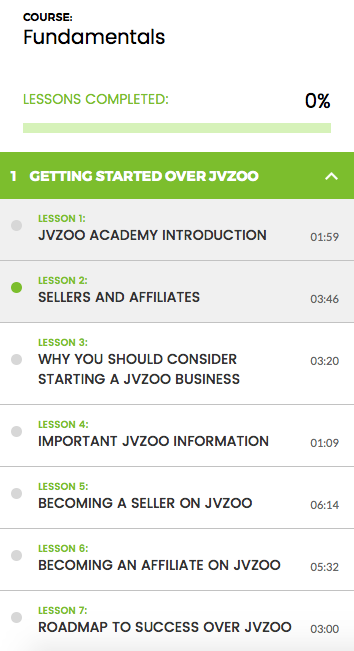 The aim of the Fundamentals module is to learn what's available to you as a new online marketer.
It works towards showing you how to use the JVZoo system to your advantage.
The screenshot on the left shows a preview of the some of the different lessons within this module.
In this module you'll get 10 lessons which focus on getting started with JVZoo. The main training videos are very short and there are no downloadable PDFs. But you'll find additional videos within some of the lessons.
If you're a complete beginner then this module will give you a good overview of JVZoo and how it works. But if you're already very familiar with JVZoo, then this module may be worth skipping.
Core Module 2: Business Foundations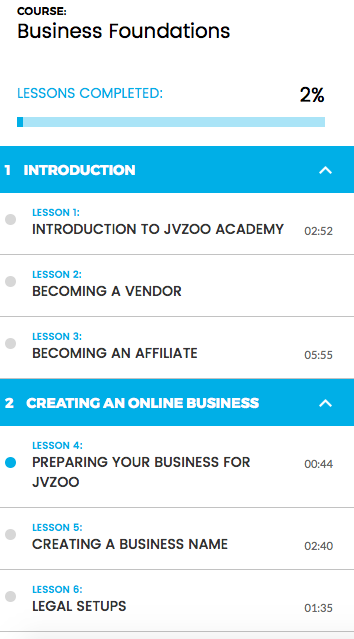 In this module you'll learn about what you need to get a fast start with JVZoo. It's a good starting point for new members.
The module is geared towards making sure you treat this new venture as a real business.
You get tips on how to create a business name as well as the legal setups involved.
There are 44 lessons in this section that cater to the legal aspects of having a business, how to provide support within your new business, and how to actually create/set up your business.
I like that they also provide tips on choosing a social media name and finding and buying a domain for your business.
Most of these guides are presented in video trainings, as well as PDF files for you to download.
On the left you can see a quick overview of some of the lessons you can expect.
Core Module 3: Launch Formula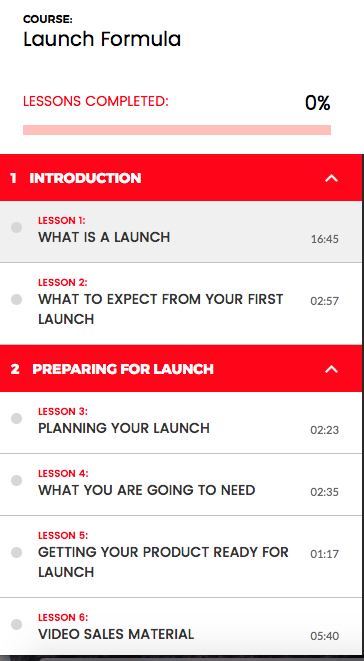 The Launch Formula module aims to show you how to successfully launch your first product on JVZoo, with step by step guides.
If you're interested in launching your own product then this module is just for you.
Overall there are 25 lessons and you'll get access to video and written guides, as well as the recommended tools and resources you need to create your launch.
These tools will help you with creating video, creating your sales/landing pages, choosing an autoresponder and webinar integration etc.
The screenshot on the left will give you a quick preview of what you can expect from this module.
Core Module 4: Affiliate Masterclass

The Affiliate Masterclass module focuses on teaching you everything you need to know to sell over JVZoo as an affiliate.
There are only 8 lessons in this module, and the training here seems to jump right into Email Marketing.
I felt there wasn't much beginner Affiliate Marketer training, so if you're totally new then it may be difficult to follow.
I feel this module is better suited to people who have some experience with Affiliate Marketing, and also have a list that they can promote too.
It just seems as though the training assumes you already have some kind of traffic source, whether it's Email Marketing, social media (e.g. Facebook), or a blog site.
However, most beginners will not have a solid source of traffic, and may not fully benefit form the training in the module.
In regards to the actual training in this module, you do get tips on how gain subscribers, but they mostly recommend creating a product first and building your list that way (so the 3 core modules beforehand will be very useful if you decide to go through this route). You also get tips on promoting your emails (how many times a day, what time of the day etc), how to write your emails and how to find winning promotions on JVZoo to share with your list.
JVZoo Academy Mastery course is $37 monthly fee, or your can get the full package for $197 as a one time fee.
[alert-success]
If you're interested, you can purchase the full package here
[/alert-success]
As well as the 4 core modules you also get access to:
iGloo app (Page builder and membership creation system)
Interviews from top JVZoo earners
Monthly Q & A Webinars
Forum Access
Smart Progress Tracking Software – With this you can track your progress through the course
Product Spotlight Access
60 Day Masterclass

This is an upsell product, with a one time fee of $97.
This is a 60 day action plan that is aimed to make you stay more focus and achieve your goals.
You can dedicate just 1 hour a day and follow the custom action plan.
Each day you'll receive 1 video and a simple guide to follow for that day.
This offer also comes with a 60 day money back guarantee.
JVZoo Academy LIVE Coaching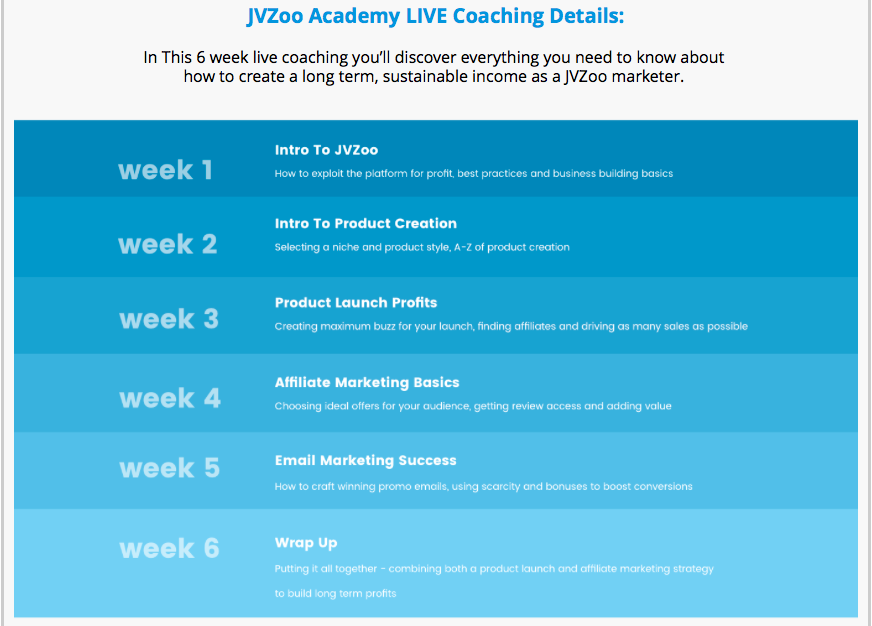 This is a downsell product if you decide not to go with the 60 day masterclass.
One time fee of $97.
6 weeks of access to LIVE video training.
1 video a week with weekly action plans for you to follow.
You can also access replays of each webinar.
iGloo App
This is a downsell product if you decide not to purchase the JVZoo Academy Mastery.
One time fee of $97.
It's a tool that helps you create membership sites and build complete funnels for your product.
Pricing
---
JVZoo Academy (Front End) – $19.95
JVZoo Academy Mastery (Upsell) – $37/month or $197 One Time Offer (OTO)
60 Day Masterclass (Upsell) – $97 OTO
JVZoo Academy LIVE Coaching (Upsell) – $97 OTO
iGloo App (Upsell) – $97 OTO
Who Is It For?
---
JVZoo Academy is for those of you who:
Are ready to earn an income in your own online business.
Want to be your own boss.
Want to be able to create, launch and sell your own products.
Aiming to be a better JVZoo affiliate.
Are ready to take action and invest your time into this program.
Who Is It NOT For?
---
Anyone looking for a "get rich quick" scheme, this is not that type of program.
If you're not willing to take action, focus and put the effort in.
Those looking for in-depth Affiliate Marketing training. Although you get some training on this area, there's a lot more focus on creating and launching a product via JVZoo.
Pros
---
3 Easy to Follow Guides – Aimed at helping you kickstart your Product Creation, Product Launch and Affiliate Marketing success.
You Don't Need To Promote The Product In Order To Earn Money – This program is geared towards you creating your own products to sell, or finding the best products to promote for your business.
Created by a Top Seller on JVZoo – Sam Bakker is definitely qualified to take teach others how to create products and launch them on JVZoo because he's done it himself and is making a full time income with it.
Product Is Fully Endorsed By JVZoo – The entire product has been fully backed by JVZoo, which makes it even more credible. JVZoo have a very good reputation, and I can't imagine they would jeopardise that if they felt this product didn't offer a lot of value.
Cons
---
No Free Trial Available – There's no free trial available for the product and I usually prefer products that allow you to try before you buy.
Not Enough Focus on Affiliate Marketing – I feel that the program is more geared toward creating and launching a product on JVZoo. So if you're looking for in-depth training on Affiliate Marketing, I don't think this program would suit you.
Need To Purchase Upsell Products To Get Full Benefits of The Program – In the front end product you get 3 easy to follow guides. But in order to access the 4 core in-depth modules you would need to purchase the JVZoo Academy Mastery program which is $37/month or $197 OTO. So that's just something to bare in mind. If you really want to get full use of the program you would need to consider purchasing the upsells.
My # 1 Recommendation for Affiliate Marketing Training
---
I'm an active member of Wealthy Affiliate and I personally like to recommend this program because it provides you with a training platform that allows you to learn how to earn an income online through Affiliate Marketing. It gives you access to the right tools and training to help you get started.
What Make Wealthy Affiliate Different To JVZoo Academy?
Wealthy Affiliate is focused on Affiliate Marketing and offer very in-depth training for beginners who want to start an Affiliate Marketing Business. You don't need to have any experience in order to make use of all the training available. You can create a FREE starter membership to get an inside look at the program. If you choose to upgrade your account you get your first month $19, and then $49/month or $359/year. Furthermore, you get access to a huge community of like minded individuals for you to interact with and learn from…plus much more.
JVZoo Academy front end product is $19.95, and the upsell package is $37/month or $197 one time. You can get training on Affiliate Marketing, but the main focus is on Product Creation and Launch.
Take a look at my quick comparison table below: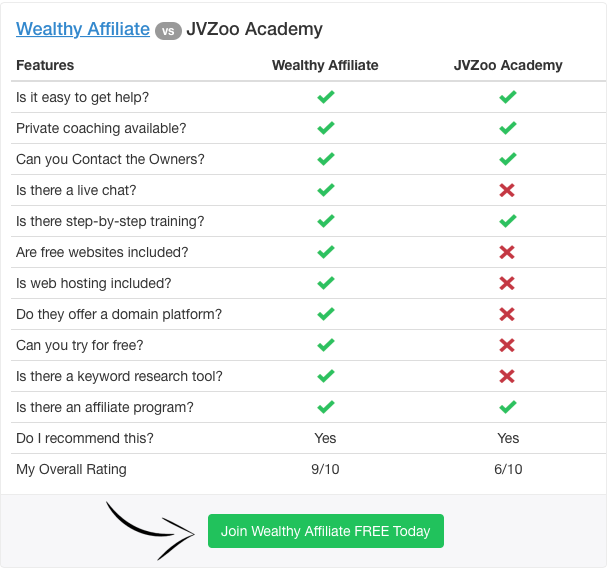 Overall, both products offer reliable and repeatable methods. Your choice will depend on what you're more interested in…Affiliate Marketing or Product Creation and Launch.
SPECIAL WEALTHY AFFILIATE BONUS
If you join me at Wealthy Affiliate, as a special bonus you'll get your first premium month for only $19. That's over 59% discount. It's a great way to really test out the premium membership and see if Wealthy Affiliate is for you.
However, you can always get started with the FREE membership first.
Final Thoughts
---
Hopefully this JVZoo Academy review has been informative. Overall, I feel this program is more suited to those of you who are interested in creating your own product and wanting to successfully launch it on the JVZoo platform. You get access to the tools and resources you need, from a fellow Internet Marketer who is experienced in this field.
However, I feel the Affiliate Marketing training available within the program is not very detailed and I believe it's better suited to those of you who are familiar with Affiliate Marketing, and are looking to boost your earning potential through Email Marketing. But I don't think that the Affiliate training alone is worth up to $197. You'd have to want to also create your own products and launch them for it to be worth that much in my opinion.
In regards to beginner training, I don't think this program offers the best training for complete beginners interested in Affiliate Marketing.
So, if you're someone that's looking for in-depth beginner Affiliate Marketing training, I would personally recommend Wealthy Affiliate instead (see review here).
Interested in JVZoo Academy? Click the button below and watch the video for more information:
OR
As an alternative, you can sign up to my #1 recommended Affiliate Marketing business training program. FREE starter membership included:
Pin This For Later
---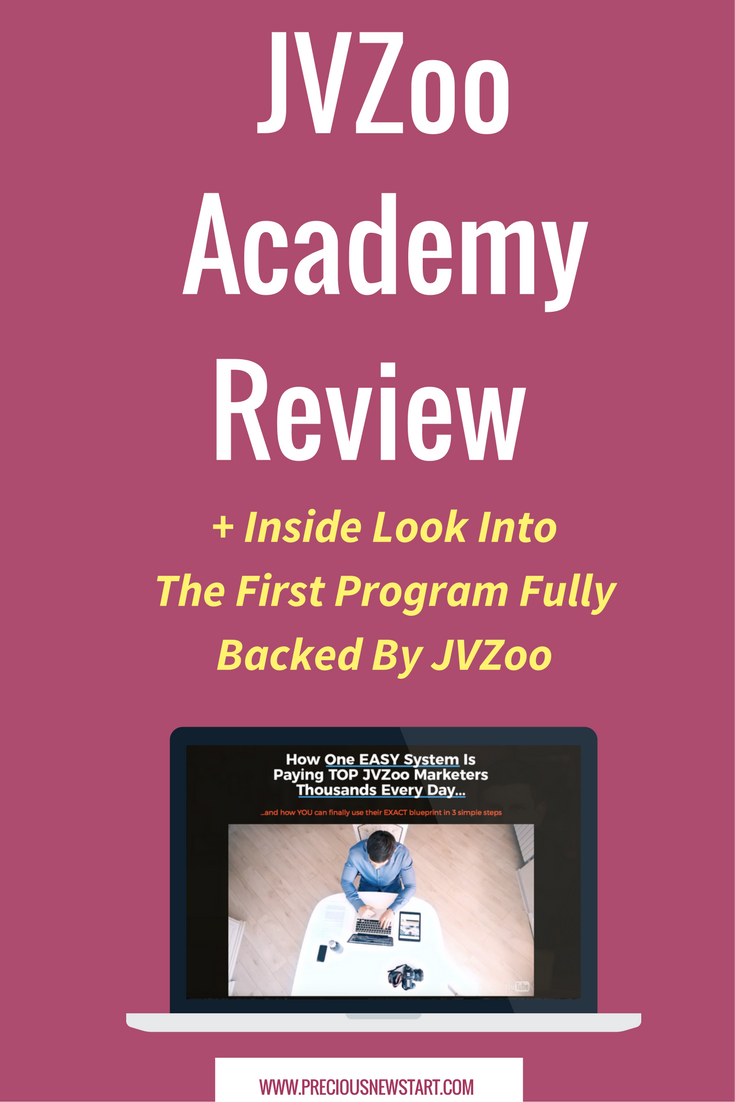 ---
What are your thoughts on JVZoo Academy?
Are you currently a member? What have your experiences been?
Please share your thoughts, questions and comments in the section below.