6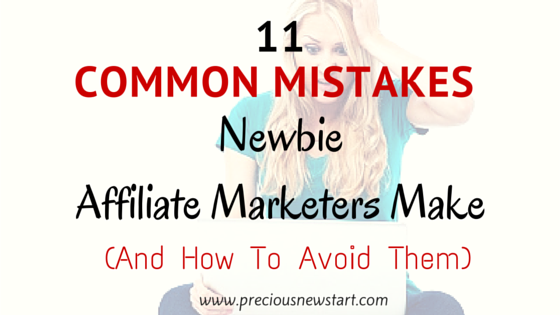 11 Common Mistakes Newbie Affiliate Marketers Make (And How To Avoid Them)
This post may contain affiliate links. If you choose to purchase something through one of my links, I will earn a small commission at no extra cost to you.
When I first got into the Affiliate Marketing business, I didn't fully understand what it was about. I was only interested in the money and couldn't understand why people weren't buying products from my links. I would copy and paste my link all over social media, and spend ages on countless traffic exchange sites to get my site noticed, but with with no real success. Then I joined Wealthy Affiliate, which taught me what Affiliate Marketing really is about.
So, What is Affiliate Marketing?
---
If you're here you may already know what Affiliate Marketing is, but if you're completely new to all this then Affiliate Marketing basically involves selling other people's products and getting a commission for the sale.
Affiliate Marketing is NOT a "get rich quick" business model…it's a method that, if done correctly, can help you build a successful business online. Therefore, I want to share with you 11 common mistakes newbie affiliate marketers make, in order to help you avoid them early on in your online business journey.
FURTHER READING: Ways To Start A Business Online
Newbie Mistake #1: Not Being Focused
---
It's so common to see Affiliate Marketers drawn in by the next "shiny" object. I know, because I've been there. I got suckered in by multiple "make money online" programs at once, that promised me lots of money, but instead left me in a worse financial position than I was before joining the program. This is why I only choose to recommend legitimate programs, and genuine ways to make money online, throughout my website.
How To Avoid:
---
Ignore the "shiny" objects and flashing buttons. They will just distract you from the end goal. One completed goal is much better than 20 unfinished goals.
Newbie Mistake #2: Trying Too Hard To Sell, Rather Than Helping The Reader
---
When I first started Affiliate Marketing, my only goal was to get people to click my links so that I would get a commission. I didn't think about things from the readers point of view. Why would they click my link when I gave them no information about the product.
How To Avoid:
---
People like to know what the product is about, and what it's like before they purchase it. That is why reviews are so popular. Reviews provide real user experiences, and that what people want to see. Let your readers know that you're genuinely interested in providing them with value, and real honest opinions.
You're more likely to get sales, and people coming back for advice when you write unbiased reviews on your blog/website vs acting like a sales person. And if you don't have a website yet, you can easily create your own fully functional WordPress website for free right now.
Newbie Mistake #3: Joining Too Many Affiliate Programs
---
Affiliate programs are so easy to join, and it's very easy to be tempted to join multiple affiliate programs to try and maximize the income earnings you will be getting. Also, you may think that there is nothing wrong and nothing to lose by being part of many affiliate programs.
True…and although I do agree with having multiple streams of income, being a part of multiple programs and attempting to promote them all at the same time will prevent you from focusing on each one of them.
As a result, you end up not realising the maximum potential of your affiliate program, and the income generated will not be as huge as you were initially thinking it would.
How To Avoid:
---
Choose your programs wisely. Stick to a few, and focus building your business around those few. As soon as you see that it is making a reasonable profit, then maybe you can  join a few other affiliate programs. The skill is to do it slowly but surely. There is no need to rush into things…especially with affiliate marketing.
Newbie Mistake #4: Making False Claims
---
Unfortunately this is quite a common mistake newbies make, hoping that it'll get people to click on their link. There's absolutely no need to make false claims in order to get people to buy your affiliate product. In my opinion, it doesn't make you any different than the "make money online" scams we see online. They pull out random numbers/figures to get you to buy their product, so by making false claims you are pretty much following in their footsteps. Doing this doesn't make you successful in the long run, and will eventually ruin your credibility.
How To Avoid:
---
Be honest! All the claims and reviews I make on my website are genuine. I will not say I've made $1000s from a website/product when I may have only made $100. I like to be honest about the products I review. So, if you're a newbie, I would encourage you to do so too, in order to become a better Affiliate Marketer.
Newbie Mistake #5: Not Testing The Products
---
I personally believe that in order to successfully promote your affiliate product, you should be (or have been) a user of that product. This is because, as a user, you have first hand experience of the product. Some may disagree with me…but I feel that when you promote a product you use often, the excitement you have for the affiliate product shows to your readers. They can see the benefits of the product just from the way you write about it. If you don't test the products out, how will you know what your potential buyer/customer will experience?
How To Avoid:
---
Consider purchasing/being a user of the product you are promoting. Experience for yourself what it will be like when your potential buyers purchase the product through your link.
Newbie Mistake #6: Not Keeping Track Of Your Links
---
Have you ever been excited you made a sale…but then wondered where that sale came from? If so, then that's where keeping track of your links comes in handy.
What is tracking? 
Basically, tracking is a way of putting a unique code in your affiliate link so that you know where the sale has come from.
Why is that important?
It's important because it means you are able to track where most of your sales are coming from. For example, if you find that most of your sales come from Twitter rather than Facebook, then you'll want to spend more time marketing on Twitter in order to maximise your profits.
Most affiliate programs allow you to add a unique tracking code to your link. If you have problems doing so, then you could get in contact with the support team for that product.
e.g. myaffiliatelink.com/affiliatenumber=preciousnewstart
So in this case…"preciousnewstart" would be the unique tracking code. There's a little more to it than that, but this is just to give you a basic idea of what tracking codes are about.
How To Avoid:
---
Add tracking codes to your links. It's great to make a commission from a sale…but knowing where that commission came from is what makes you a more successful Affiliate Marketer.
Newbie Mistake #7: Not Getting Targeted Traffic
---
When I first began Affiliate Marketing I thought that by getting lots of people to see my website and click my link, I would make a lot of sales. So I joined countless of Traffic Exchange sites and purchased Traffic gigs on Fiverr in order to get views to my page. One gig I purchased was for "unlimited traffic" for 1 month. Although I got the traffic, I got no sales. After lots of trial and error, and $100s spent on "useless" traffic, I eventually understood the importance of having targetted traffic, and how/where to get it.
How To Avoid:
---
Use methods that will bring you targeted traffic. A few examples include posting on niche specific forums/blogs, using specific hashtags for social media traffic, and Paid Per Click (PPC) advertising via Google, Bing and/or Facebook. Using these methods will be beneficial towards helping you get higher sale conversions from your affiliate products.
Newbie Mistake #8:  Not Doing Keyword Research
---
Before picking an affiliate product, it's always a good idea to do some keyword research. This is because you can work out whether there is a market for the product you are promoting. There's no point spending all your time sharing your link, if no one's interested in buying. So one of the best ways to source profitable affiliate products is to do keyword research.
How To Avoid:
---
The most effective way to do keyword research is by using a keyword research tool. Below is a list of tools I like to use when doing my research:
Wealthy Affiliate Keyword Tool – you'll need to create a free account to access this tool (Free member: 30 free searches; Premium member: Unlimited Searches)
Jaaxy (Free: 30 searches; Pro $19/Enterprise $49 Monthly: Unlimited searches)
KeywordTool.io (Free; Pro $48-$88 Monthly)
Alphabet Soup Technique (Free)
Newbie Mistake #9: Not Building An Email List
---
One of the most important things you need as an Affiliate Marketing is an email list. You could be losing out on potential buyers by not getting them to join your email list. If they're interested in the content you have to offer, they'll want to come back for more, and you can provide them more value via email.
How To Avoid:
---
Add an opt-in form within your landing page, or website, to encourage readers to subscribe to your blog (like the one below this article). You'll also need to have an Autoresponder service in order to send out regular emails to your subscribers. Some popular autoresponders are Aweber, GetResponse and MailChimp.
FURTHER READING: How To Build And Maintain A Profitable Email List
Newbie Mistake #10: Too Many Ads
---
You've most likely come across a site that is just cluttered with ads! This is not the way to build a successful affiliate business and is not a way to bring creditability to your website. Not only is this annoying for your readers, it can also slow down the running of your website.
How To Avoid:
---
Just keep it simple. Don't overdo it. If you're going to monetise your site, keep the number of ads low. I'd say 2-3 is good enough.
Newbie Mistake #11: Not Continuing To Learn
---
If you don't continue to learn, then you're not going to grow. When I first started Affiliate Marketing I was lost. I need some real guidance to give me the best opportunity to make it work.
How To Avoid:
---
If you're really serious about getting a further education is Affiliate Marketing, and eventually turn it into a successful business, then I would  definitely recommend joining Wealthy Affiliate. You can check out my in-depth review by clicking the link below.
FURTHER READING: Wealthy Affiliate Review
Final Thoughts
---
So don't beat yourself up about making any of these mistakes…I've made quite a few of them too, so you're not alone. These are common because newbies have no clear direction of how to really grow their affiliate marketing business. This is why I really think it's important to be part of a program such as Wealthy Affiliate, so that you get to avoid these mistakes earlier than later.
If you'd like to get top quality affiliate training, then click the link below to sign up for FREE today
Making mistakes in life is normal. It's how you deal with the mistakes that matter. I hope that this article has helped you identify areas you may need to improve in order to get your affiliate marketing business up the scale.
What are some of your Affiliate Marketing mistakes? Have you learnt anything new from this article? Feel free to respond, or ask further questions in the comments section below.