8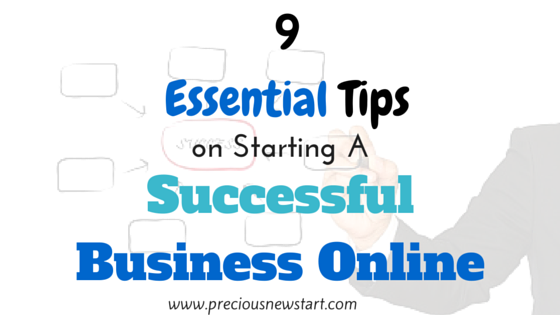 9 Essential Tips on Starting A Successful Business Online
This post may contain affiliate links. If you choose to purchase something through one of my links, I will earn a small commission at no extra cost to you.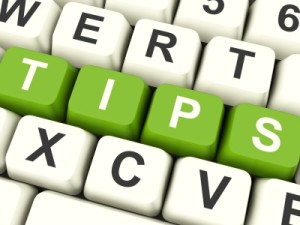 I made a number of mistakes when starting my online business, and sadly I know there are many others who have done the same. That's why I want to share with you my 9 tips on starting your own successful business online. I want to share with you what I've learnt over the years from my mistakes, in hopes that it will help you avoid them earlier on in your online business venture.
Tip #1: Have a Plan
---
One of the most important tips to starting a successful online business is to have a plan. You need to know what direction you want your business to take, and how you will get there. It's ok to change your mind at some points if you feel you want to tweak your original plan. But if you just sit back waiting to see what happens, you won't be successful. So decide what your business will be about, and how you plan to make an income from it.
Tip #2: Choose A Topic/Niche You Care About
---
The best way to start an online business is to focus on something you are passionate about, and that you know a lot about too. If you focus on a topic that you have no interest in, you're less likely to be motivated through the hard times. Whereas if you're passionate about your topic, you'll want to continue to share your knowledge with others, and promote products around that area of interest. I'm not saying that your business has to be based on your #1 passion (cause it could be that business model is saturated), but let it at least be something you care about. If you enjoy your topic then the creativity will flow.
Tip #3: Spend More Time Doing, Instead Of Just Thinking
---
It's so easy to come up with all these ideas of what you want to do, and think of how you're going to do it. But it becomes a whole different thing when you actually start DOING it. You need to start acting on your ideas. For example,  if you're thinking about emailing potential suppliers about a product…don't think, just do it.  I mean, you can obviously plan what you're going to say, and the questions you'll ask, but you're not going to get any answers if you don't hit that send button.
Tip #4: Get The Right Training 
---
Having the right training is important because you get to learn tried and tested methods that will help you business grow. You'll also come across new tips/methods that will further make your business a successful one. My #1 recommended training program is Wealthy Affiliate. This is because they have all the things you need, under one roof, and they provide bite-sized lessons to help you get things done step by step. They don't give false promises, and they offer a free membership which gives you the opportunity to "try before you buy" (if you choose to upgrade). This means you can get a feel for the training material, allowing you to decide whether it's for you, without having to invest any actual money. They don't bombard you with upsells, nor do they claim that they have all the "secrets to success" in a 69 page eBook. If you'd like to know more you can check out my review (below), or sign up free today with the link (below).
FURTHER READING: Wealthy Affiliate Review
or
LINK: Sign Up FREE Today For Wealthy Affiliate Training Program
Tip #5: Build A Support Network
---
Having some kind of support network is highly important to having success in business. You need to surround yourself with likeminded people, whether thats offline or online, it's necessary to do so. You need guidance from more experienced entreprenurs, as well as a way to stop you from feeling alone in the online world. You also need people in your life who are going to motivate you to keep going. That's why I enjoy being a part of the Wealthy Affiliate community, cause there is a great support network available to me. I have somewhere I can share my worries, and the people there will pick me up and encourage me to keep going. I also inspired by their stories, which further motivates me. Sometimes getting in to business online can be difficult when you're not seeing results early, but having a support network makes you realise that you need to persevere…and the hard work will soon pay off.
Tip #6: Have The Right Expectation
---
Building a business isn't easy, and it's not quick. It may not sound like what you were hoping for, but it's the truth. Building a business requires hard work, especially when you're just starting out. If you're expecting to make money doing nothing, or only work 4 hours a week…then this is not for you. If possible, I would encourage you to speak to other entrepreneurs, ask them how much work it took them, and how long. This may help you decide whether building a business is really for you.
Side note: If you're a full-time worker and genuinely can only work about 4 hours a week on your business, then that's totally understandable. My reference to the "4 hour work week" is purely to illustrate the misconception many people have about starting a business online.
Tip #7: Brainstorm Ideas
---
You need to have a brainstorm of ideas of content and products for your business. This is so you can tackle a gap in the market, and improve your chance of being successful. The best way to do this is through keyword research. You can do a basic brainstorm of ideas, or use keyword tools.  I personally use Jaaxy or  Wealthy Affiliate Keyword Tool (you'll need to create a free account to use this) to brainstorm ideas. You can also use KeywordTool.io. These tools can all be accessed for free, and also have upgrade options for more features.  Quality content is what brings readers/visitors to your site. If you provide value, you're able to make money through advertising or Affiliate Marketing. You want to provide value for your visitors and write in your own words. Keyword tools are very useful because they help you come up with different content ideas. You don't want to run out of content after only a few articles. So get brainstorming, and come start coming up with awesome content!
Tip #8: There's No Magic Button To Success
---
Before you can really be successful with your business, you need to realise that there is NO magic button to success…there NO magic formula. What you need are the right tools and resources to help you work smarter. Don't believe all the hype of products written my "internet gurus" showing you "the secrets to success" in a costly ebook. Save your money from that and invest in real resources and training.
Tip #9: Take Action
---
I know I say this throughout my site a lot, but it is so true. You need to take action in order to get anywhere. Don't be the person who talks, talks and talks about starting a business, but never does anything to get it going. It's easy to get worried about making mistakes with your business…but not starting at all will be your biggest failure. With the right training and resources, you will be off to a good start, and you'll have the chance to learn a lot along the way.
So, I invite you to take action today by signing up for the Wealthy Affiliate Training Program. Here you will learn the ways to starting your own business online.
To sign up free today, click the link below.
What would you add to this list of tips? Are there any tips that stand out most to you? Which of these tips, if any, will you take on board after reading this? I'd really like to read your responses and answer any questions you may have in the comments below.