9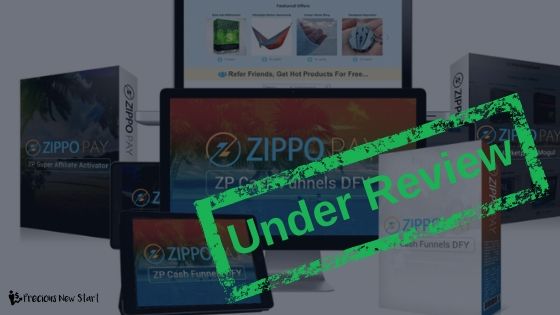 ZippoPay Review – Can This "Magic" Button Help You Generate Viral Leads & Sales?!
This post may contain affiliate links. If you choose to purchase something through one of my links, I will earn a small commission at no extra cost to you.
Hey fellow marketer and welcome to my ZippoPay Review.
How would you like to find a "magic" button that could help generate tons of leads and sales for your product/affiliate promotions?
That would be great right?!
But could ZippoPay be that "revolutionary" product you've been waiting for?
The fact that you've landed on this page shows me you're interested in discovering more about ZippoPay.
If that's the case, then you're in luck, as I'll be sharing my own findings and aim to help you uncover the real truth about this product.
So, stay tuned, and let's unravel the truth...
Product Name: ZippoPay
Website: www.ZippoPay.com
Owner: Bryan Winters (REAL)
Price: $20 (Launch Offer), then $47 + Upsells
Rating: 5/10
Type of Opportunity: Pay-Per-Lead
Recommended? Under Review (will update accordingly)
More...
What is ZippoPay?
ZippoPay is a "Patent Pending" cloud-based Pay-Per-Lead payment system.
It is designed to help you generate traffic, "virally" build your leads and make money online at the same time.
How Does ZippoPay Work?
The video above gives an excellent in-depth look into ZippoPay and how it works in real life.
But here are the 3 main steps outlined below:
Step 1: Add ZippoPay Button To Your Offer Page
This step can work for both product vendors and affiliate.
For Vendors:
You can add the ZippoPay payment button directly to your product page.
For Affiliates:
You're provided with a "Done For You" funnel when you purchase the front end product, so you don't need to have your own product to do this.
Additionally, affiliates are able to add the ZippoPay button to any bonus page being promoted.
Step 2: Generate Traffic
At first, there isn't much training in the member's area. You're presented with a 12 minutes video which shows you how to set up your ZippoPay feature, and how it all really works.
However, as you go a bit further into the platform, you're recommended to:
Avoid Traffic Exchanges
Avoid Safelists
Why?
Because the overall traffic from these systems is "freebie seekers". Those people tend to look for free offers and are less likely to pay for the products you promote.
Instead, ZippoPay suggests using:
Facebook Ads
Email (Solo) Ads
Banner Ads
Please note: These are paid methods, so you will need to think about having additional costs if you choose to purchase ZippoPay.
Step 3: Watch Your List Grow
As ZippoPay allows your customers the option to get your product for free, they're likely to enter their email address and promote the product/bonus page to others in order to gain enough referrals to get the product free.
For example, using the screenshot above, instead of your customer paying $10 for a product, your customer can utilise the ZippoPay button and get referrals to the offer in exchange for the product.
And below is an example of a page they'll be directed to, in which they are encouraged to get referrals:
As a marketer with a product, this could potentially increase your exposure and send you more traffic...therefore resulting in more customers, and potentially more sales.
However, if you don't own a product, you could supposedly use ZippoPay's "Done For You" funnels to build a list and income.
Pricing + Upsells
Here's a breakdown of the pricing of ZippoPay and the upsells that are included:
ZippoPay Software - $20 (then $20/month)
This is the main software you'll be using to supposedly generate leads and income.
Vendors can place the ZippoPay buttons on their product pages.
Affiliates can use the pre-made funnel to generate leads and commissions.
Cash Funnels DFY - $47 (Downsell $1 - 5 day trial)
With this upsell you can generate unlimited ZippoPay order buttons (different colours, designs etc).
Plus an additional "Done For You" funnel for the affiliates.
The trial starts at $1 for 5 days, then you're charged $47
Super Affiliate Activator - $97 (Downsell $1 - 5 day trial)
This is apparently an "automated" feature that gives your ZippoPay account affiliate links of ZippoPay vendors.
Note: You're not being charged to be an affiliate for the product, they're just charging you for a software that hardcodes you ZippoPay account with affiliate links.
The trial starts at $1 for 5 days, then you're charged $97
Marketplace Mogul - $197
Here you're given unlimited featured listings in the marketplace, which is designed to guarantee unlimited autopilot traffic and exposure.
There is no free trial with this upsell.
ZippoPay (Main Product) -

$20

(during launch). Price will increase to $20/month after launch
Cash Funnels DFY (Upsell 1) -

$47 ($1 trial for 5 days)

Super Affiliate Activator (Upsell 2) -

$97 ($1 trial for 5 days)

Marketplace Mogul (Upsell 3) -

$197
The Good...
The NOT So Good...
Despite the positives of this product, there are a few things lacking that I'd like to touch on.
Final Thoughts
Thank you for taking the time to read through this ZippoPay review.
I hope this review has given you some further insight into the ZippoPay product.
There's a lot of buzz around this product at the moment, so it'll be interesting to see how well it does after the initial launch
So, can this "magic" button help you generate viral leads and sales?
I believe this is a unique way to generate leads and income, and if you're able to put the time and effort to make it work, then I feel it is possible to achieve those results.
There is a place for it for different kinds of online marketers, so for the moment, I will continue to keep this product "under review" and see how things pan out in the coming days/weeks.
If you've read this review and felt that ZippoPay is the right product for you, then click this here to set up your account now for only $20 one time offer (limited time only).
Additionally, any current users of ZippoPay, I've love to hear your experiences, so please share them in the comment below.
Join Me In Earning An Income Online From A Blog, Using Affiliate Marketing
---
Let's discuss:
What did you think of this ZippoPay review?
What are your thoughts on using this software to generate leads and sales?
Are you already using ZippoPay? How is it working for you so far?
I'd love to hear your thoughts, comments and experiences in the comments section below.