2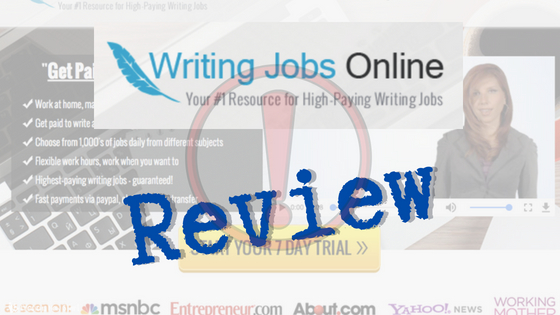 Writing Jobs Online Review – The #1 Resource For Aspiring Freelance Writers?!
This post may contain affiliate links. If you choose to purchase something through one of my links, I will earn a small commission at no extra cost to you.
Welcome to my Writing Jobs Online review.
Do you love to write?
How great would it be to earn a living online doing something you're really passionate about?
What if there was a platform that could show you how to get paid to write online?
Could Writing Jobs Online be that program?
I imagine you're here because you're looking for an honest Writing Jobs Online review, and you want to know if this is the program that's going to help you earn a living online through writing.
If that's the case, then I want to say Well Done! It's good to know that you're taking the time to review this "opportunity" to discover the truth for yourself.
Please be aware, I am not in an affiliate for this company, so my opinion about it is completely unbiased and I want to give you the most objective review.
So, read on to uncover the truth...
Product Name: Writing Jobs Online
Website: www.Writing-Jobs.net
Owner: Glen Anderson??
Price: $1 14 Trial then $27/month
Rating: 2/10
Type of Opportunity: Get Paid To Write
Recommended? NO
More...
What Is Writing Jobs Online?
Writing Jobs Online is a platform that offers a list/database of sites which are willing to pay aspiring freelancers to write.
They claim you can make money online with "no experience", and that there are writing gigs available in over 150+ countries.
But what they don't tell you is that all you'll be getting is just a list of different sites that pay writers. They don't actually have their own personal job board, they just link you to other free job boards, and charge you a monthly fee.
There's also little training involved in how to actually write/improve your writing skills.
Ultimately, most of the information they provide is easily accessible online with just a simple Google search.
How Does Writing Jobs Online Work?
In this Writing Jobs Online review, you'll see that this platform is not as simple as it seems.
They make out that getting paid to write is as simple as 3 steps, but there's more to just choosing a job, submitting the work and getting paid.
In many cases, you need to wait for your writing to be approved, and you might not always get paid straight away. So there are other things to think about when it comes to making money online as a freelance writer.
In many cases, some of these sites looking for freelance writers will be looking for users with some experience, and in other cases you may even need to showcase some of your previous work.
So, if you're completely new to getting paid to write, then you may find it difficult to get any high paying gigs.
What Types Of Writing Jobs Can You Expect?
The above screenshot shares some of the types of writing gigs you can expect to be listed in the Writing Jobs Online platform.
What's Inside Writing Jobs Online?
A Database Of "High Paying Writing Jobs"
Not only do you get a list of sites, they also provide job boards of sites such as indeed.com and craigslist etc.
I'm sure you've heard of these sites, which are 100% easy to access and available for free.
They make it appear as if the jobs are listed directly on their platform, but as you can see, they're not.
Video Tutorials and Training
Very little training is present in this platform.
You will find some tips on how to set prices and how to produce a service agreement.
But it's another feature which is NOT worth the $27 monthly fee.
List of Premium Online Surveys
I can't understand why they would have a section dedicated to online surveys, which has nothing to do with writing.
Tips and Tricks
It appears that these "tips and tricks" have been taken from another website called "BeAFreelanceBlogger.com", and is not directly from Writing-Jobs.net
So, What's The Truth?
1. You're Paying For Information That Can Be Found Easily For Free Online
The information you get from Writing Jobs Online can easily be found online for free.
Don't believe me?
Just take a look at this in-depth resource which shares 92 sites that will pay aspiring freelancers, like you, to write.
There's no need to pay the $1 trial, and there's definitely NO need to pay a monthly fee.
If you're truly interested in getting paid to write, use the resource I shared above.
Here are a few more free online resources that share sites ready to pay writers:
2. Too Many Similarities To Gold Opinions
Writing Jobs Online has a lot of similar features to Gold Opinions, which I previously reviewed on this site.
What are the similarities:
Website layout
"Unrealistic" income calculators
Misleading claims about potential income
Both offer a list of information which can be found very easily online for free
I didn't recommend Gold Opinions back then, and I don't recommend Writing Jobs Online either.
3. Fake Testimonials
Just like Gold Opinions, and other "scam" products I've reviewed, it's full of fake testimonials trying to get you to believe you can earn tons of money with their programs.
Just take a look of the screenshot above. You'll see that this image of "Kyle Thompson" is actually a portion of a stock image found on Pexels.com.
4. The Product Content Is Not Worth A $27/month Fee
I appreciate that it can be handy to have a list/database of Writing Jobs in one easy to access platform, however, I do not believe Writing Jobs Online provides enough value to justify any monthly fee, let alone $27/month.
5. Some Writing Tools Not Relevant To Freelance Writers
Writing Jobs Online is definitely aimed at people who want to earn an income writing online, and those people are generally known as freelancers.
However, it's been noted that the writing tools offered in the platform are not suitable for freelance writers, they're for bloggers.
Some of the tools include WordPress, Gimp and Flickr. These are tools that most online users would have already heard of, and can access for free.
So you're paying for this information and it's not even suited for its target audience.
6. Nothing Special About The "Writing Software"
On the sales page, they talk about having access to writing software, however, there's really nothing special about the writing software.
The software is simply writing tools such as Google docs, WordPress and Evernote, which again, can be accessed for free online.
7. Fake "As Seen On" Claims
Writing Jobs Online also claims to be featured on popular sites such as MSNBC.
However, this is not true, and this site has not been featured on these popular platforms.
It's just another sales tactic to make you think they are a trustworthy opportunity.
Pros
Cons
How I Get Paid To Write Online?
I get paid to write by creating written content on a website/blog, just like this one, and get paid through Affiliate Marketing.
Affiliate Marketing is my #1 recommended way to make money online, and it's a legitimate business opportunity that anyone can get involved in.
The beauty of Affiliate Marketing is that you get to write content based on your passion.
If you're into freelance writing, then having a blog might be a great option for you to combine your love of writing with a niche/topic you're interested in, and turn that into an Affiliate Marketing business.
Thanks to Affiliate Marketing, I'm able to earn a consistent income online. Looking at the screenshot below, you'll see 5 months worth of affiliate income growth, all thanks to my #1 recommended training platform for Affiliate Marketing.
I'm not sharing this to brag, I just want to give you an idea of what you could potentially earn for writing content online, through blogging and affiliate marketing.
Please note, this is not some "get rich quick" scheme. It's a legitimate opportunity, that can reward you for years to come. I'm not promising you any "insane" income earnings, I'm giving you a real-life example of a business that requires hard work, and determination, with big potential rewards.
To get started you need 2 main things:
1. A training platform (such as my #1 recommendation)
2. A website/blog
Both of these things are offered by the Wealthy Affiliate training platform, and it's free to join.
To learn more, click below to join for free today:
---
Be part of the discussion:
What did you think of this Writing Jobs Online review?
What are your thoughts on Writing Jobs Online?
Are you an aspiring blogger or freelance writer? What methods do you use to earn an income online through writing?
I'd love to hear your thoughts, comments and experiences in the comments section below.