3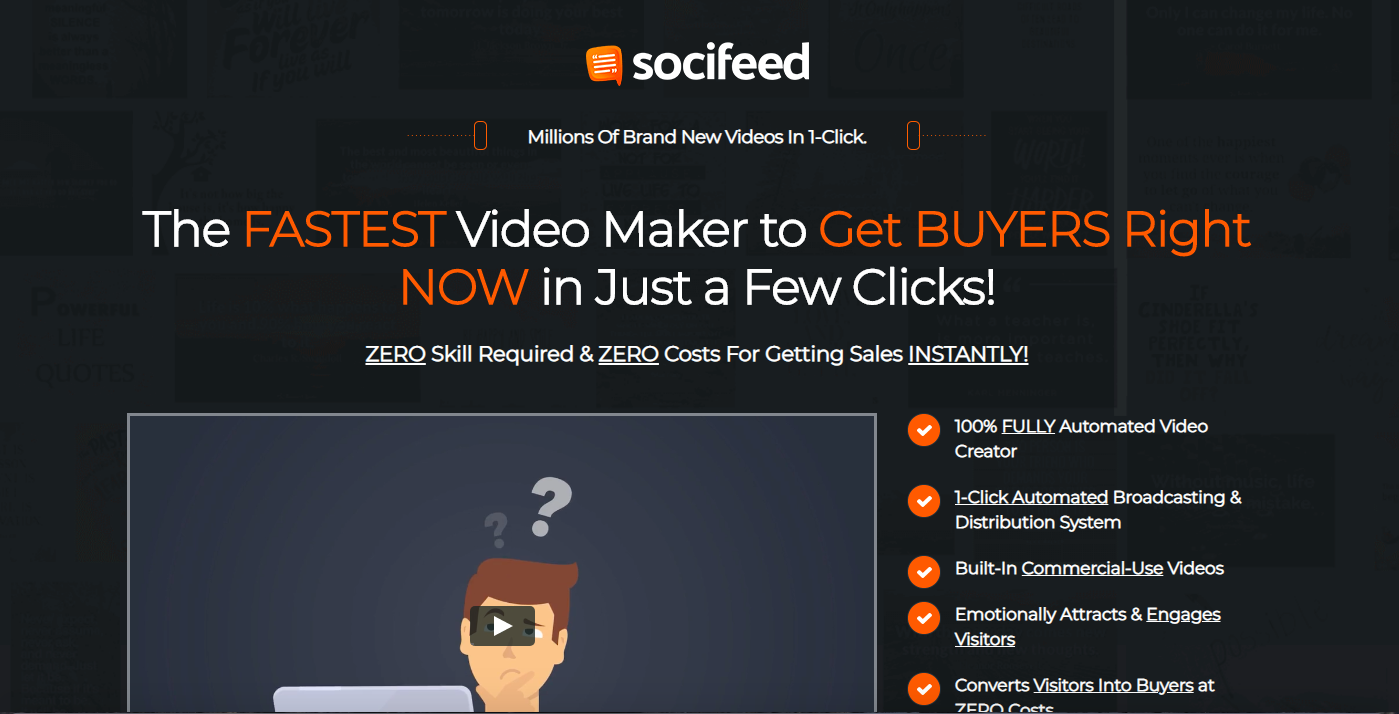 What Is SociFeed? [Review] – Is It The SHORTCUT To Getting Buyers On Autopilot? + DEMO
This post may contain affiliate links. If you choose to purchase something through one of my links, I will earn a small commission at no extra cost to you.
Welcome to my honest and unaffiliated SociFeed review.
If you've been interested in a way to generate attention-grabbing videos FAST and get buyers on "autopilot", then chances are you've stumbled across the name SociFeed.
SociFeed offers the opportunity to allow real people to discover your business with the use of viral video quotes.
Video marketing is sweeping through the internet and SociFeed allows you to tap into this strategy to generate more buyers.
But, what is SociFeed, and is it really the "shortcut to getting buyers on autopilot", through video content?
The fact that you've reached this review shows me 3 things:
You want to discover the truth about SociFeed
You want to create high-quality, viral videos...fast!
You want to increase your income without expensive costs & technical skills
If any of these apply to you, then congrats on making it here, and I look forward to sharing my findings with you.
So, let's not waste any more time and dive into this review...
Product Name: SociFeed
Website: www.SociFeed.com
Owner: Mo Latif and Brett Ingram
Price: $27 + UPSELLS
Rating: 6/10
Type of Product: Video Creation Software
Verdict?:LEGIT (but too much hype)
More...
What is SociFeed?
SociFeed is a cloud-based software that claims to "give you the power" to churn out a number of emotionally triggered videos "on autopilot".
The goal is to get potential customers immediately engaged through video content, and you don't need any experience to create these "automated" videos.
With the use of video quotes and content created with this software, you can build trust with your visitors with credible content associated with your brand.
If you're looking for a tool which creates attention-grabbing viral videos that get clicks and have the aim of increasing sales, then let's unravel more...
How Does SociFeed Work?
SociFeed has been designed to work in 3 simple steps:
Step 1: Start A Campaign
Step 2: Set Automation
Step 3: Activate For Profits
What's Included In The Software?
In the SociFeed software you can expect to find:
"Automated" video creator
Commercial Use videos
The ability to broadcast your video on social media with 1 click of a button
An option to add "Call To Actions" and website links
Download video feature
SociFeed Demo [VIDEO]
Pricing + Upsells
Here's a breakdown of the pricing of SociFeed and the upsells that are included:
SociFeed (Main Product) -

$27-$47

(price may increase after launch)
Upsell 1 -

$47-$97 (Downsell $37-$77)

Upsell 2 -

$47-$97 (Downsell $37-$77)

Upsell 3 -

$47-$97 (Downsell $37-$77)
If you were to purchase all the upsells at full price, along with the full Socifeed Software, you could be expected to spend over $500
That's a far cry from the initial $27-$47 front end offer.
These upsells may be beneficial, but I just wanted to point this out so you're aware before making any purchase decisions.
Not only that, the fact that the price ranges are so far apart raises a RED flag for me. This could mean that some users may pay $40-50 more for an upsell, compared to another user.
SociFeed Bonuses
Here is a screenshot of the bonuses included when you purchase SociFeed:
Who Is SociFeed Aimed For?
Social Media Marketers
eCommerce Store Owners
Entrepreneurs
Authors and Publishers
Website Owners
Affiliate Marketers
Local Business Owners
Advertisiers
Bloggers
The Good...
The NOT So Good...
Despite this being a legitimate training platform and a legitimate way to make money online, there are a few things missing from this training that I'd like to touch on.
Is There An Alternative? YES, Here's What I Use Instead!
Now that you've had a chance to discover the details about SociFeed, I wanted to share with you my favourite tool for creating viral videos...
I've been using Content Samurai to create high-quality videos, and they offer an easy solution to creating viral videos...fast!
Although this software doesn't have a feature to automatically broadcast your video on social media, here are some of my favourite features of Content Samurai that make it my recommended video tool:
Can turn blog posts into video with a few clicks
Reviews your text/posts and converts it into professional slide layouts with a push of a button
Automated image selection
Edit the entire video with a single click
Create shareworthy videos
No Hidden Upsells
Little Hype
==>

Discover all this, and more, with a 7-Day FREE trial (no credit card needed)*
Watch the video below for more information and a DEMO:
==> Here's an example of how I used Content Samurai to create a high-quality full-length video in minutes.
Overall, my experience with Content Samurai has been really positive and I am able to easily create eye-catching, high-quality videos in minutes by copying and pasting content I have already written and making a few video formatting tweaks.
If you're looking for a SociFeed alternative to create automated videos, then opt-in for Content Samurai's FREE trial offer!*
*I currently have a special 25% off LIFETIME offer for readers of Precious New Start if you click through any of my links and upgrade after your 7 day FREE trial.
Final Thoughts
Thank you for taking the time to read through this SociFeed review.
I hope this review has given you more insight into "What Is SociFeed?" and how it can be used to create viral videos and potential generate more sales.
So, is SociFeed the shortcut to getting sales on autopilot?
Overall, I can see that SociFeed is a legit product, and you can create videos fast, but whether those videos can turn into sales is something that I'll have to keep an eye on as the launch dies down.
Plus, I also feel there is A LOT of hype around this product, and there are some RED flags that have been raised while researching this product.
Overall, if SociFeed is something you'd be interested in, then you can click here to gain access.
Otherwise...if you'd prefer to follow my steps and access a 7-day FREE trial to my recommended video tool, then click the banner below to create your first viral video today!
---
Let's discuss:
What did you think of this SociFeed review?
Do you have a better idea of "What Is SociFeed" and how it could potentially help your business?
Are you already using SociFeed? What are your thoughts so far?
What about Content Samurai? Have you used this tool before?
If not, what other video tools do you recommend?
I'd love to hear your thoughts, comments and experiences in the comments section below.
Pin This For Later