11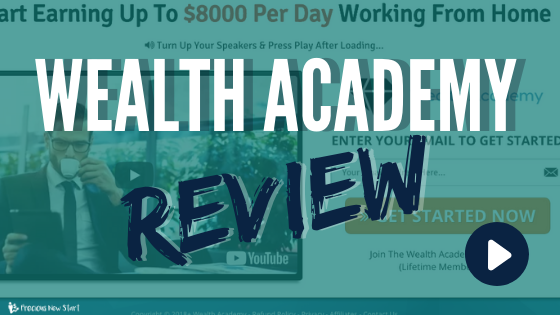 Wealth Academy Review – $8k A Day Opportunity Or Just Another Clickbank Product Scam?!
This post may contain affiliate links. If you choose to purchase something through one of my links, I will earn a small commission at no extra cost to you.
Welcome to my Wealth Academy Review.
Just imagine this for a second...being able to earn $8000 a day in affiliate commissions!
Yes...you saw that right...$8000 a day!
Well, Wealth Academy claims you can earn up to that much using their "set and forget system".
But can this really be the system that changes your income substantially?
The fact that you're on this page lets me know that you're interested to find out if Wealth Academy is the opportunity you've been looking for.
If that's the case, I want to congratulate you on taking this step to review this opportunity and discover the truth for yourself.
So, let's not waste any more time. Come and join me in discovering the truth...
Product Name: Wealth Academy
Website: www.WealthAcademy.click
Owner: Richard (according to the sales video, but there's no real confirmation of this)
Price: $24.95 + Upsells
Rating: 2/10
Type of Opportunity: Affiliate Marketing
Recommended? NO
More...
What Is Wealth Academy?
Wealth Academy is an online "system" which claims to be able to help users earn a substantial affiliate income online, using Amazon.
This Wealth Academy is not to be confused with Shaqir Hussyin's Wealth Academy, which has different products and slightly business models.
This Wealth Academy which is will be referring to is a Clickbank product which advertises itself as introducing a brand new system, which will give you immediate financial results.
Continue reading to discover more...
How Does Wealth Academy Work?
Unlike other Clickbank products I've reviewed in the past, this product actually gives you some idea of how you'll be making money online.
Although it's not incredibly detailed, you do know that you'll be earning through Affiliate Marketing, and you'll be using Amazon to find products to promote.
Is Wealth Academy A Scam? Here's The Truth...
Despite the fact that you have some idea of how you'll be making money with this system, I believe there are enough red flags in this program that would stop me from recommending this program to anyone.
1. Overhyped Income Claims
First and foremost, like other products I've reviewed, there are TONS of overhyped claims about how much you'll be making online with Amazon.
Yes, making affiliate income online with Amazon is possible, but you will not be earning 4 figure commissions on your first day as this sales video suggests.
Earning money with Affiliate Marketing is tough at first, and due to the lower commission rates of Amazon, 4 figure days are also harder to achieve, especially if you have no online skills at all!
My first ever Amazon commissions was about £4.00...now I feel this is a slightly more realistic view of what you'll achieve as a beginner.
After some time and in-depth training, then yes, 4 figure days are possible.
But don't believe the hype of this sales video!
2. Fake Owner
The owner of this program is supposedly named Richard, however, when I search online for the owner and the product, I get no results.
There's no real indication of the true owner of this program.
3. Nothing "Brand New" About His Methods
In the sales video, the "owner", Richard, claims that he has a brand new system which exploits vast amounts of traffic from Amazon.
However, he also further states in the video that you'll be taught how to make money with Affiliate Marketing and Amazon.
Nothing about these methods are brand new, and it's likely you'll get the same information you can find other places online.
4. Upsells
Upsells are not uncommon in online products like this, and I believe there's absolutely nothing wrong with upsells.
My issue is when the main product cannot work on its own and it requires the purchase of upsells.
And unfortunately, Wealth Academy is one of those products.
Listening to the sales video, Richard mentions that the program will only cost $24.95 one time fee.
However, after some digging online, I discovered that affiliates can earn up to $350 per referral.
This clearly highlights the fact that there are upsells behind the $24.95 entry fee, and in reality, you could be paying more than $350 for this product.
Below is a screenshot showing the TRUE breakdown of the costs:
In total, if a customer purchases every product in the funnel, they could expect to spend up to $500, even before getting to the members' area!
A far cry from the initial $24.95 "entry fee".
Pros
Cons
How I Make Money Online With Affiliate Marketing
Despite the prevalence of overhyped online programs, such as this one, there is still hope for Affiliate Marketing, and it is still very possible to earn a real income online with it.
It's through Affiliate Marketing that I'm able to earn a monthly income online. Just take a look at the screenshot below which shows my monthly income increase dramatically over a 5 month period.
Plus...here are some other commission payments from other affiliate programs.
I'm not sharing these to brag, but to give you a glimpse into the income potential that can be earned, thanks to Affiliate Marketing.
Of course, your income could be more, or it could be less. As long as you know that there's no such thing as a "push-button" system that'll do all the work for you while you just sit back.
Affiliate Marketing is a business that requires hard work and determination.
If that's something you believe you can do, then I'd encourage you to take a look Wealthy Affiliate for FREE, and discover why it's my #1 recommended training platform for beginners.
You'll also be taught how to earn realistic affiliate commissions with Amazon.
Final Thoughts
Thank you for taking the time to read this Wealth Academy Review.
Although the methods used here are not a scam, I feel the sales video gives a very false impression of what can really be achieved for a beginner Affiliate Marketer.
It's products like this that give genuine Affiliate Marketing training programs a bad name and reputation.
Sales videos like this present Affiliate Marketing as a super simple way to make thousands of dollars online with little to no time and experience.
But Affiliate marketing is not as simple as they make it out to be.
So, if you're looking for a training program that teaches you affiliate marketing without hype and false promises, here's what to do next...
Click the GREEN button below to get access to the starter membership today...completely FREE.
P.S: To say thank you for taking the time to do your research today, get access to the best affiliate marketing tools below, to supercharge your affiliate success!
Want Access To The Best Affiliate Tools?

Enter Your Best Email To Download The "Super Affiliate Marketers Toolkit"
Let's discuss:
What did you think of this Wealth Academy review?
Are you an Affiliate Marketer? What methods do you use to earn an income online?
What are your thoughts on Affiliate Marketing with Amazon?
I'd love to hear your thoughts, comments and experiences in the comments section below.