24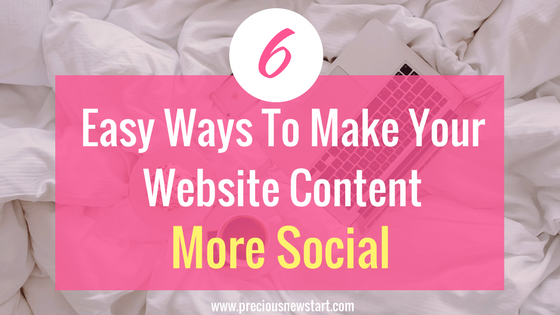 6 Easy Ways To Make Your Website Content More Social!
This post may contain affiliate links. If you choose to purchase something through one of my links, I will earn a small commission at no extra cost to you.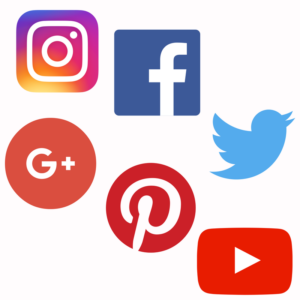 In this day and age social media has become a major part of our lives. According to brandwatch.com there are 2.3 billion active social media users, and internet users have an average of 5.54 social media accounts. That's a lot people you could potentially reach with your blog and business using different social media platforms. So, if you haven't already, now is the time to make your website content more social and help your business grow online.
Some of the top social media accounts include:
Facebook
Twitter
Instagram
Pinterest 
Google +
Youtube
…to name a few
Why is this important for your website and your business?
---
Social media is a great way to market your content and/or services, and build useful relationships.  We live in a world that is driven by social media, therefore you definitely don't want to avoid the opportunities that social media can bring to your business. Below are some of the reasons why social media is so important:
For Traffic:
You can share your blog on your social media accounts to increase the traffic coming into your site. One of my top traffic sources is Pinterest, and being more active on that account has had a positive impact.
As a Marketing Tool:
Using social media can be a good way to create instant updates with your followers, and create buzz around your brand.
Networking:
You can interact with like minded individuals and network with other people in your field/niche. You can share ideas and/or maybe even work together.
To Help You Build An Online Presence:
Having a successful blog takes time to build authority, but having active social media accounts with many followers can increase your credibility and lets people see you are someone who knows what they're talking about.
To Increase Your Learning:
You can learn a lot with the information you come across via social media. Being active on social media means you're likely to stay up-to-date about things happening within your niche.
So now that you've understood why social media is important, it's time to know how to actually make your site more social. If you're not sure how to do this, don't worry as I'm about to share with you 6 easy ways to make your website content more social and easier for your readers to share your content.
1) Create Quality Content
---
First and foremost, you need to create quality content if you ever what it to get shared. Give your readers an article that's worth sharing. Don't forget to also make it relevant and readable.
Also, it's important to keep your site content updated regularly and provide your readers with helpful information. That's what I always aim to do with every post I create.
2) Use Social Sharing Plugins 
---
Using social plugins makes sharing your content much easier for your readers. I've seen many websites online that don't make use of social plugins, and it puts me off sharing because there's no easy method to do so.
Most people visiting your site won't have the time to copy your website link and manually input into their social media, therefore you need an easily accessible plugin to make your content more shareable.

I personally like to use the Simple Share Buttons Adder plugin, but there are many to choose from such as:
I usually like to place the social sharing buttons at the bottom of my post, and you'll see the same buttons below this post.
3) Use 'Click to Tweet' Plugin
---
This TweetThis plugin allows you to create text that you would like your readers to share on twitter. This plugin is free to download and can easily be installed onto your website. It's a really good plugin to have because it very easily encourages sharing within you content. Below is an example:
You can also use the Click to tweet   plugin for the same purpose. Whichever plugin you choose will depend on personal choice.
4) Invite Readers To Connect With You
---
One thing I highly encourage is letting your readers connect with you via social media. The best way to do this is to link your social media accounts to your theme and have them appear on your site. If someone really likes your blog/website then they'll be more likely to follow you on social media as well.
As you can see from the screenshots below, I have links to my Facebook, Twitter, Pinterest, Instagram and Youtube channels around my site as I like to make it easy for people to be able to follow and interact with me on social media.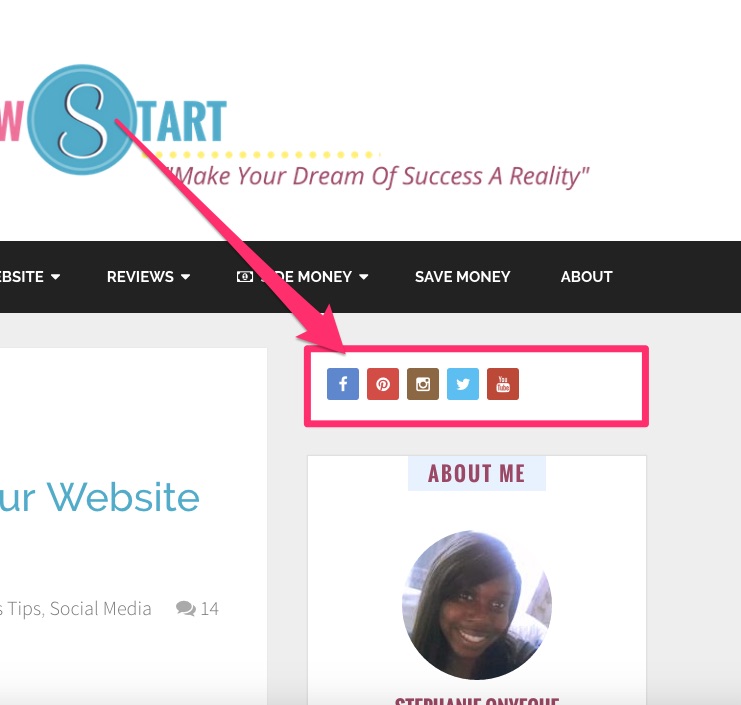 5) Social Media Widgets
---
You can add widgets to your site that will further allow users to connect with you on social media, and show users your latest social media posts. It's also a really good way to show your readers what to expect when they join you on your social media platforms. Some examples include adding a Pinterest board to showcase your latest pins, or a twitter widget to display your latest tweets.
6) Encourage Your Readers To Share and Comment
---
To get more shares and comments you can kindly ask your readers to do so. Encourage your readers to engage and interact with you further and always try to respond when you can. I usually just leave a little message asking readers to comment by sharing their experiences of a product/program, or any questions they might have.
On that note, I hope you found my article on 6 ways to make your website content more social useful. If so, please feel free to share, and if you have any questions don't hesitate to comment in the section below.
Have you implemented any of these methods onto your blog/website? Do you have a favourite tip? Is there an important tip that I left out? Feel free to share your experiences and comments below.
Pin This For Later
---