8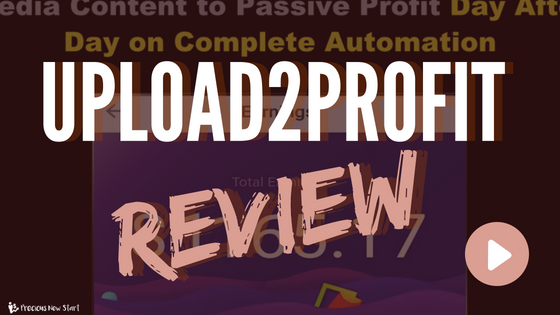 Upload2Profit Review – Is This The #1 Way To Profit With Social Media?
This post may contain affiliate links. If you choose to purchase something through one of my links, I will earn a small commission at no extra cost to you.
Have you ever thought about earning an extra income online using social media?
There are many different ways one can earn an income online with social media, and now a new product has been released which claims to teach you how to profit with your social media content.
In this Upload2Profit review, discover if this product is the #1 way to profit with your Facebook and Youtube content, or if it's just another fluff product with no substance.
Product Name: Upload2Profit
Website: www.Upload2Profit.info
Owner: John Annavi
Price: $17 OTO; No Upsells
Rating: 4/10
Launch Date: 28th June 2018
More...
What Is Upload2Profit?
Upload2Profit is a comprehensive and illustrative PDF guide which teaches you how to make money online with social media networks, using a platform called TopBuzz.
How Does Upload2Profit Work?
As you share your social content, you begin to earn money when your content gets active engagement through likes, shares, comments, views and impressions.
Types Of Content:
You can create various content types to share on the TopBuzz platform, such as:
Social Media Networks Applicable:
The main social media networks which are applicable for this training to work are:
Facebook posts and pages
Twitter updates
Youtube videos
So, if you don't yet have this accounts set up and you're thinking of following the Upload2Profit training, then you should get these set up right away.
Training
You're taught how to create your TopBuzz account and set it up to automatically post social media content.
Once your TopBuzz account has been created, you should be directed to the Upload2Profit training guide which will share with you how to optimise your account.
As soon as you've optimised your account you can either share your content manually or automatically with the training provided in the Upload2Profit guide.
Pricing
Front End: $17
This PDF guide is a one time offer (OTO), that'll only cost you $17.
There are no upsells with this program, whic is great!
Pros
Cons
Is There An Alternative?
Yes!
If you're looking for an alternative to making money online with your social media content, then I recommend Affiliate Marketing.
With affiliate marketing you get can promote products, based on a passion, and earn a commission when that product sells.
You have the opportunity to build a long-term, sustainable business online.
The #1 affiliate marketing training platform I personally recommend is Wealthy Affiliate.
As a member of Wealthy Affiliate, I encourage you to use this platform to learn affiliate marketing in great detail. You can learn the basics and then work towards building your skills and growing your revenue.
Note: Upload2Profit and Wealthy affiliate offer different "make money online" opportunities, however, I am providing my alternative recommendation if you feel Upload2Profit is not for you.
See my comparison table below:
Special Wealthy Affiliate Bonus
As a special bonus for joining me in Wealthy Affiliate, you'll get your first premium month for only $19. That's more than 63% discount! It's a great way to really test out the premium membership and see if Wealthy Affiliate is for you.
However, you can always get started with the FREE membership first.
Final Thoughts
In this Upload2Profit review, I have given you some insight into what this program is about, and how you can use it to earn money online.
As with any product, you need to be dedicated and hard working with this platform if you want to see any positive results.
Additionally, you should also remember that this product is only a PDF guide, which means you won't be getting access to regular updated training. So you'll have to work some things out for yourself.
So, is Upload2Profit the #1 way to profit from social media? It's not the #1 way, but it is a genuine way to profit with Social Media.
It's doesn't appear to be a method that's going to make you rich, but if you're focused on this platform, then there's an opportunity for you to be able to earn an extra income online with social media content.
If this Upload2Profit review has got you intrigued, click the big red button below:
OR
Discover how to profit from Affiliate Marketing with my #1 recommended online training platform:
---
Note: This Upload2Profit review is based on the early launch version. The review may be updated when/if there are any significant changes or issues with the program post-launch phase.​
---
What are your thoughts on Upload2Profit?
Are you currently a member and want to share your experiences?
Do you think you can earn an income online just by sharing your social media content?
Please share your thoughts, questions and comments in the section below