1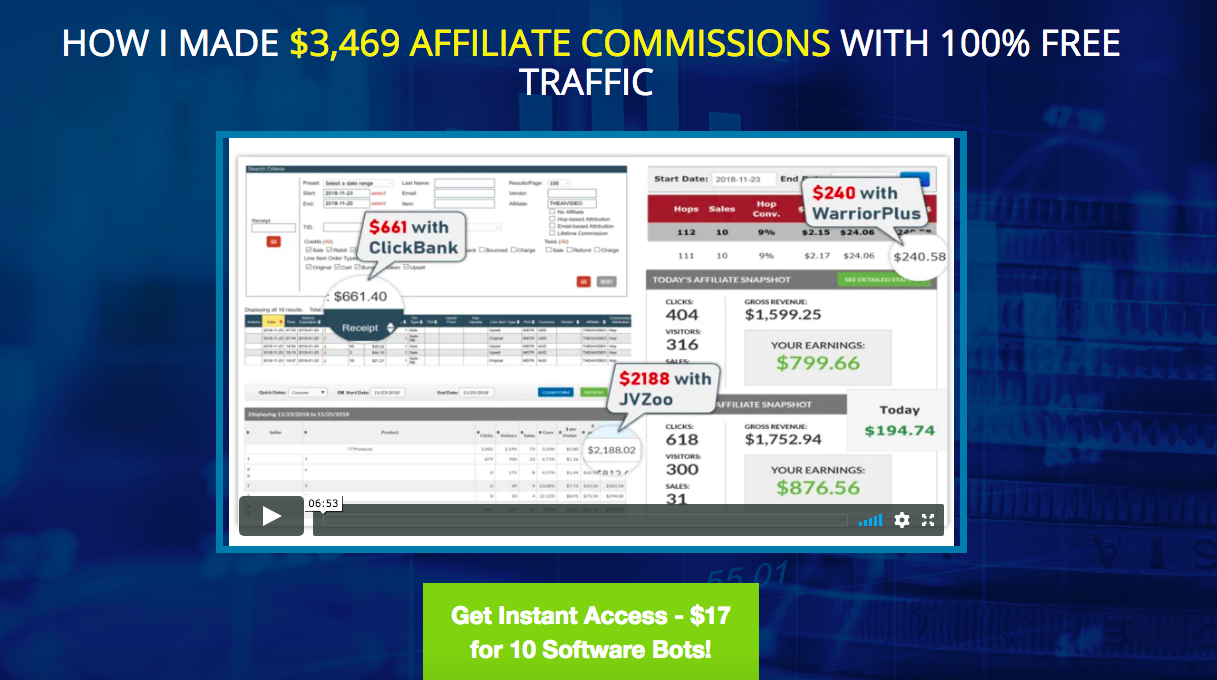 Traffic Bots Review – $1,157/Day With Free Traffic & Affiliate Marketing?! Here's The Truth…
This post may contain affiliate links. If you choose to purchase something through one of my links, I will earn a small commission at no extra cost to you.
Welcome to this Traffic Bots Review.
Imagine being able to earn $1,000+ a day using free traffic and affiliate marketing!
That would be the dream right?!
But can it really be possible using the collection of tools offered in Traffic Bots?
The fact you've made it to this page tells me you're interested in discovering more about Traffic Bots and whether it's the product that'll help you achieve your financial goals.
If that's the case, then well done for taking the time to do your research.
So, let's get crackin' with this Traffic Bots review...
Product Name: Traffic Bots
Website: www.TrafficAutoBot.com
Owner: Chris X
Price: $12-$17
Rating: 4/10
Type of Opportunity/Product: Affiliate Marketing
Launch Date: 11th December 2018
Recommended? NO ​
More...
What is Traffic Bots?
Similar to another Chris X product I reviewed, Traffic Bots is a collection of software that supposedly allow you to tap into free traffic and generate affiliate commissions easily.
There are 10 software tools included for free traffic, affiliate marketing, video creation, website builders, and more.
I will discuss these a bit later.
How Does Traffic Bots Work?
There are 4 steps involved in the training, and you'll be making use of all the 10 tools to achieve your results.
Step 1: Find A Profitable Niche
Step 2: Get Free Traffic (Youtube)
Step 3: Get Free Traffic (Google)
Step 4: Scale Up
What's Included In Traffic Bots?
As mentioned above, there are 10 software "bots" included:
GeoBots - Provides targeted content for 5 countries and 10 US states
Affiliate Video - Creates videos for 100 affiliate programs, with 1500 voice-overs and motion graphic slides
Niche Money - Over 100 profitable niche keyword lists for ClickBank, Amazon, JVZoo and eCommerce
Keyword Titan - Keyword opportunities with low competition on Google and Youtube
Website2Image - Creates affiliate campaigns in seconds for over 100 JVZoo and ClickBank programs
Image2Video - Auto-creates profitable Youtube videos for any affiliate program in 60 seconds
Domainaveli - Premium domains names
Titan Theme - A WordPress Theme, custom built for Google traffic, that ranks for keywords, fast
Sites DB - Database of thousands of websites and traffic opportunities for the biggest niches
Traffic DB - Database of traffic opportunities specifically for the internet marketing and make money online niches.
Pricing
The pricing for this product is really simple as there are no upsells.
Traffic Bot (Main Product) -

$12-$17
There is a $5 discount applied to your account if you exit the page during the checkout stage. So if you're thinking of purchasing this product, I'd wait until you get the $5 discount pop-up)
The Good...
The NOT So Good...
Despite this being a legitimate product and a legitimate method to making money online, there are a few things missing from this product that I'd like to touch on.
Can You Really Make $1000+ A Day?!
Although the claims in the product seem overhyped, it is possible to earn $1,000+ a day using free traffic and affiliate marketing.
A 21-year old student from my #1 recommended training platform was able to earn $7,395 in 1 week, which means he made more than $1k a day...all while using free traffic methods and affiliate marketing.
And for the past few months, he's been consistently earning 4-figures a month with affiliate marketing.
You can read about his story here (or by clicking the image above).
It's through Affiliate Marketing that I'm also able to earn a monthly income online.
Just take a look at the screenshot below which shows my monthly income increase dramatically over a 5 month period.
Plus...here are some other commission payments from other affiliate programs where I'm able to make $100+ in a single day.
I'm not sharing these to brag, but to give you a glimpse into the income potential that can be earned, thanks to Affiliate Marketing.
You could very well make more than me, or you could make less than me. It all depends on your hard work and determination.
All in all, Affiliate Marketing is a business model that I know works very well.
If that's something you believe you can do, then I'd encourage you to take a look my #1 recommended training platform for FREE.
Final Thoughts
Thank you for taking the time to read through this Traffic Bots review.
Although I don't feel this product is a scam, I personally wouldn't recommend it as it's not a sustainable way to build a business online and earn a long term income.
I feel it's one of those "shortcut" systems that won't last very long and will leave you looking for another "shiny object".
Earning $1,000+ a day is definitely possible, but it doesn't happen overnight using secret "loopholes".
Jerry, the student I mentioned above, put in a lot of hard work and effort to get to that point, and he followed my #1 recommended training step-by-step, right from the beginning.
Making $1k a day happens when you dedicate yourself to a method that'll teach you the basics from the beginning and offers you lots of support.
My training program does that, and it offers a lot more.
So, if you prefer to follow my footsteps and discover more about Affiliate Marketing, without the "done-for-you" softwares and "secret loopholes", then you should click the GREEN button below to get access to the starter membership today...completely FREE.
---
Let's discuss:
What did you think of this Traffic Bots review?
Are you currently using Traffic Bots to access free traffic and earn affiliate commissions?
If not, do you think "Bots" are a good way to earn an income online?
I'd love to hear your thoughts, comments and experiences in the comments section below.