2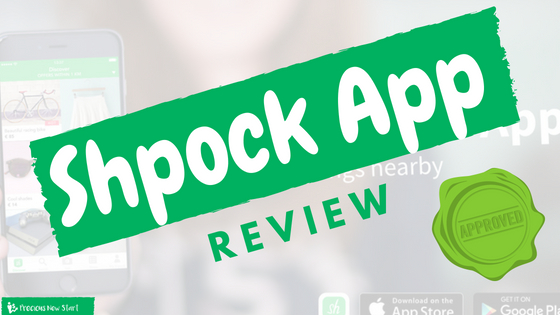 Shpock App Review – Is This The Best App Alternative To eBay and Gumtree?
This post may contain affiliate links. If you choose to purchase something through one of my links, I will earn a small commission at no extra cost to you.
Welcome to my Shpock App Review.
It seems everyone these days is looking for a way to make some extra money online, and the fact that you've landed on this page suggests to me you're in the same boat.
I imagine you're here cause you're interested in selling online and wanting to know more about the Shpock app, or you're just looking for an alternative selling app to eBay/Gumtree. But is Shpock the best alternative?
Before I get into this Shpock app review, I want to congratulate you on making the decision to research this app yourself and discover if it's the right selling platform for you.
So, let's get started...
More...
What Is Shpock?
Shpock is a FREE app which allows you to buy and sell products in your local area, without the extra seller fees.
The main aim of this Shpock app review is to share with you how you can use Shpock to make money online through selling.
I've been using Shpock since April 2018, and if you read on further, I'll share my own personal experiences with the app, and why I recommend it as a way to make some extra money online.
How Does Shpock Work?
Shpock is really easy to use and it's super simple to get started, which I'll share below.
In terms of selling, the idea is very similar to eBay.
You create your listings, including photographs and a quality description, and include your price.
The main difference here is that you don't have to deal with seller fees, and you're not tied down to shipping your item. You can choose to meet your buyer in person.
How To Get Started With Shpock?
Step 1: Download The App
Step 2: Create Your Account
Create an account is really simple. You can connect your Facebook or Google accounts for quick set up, or you can create a dedicated email and password.
Step 3: Set Up Your Profile
After you've created your account, be sure to complete your profile, and get it verified. This includes connecting your Facebook and Google accounts, as well as verifying with SMS.
Once this is done, your profile will be 100% complete.
Step 4: List Your First Product
Now that everything is all set up, it's time to list your very first product!
Step 5: Upload Images Of Your Product
To start, you need to upload the images of your product.
Tip: Make sure you have high-quality pictures of the product, and you capture as many angles as possible.
You only have 5 image slots, so try and showcase the best parts of the product, as well as any faults (e.g. chips, marks, cracks etc)
Step 6: Write The Title For Your Product
With the pictures uploaded, you need to add a title for the product you're selling.
Tip: It's important to include relevant keywords that are associated with your product.
You want potential buyers to find your products, so think about what people will type/search for when looking for a product like yours.
Step 7: Write A Quality Description
Not only do you need a keyword rich title, you also need to have a quality description which shares as much information about the product as possible.
You have up to 500 characters, so choose your words carefully to make sure you include all the necessary points about the product and your seller policies (e.g. suitable delivery/pickup times, payment methods you accept etc)
Step 8: Select A Category
Once all that is complete, you need to select a category for your product. There are a number of categories available, so choose the one that is most suitable for your item.
Step 9 Enter A Price
Be sure to include a price for your product.
Shpock allows buyers to make offers for your product, so also keep in mind what offers you're willing to accept for that item.
If buyers offer less than what you're willing to accept you can always counter offer up to your lowest acceptable price.
Step 10: Click "Sell It"
Awesome, now all you have to do is click that "Sell It" button, and your item is ready to go!
Top Tips For Selling On Shpock [VIDEO]
Shpock is an extremely popular app with more than 10 million downloads, however, it might not always seem easy to get a sale.
So these videos below share some top tips to help you maximise your earning potential.
Shpock Premium
Shpock is free to use, and I've been using it for free since April 2018. But there is also a Premium membership.
With the premium membership you have access to:
Shpock Super Boost - You can pick any 2 listing to appear at the top of all listings, and double the size, for extra exposure
Unlimited Photo Credits - With the free membership you're limited to 5 pictures, but with premium membership you can list up to 10 photos
Ad-free - Shpock app currently has ads running throughout the app, but if you choose to upgrade, then you can enjoy Shpock app and website without the ads.
Pricing:
1 Month - £9.99/month
3 Months - £6.33/month (recommended if you choose to upgrade)
12 Months - £4.58/month (for higher volume sellers)
Plus, there are 2 other memberships available within Shpock:
1. Shpock Professional
This allows current store businesses to list their products on Shpock professionally.
2. Shpock Motors
Motor dealers are able to use Shpock to reach even more potential buyers.
Pros
Cons
My Experience With Shpock App
I've personally been using Shpock since April 2018 and it's been an interesting experience overall.
My First Sale
I got my first sale within 4 weeks.
I wasn't too sure how I would accept the payment, as it wasn't automatic like eBay, but I was quickly able to create a Paypal invoice, via the Paypal app, and send the link to my buyer for them to complete the purchase.
I sold the product as the price I listed it, so didn't make any counter offers, or sale prices.
Posting The Items
I have chosen to post my items. At this time, I don't feel comfortable with the idea with meeting people in person for these purchases, so I write on all my listings that the item will be posted via Royal Mail, and the cost of postage is included in the price.
I have had some buyers that live near me offer to collect the item for a lower price, but I choose to cancel those offers.
It's possible I'm losing out on sales because of that, but this is just my personal preference, and I'm happy with how things are at the moment.
Current Earnings
At the time of writing, Sept 2018, I've made almost £50 from 8 sales.
​

Overall Experience
Overall my experiences have been positive. I've not had any buyers that didn't pay on time, I've not had to raise any disputes, and I've not had to deal with any returns.
So far, the main issue I've encountered is that I don't always get the Shpock notifications sent to my phone.
3 Alternatives To Shpock App
Alternative To Selling Used Products Online
If you've been selling used products online and you're looking for an alternative way to make some extra money, then I like to recommend Affiliate Marketing.
Instead of selling products yourself, you become the middleman and promote products that other people are selling. Then you earn a commission for the sale.
Affiliate marketing differs from online selling because:
There's no need to keep any inventory
You don't need to meet people or ship items
Plus, in some cases, you don't even need to interact with any customers
There's tons of Affiliate Marketing training online, however, I recommend one in particular.
With my #1 recommended training platform, you get to learn Affiliate Marketing from scratch, and the best part is, it's 100% free to join, so there's nothing to lose.
Thanks to Affiliate Marketing I'm able to earn a monthly income online. Just take a look at the screenshot below which shows my monthly income increase dramatically over a 5 month period.
Please note, this is NOT some "get rich quick" scheme and there are definitely NO false promises.
Interested?
Final Thoughts
Thanks for reaching the end of this Shpock App review.
Overall, Shpock is a promising opportunity for anyone wishing to sell their used items online, without having to deal with any seller fees.
You are in control of the offers you accept from buyers and you can choose between posting the item or arranging to meet with the potential buyer.
Having this app alongside other selling platforms, such as eBay, is a great way to maximise your earning potential, and make extra money online.
If you're interested, don't forget to click the button below to download the app via your App store.
---
Let's discuss:
What did you think of this Shpock App review?
What are your thoughts on selling used products online?
Do you sell your used products online? What other platforms do you use to sell online?
I'd love to hear your thoughts, comments and experiences in the comments section below.