2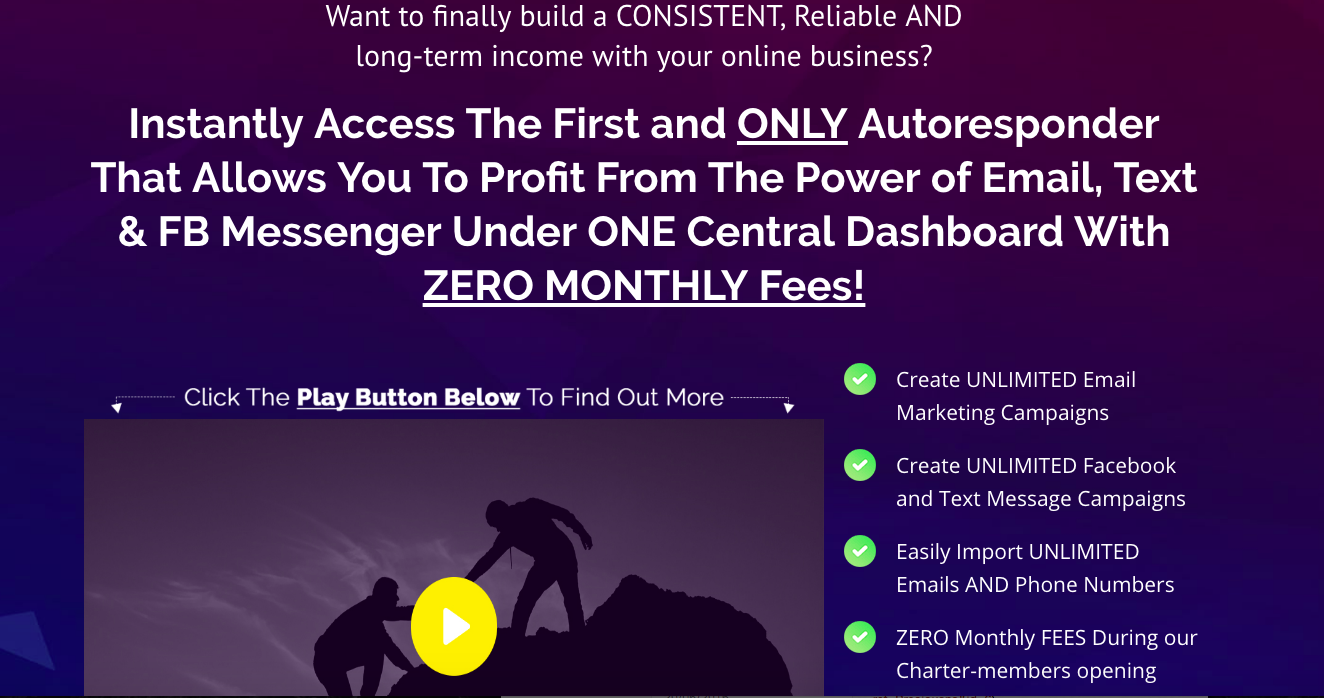 An Honest Sendiio Review – Is This The BEST AutoResponder To Date?!
This post may contain affiliate links. If you choose to purchase something through one of my links, I will earn a small commission at no extra cost to you.
Welcome to my honest Sendiio review.
At the time of writing, you'll find a lot of reviews for Sendiio are just other affiliates promoting it and raving on about how wonderful the product is, but it's hard to find an honest review that looks at ALL the features available and gives an in-depth account of the pros and cons of this product.
That's what I aim to do in my Sendiio review today, so thank you for making it here.
Before we get into the review, have you noticed there have been a few new autoresponders released online lately?
But to be honest, I haven't really come across a single one that is like the one I'm about to review today.
Why?
Well, because Sendiio offers the opportunity to profit from the three most profitable strategies, Email, SMS and Facebook messenger, under one central platform...and without any monthly fees!
The fact that you've reached this review shows me 3 things:
You want to discover the truth about Sendiio
You've been looking for a tool that combines more than 1 one marketing platform at an affordable cost
You want to increase your income without paying a monthly fee or logging onto multiple platforms
If any of these apply to you, then congrats on making it here, and I look forward to sharing my findings with you.
So, let's not waste any more time and uncover the truth...
Product Name: Sendiio
Website: www.Sendiio.vip
Owner: Joshua Zamora
Price: $42 or $47 + UPSELLS (price will increase to up to $97 during the launch)
Rating: 70/100
Type of Product: 3-in-1 Autoresponder
Launch Dates: 21st February 2019 - 26th February 2019
Verdict?: LEGIT ​
Discount Codes: "get5off"
More...
What is Sendiio?
Sendiio is a web-based tool that combines email, SMS and Facebook messenger marketing, all on one platform, with ZERO monthly fees.
It's a first of it's kind to not have a monthly fee attached and was created by trusted Internet Marketer, Joshua Zamora.
I've reviewed products from him previously, such as Sociible, and he is someone who really tries to create high-quality products with transparency about what you'll be getting inside.
Now, he's created Sendiio and you no longer have to wonder if email is best, if text message is best or if Facebook messenger is best. The fact is:
Email marketing is STILL one of the most profitable marketing channels
Text messages get approximately 98% open rate within the first two minutes
FB messenger gets a 100% inbox rate and is the biggest messaging platform online
Therefore, they all work, and they can all be profitable, so why not have a platform that combines all three?!
Marketers and bloggers like us are always looking for ways to reach out target customers and increase our profits, so if you're looking for a tool that can help you achieve that, with ZERO monthly costs, then let's unravel more...
How Does Sendiio Work?
Sendiio has been designed to work in 3 steps:
Step 1: Import your lists (Email, SMS and/or FB)
Step 2: Send (or schedule) your campaigns
Step 3: Generate Profits
Well, there's definitely a bit more to it than that, but these are the main steps involved behind the software.
You can learn more with this video demo below:
Sendiio Inside Look + Demo [VIDEO]
What's Included In The Software?
In the Sendiio software you can expect to:
Import "unlimited" lists
Create "unlimited" email, text message and FB messenger marketing campaigns
Opportunity to create opt-in forms and follow-up sequences
ZERO monthly fees

...and more
Pricing + Upsells
Here's a breakdown of the pricing of Sendiio and the upsells that are included:
Sendiio Software - $42-$47
There are 2 editions available for this software:
Personal Edition:
Limited to 3000 email leads and 3000 phone numbers
Create up to 50 lists for email and text subscribers
Connect up to 5 FB pages
Build & create up to 10 opt-in forms and follow up sequences
...and more
Agency Edition:
Collect unlimited email leads and phone numbers
Created unlimited number of lists for email and text subscribers
Connect unlimited number of FB pages
Build & create an unlimited number of opt-in forms and follow up sequences
...and more
Upsell 1: Sendiio Academy Training - ($67 OTO)
Upsell 2: VA License - ($97 OTO)
Upsell 3: Sendiio Booster - ($67 OTO)
Upsell 4: Email Ramp - ($67 OTO)
Here's a breakdown of the pricing of Sendiio and the upsells that are included:
Sendiio (Main Product) -

$42-$47

Sendiio Academy Training (Upsell 1) -

$67 OTO

Sendiio Elite Package (Upsell 2) -

$37/month or $47/month

VA Licence (Upsell 3) -

$97 OTO

Sendiio Booster (Upsell 4) -

$67 OTO
These upsells are optional, and not needed to make the main software work fully, I just wanted to make you aware of potential extra costs.
The good news is, these upsells are also listed and explained in more detail on the sales page, so there's no "hidden" upsells like what you find with other products.
Sendiio Bonuses
Here is a look at the bonuses included when you purchase Sendiio:
BONUS #1: Agency Access
BONUS #2: Twitter Autoresponder Update
BONUS #3: Ringless Voicemail Drops
BONUS #4: LIVE 90 Minute Training Session
BONUS #5: Private 20% Discount Code
Who Is Sendiio Suitable For?
Affiliate Marketers
Digital Product Vendors
eCommerce stores
Local Marketers
Agency Marketers
...and more
The Good...
The NOT So Good...
Despite this being a legitimate software there are a few things missing from this product that I'd like to touch on.
Final Thoughts - Are There Alternatives?
Thank you for taking the time to read through this Sendiio review.
I hope this review has given you more insight into Sendiio and how it can potentially help you increase your profits, by combining the 3 top marketing methods in one easy to use platform.
You may also be wondering...
Are There Any Alternatives?
To be honest, I'm not aware of any product that is comparable to Sendiio.
Not only are you able to market your business through email, SMS and FB messenger in one place, but there are also NO monthly fees attached.
Any other product which is able to fulfil all 3 marketing methods will definitely require a monthly fee...so this makes Sendiio very unique in my opinion.
If you're aware of any software that is similar (or better), then I'd love for you to share them in the comments below.
If Sendiio is a tool you'd be interested in, then you can click here to gain access to the software + my special BONUS.
Surefire Strategies To Monetize Your List
Find out how to increase your email marketing income quickly and easily, even with a small list.
However, if you're interested in an autoresponder tool that is just for email, then I personally recommend GetResponse, especially for beginner marketers.
They offer a free trial, and it's one of the more affordable options available for email marketing.
GetResponse has been my top recommendation for marketers since 2015, and I believe they are one to stand the test of time.
If this is a tool you may be interested in, then be sure to click here to find out more.
Get Ready For Success This Year!
Discover My TOP Recommended Way To Make Money Online
---
Let's discuss:
What did you think of this Sendiio review?
Do you think tools like Sendiio are a good way to market your business for more profit?
Will you be adding Sendiio to your list of online business tools?
I'd love to hear your thoughts, comments and experiences in the comments section below.
---
Note: This review is based on the pre-launch version of Sendiio. I may update this review when/if there are any significant changes or issues with the program post-launch phase