13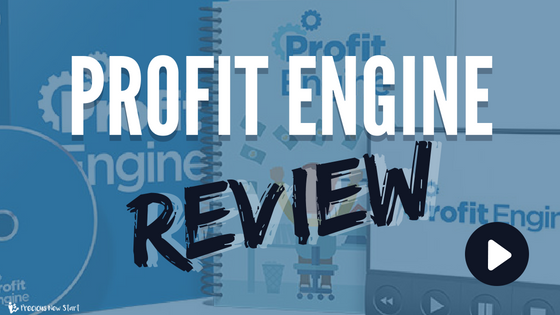 Mark Ling's Profit Engine Review – Inside The HOTTEST New Launch Of 2018
This post may contain affiliate links. If you choose to purchase something through one of my links, I will earn a small commission at no extra cost to you.
Product Name: Profit Engine
Website: www.ProfitEngine.com
Price: $2497 (one time offer)
Owners: Mark Ling, Gerry Cramer and Rob Jones
Overall Rating: To be updated
Pre-Launch Date: 5th June 2018
Launch Date: 12th June 2018
Launch End Date: 21st June 2018
Here's what to expect from this Profit Engine review:
More...
What Is Profit Engine?
Profit Engine is a high-ticket program/course geared towards teaching anyone how to make profitable income online from scratch.
So whether you're a complete beginner or have some experience, you're taught how to sell affiliate products through paid traffic and earn "super affiliate" style commissions.
A Bit About The Owners
Mark Ling
Mark Ling is a successful affiliate marketer who is also the creator of Affilorama, which is one of the most popular Affiliate Marketing training platforms online, and he offers a lot of training for free.
Gerry Cramer & Rob Jones
Both of these guys are successful affiliate marketers in their own rights.
They've made products together in the past which has earned them both a lot of money and provided a lot of value to their customers.
Overall, all 3 of these online marketers have been very successful online with Affiliate Marketing, and have provided a lot of value and content within the internet marketing community over the years.
I believe they are a good trio to follow as they have tried and tested the methods themselves.
What Training Is Included?
There are 8 weeks of live training involved through live weekly sessions. Within these training modules you'll be taught how to:
1) Find Profitable Niches
This session will cover:
Creating high click-through rate (CTR) ads
High converting sales pages
Choosing offers that are "proven" to sell
...and more
2) Run Ads
As you go through the training you'll also be taught how to run ads at a low budget. However, it's not totally clear what methods you'll be using to run these ads (Facebook ads, banner ads etc)
3) Test And Scale Up
Then you'll discover how to test and scale up your ads, without risking a lot of money. The idea is that you'll only be scaling when small ad budgets bring in a good return on investment (ROI).
Additional Bonuses
There are some additional bonuses included if you decide to sign up for Profit Engine, these include:
Ad Challenge - Submit your ads to be reviewed by super affiliates
Live weekly Q&A sessions after the 8 weeks training
"Copy & Paste" high converting presell page templates
Access to their swipe file of high converting ads
Who Is It For?
Profit Engine could be suitable for you if you are:
Interested in earning an income with Affiliate Marketing
Ready to learn paid marketing
Prepared to work hard
Not looking for only freebie handouts
Able to afford an ad budget + the cost of the training
Who Is It NOT For?
Profit Engine is not suitable for you if you are:
Pros
Cons
Is There An Alternative?
Yes!
As an active member of Wealthy Affiliate, I personally like to recommend this training platform because it provides you with the real basics when it comes to Affiliate Marketing.
Perfect for beginner marketers, you get access to top tools and training to really help you really get started from scratch, and work on building an online business of your own.
With Wealthy Affiliate, there's a vast amount of training material and each module has actionable steps to help you keep track of your progress.
Pretty much all the tools you need are included within the platform, such as Keyword tool, web hosting, content tools, domain registration, training, support, etc.
Plus, you get to:
Interact with a community of fellow members
Gain access to live weekly webinars with step by step tips to build your business
Work your way through training material that will help you grow as an Affiliate Marketer and become an authority within your niche.
==> You get all of this and more for only $49/month
Special Wealthy Affiliate Bonus
As a special bonus for joining me in Wealthy Affiliate, you'll get your first premium month for only $19. That's more than 63% discount! It's a great way to really test out the premium membership and see if Wealthy Affiliate is for you.
However, you still always have the option to stay a free member.
Final Thoughts
Overall, I feel this opportunity has a lot of potential. The methods used in this platform are legitimate methods to making money online with Affiliate Marketing.
If you're willing to put in the effort and work hard, then there's no reason why you can't get results with this platform.
Not only that, you also get access to super affiliates who will be sharing their best tools, resources and methods for generating an income online.
My main concerns at the moment are that the price of the course is very high, therefore you need to have some start-up costs in order to purchase and make money with this.
I hope you found this Profit Engine review helpful, and if you're interested in joining, click the button below and get access to some bonus freebies:
OR
Click below to sign up FREE to my #1 Affiliate Marketing beginners course, as an alternative:
---
Note: This Profit Engine review is based on the pre-launch. The review may be updated when/if there are any significant changes or issues with the program post-launch.
---
What are your thoughts on Mark Ling's Profit Engine?
What are your experiences of this program and/or other Mark Ling products?
Join in the discussion and be sure to share your comments, thoughts and experiences.
Want Access To The Best Affiliate Tools?

Enter Your Best Email To Download The "Super Affiliate Marketers Toolkit"