2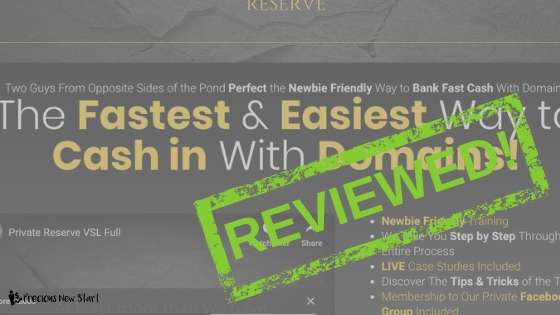 Private Reserve Review – Can You REALLY Make Money By Flipping Domains With This Course?!
This post may contain affiliate links. If you choose to purchase something through one of my links, I will earn a small commission at no extra cost to you.
Welcome to this Private Reserve review.
Have you ever thought about being able to make money by flipping domains?
Whenever you search for ways to make money online, you're usually given a few options, such as, Online Surveys, Affiliate Marketing and eCommerce.
But what if there was another way to profit online?
Private Reserve claims to have the training you need to help you make money by flipping domains online.
But is it really true?
Can Private Reserve really show you how to make money this way?
The fact you're on this page shows you're interested in discovering the truth, and wondering if it's really worth it.
If that's the case, then I want to say "well done". It's important to be able to research any online opportunity before you invest any money.
So, let's waste no more time in unravelling the truth...
Product Name: Private Reserve
Website: www.Phlos.net
Owner: Trevor Carr and Lance Groom
Price: $9.95-12.95 + UPSELLS
Rating: 6/10
Type of Opportunity: Domain Flipping
Recommended? YES (only if you like this business model)
More...
What is Private Reserve?
Private Reserve is an online course that teaches you how to make money by flipping domains.
You'll be taught by Lance Groom who has been making money online by flipping domains for many years.
Therefore, he is definitely one of the guys to learn from.
He has created an in-depth course, with some videos over 1hr long, in order to give you the best content for making money online with domains.
How Does Private Reserve Work?
The idea behind flipping domains is that you buy them low and sell them for a bigger profit.
Lance aims to guide you through the right steps and websites to help you get the best results.
There are 19 training videos which intend to walk you through the whole process, step by step.
What's Included In The Training?
In the Private Reserve training you can expect to find:
19 step-by-step training videos
LIVE case studies
Training on how to set up an account with Flippa, and other similar sites.
Guides on how to find the domains that you will be to reselling
Pricing + Upsells
Here's a breakdown of the pricing of Private Reserve and the upsells that are included:
Private Reserve (Main Product) -

$9.95-12.95

(price has known to increase as more time passes since the initial launch
Rolodex & Templates Cheat Sheet (Upsell 1) -

$27

Unfair Flipping Advantage (Upsell 2) -

$37

Licence Rights (Upsell 3) -

$97

High Ticket Flips "Live" Webinars (Upsell 4):

$197
The Good...
The NOT So Good...
Despite this being a legitimate training platform and a legitimate way to make money online, there are a few things missing from this training that I'd like to touch on.
How I Make Money Online (Without Flipping Domains)
Making money by flipping domains is a legitimate way to earn an income online.
But, what if flipping domains isn't your thing?
What if you're looking for an alternative way to make money online that doesn't involve purchasing low and selling high?
Imagine a legitimate method where you don't have to worry about selling products or finding people to buy from you.
I'm able to make a monthly income online using a business model known as Affiliate Marketing.
You may or may not have heard of this, but Affiliate Marketing is a way of promoting products and earning a commission when they sell.
With Affiliate Marketing there's:
It's through Affiliate Marketing that I'm able to earn a monthly income online.
Just take a look at the screenshot below which shows my monthly income increase dramatically over a 5 month period.
Plus...here are some other commission payments from other affiliate programs.
I'm not sharing these to brag, but to give you a glimpse into the income potential that can be earned, thanks to Affiliate Marketing.
You could very well make more than me, or you could make less than me. It all depends on your hard work and determination.
All in all, Affiliate Marketing is a business model that I know works very well.
If that's something you believe you can do, then I'd encourage you to take a look my #1 recommended training platform for FREE.
Final Thoughts
Thank you for taking the time to read through this Private Reserve review.
I hope it's given you some further insight into the training platform.
So, can you really make money flipping domains with Private Reserve?
I believe, if you're able to follow the training step-by-step and implement the advice given to you, then yes, it is very possible to make money by flipping domains.
If you've been looking for an alternative way to make money online, then flipping domains may be it!
However, if you'd prefer to follow my footsteps and discover more about Affiliate Marketing, then you should click the GREEN button below to get access to the starter membership today...completely FREE.
---
Let's discuss:
What did you think of this Private Reserve review?
What are your thoughts on Flipping Domains?
Are you already in the business of Domain Flipping? What tools and training do you use to make money online by Flipping Domains?
I'd love to hear your thoughts, comments and experiences in the comments section below.