2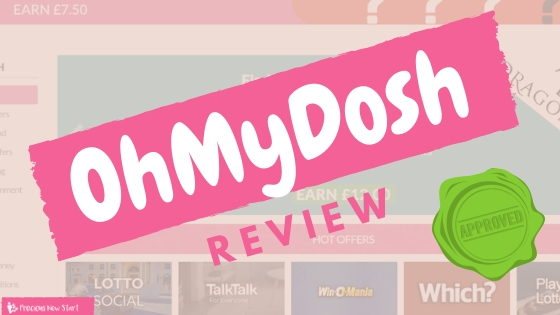 OhMyDosh Review – Is It A Legit Way To Earn Extra Cash Online?
This post may contain affiliate links. If you choose to purchase something through one of my links, I will earn a small commission at no extra cost to you.
Hello lovely reader, and welcome to my OhMyDosh review.
If you've been looking for a legitimate way to earn some extra cash online, you've probably come across OhMyDosh in your search.
If that's the case, then I imagine you've reached this review because you want to know the truth about OhMyDosh and whether it's a scam or a legitimate way to earn extra cash online.
So, let's not waste any more time and get straight into this OhMyDosh review...
Verdict: Legit
More...
What Is OhMyDosh?
OhMyDosh is a site that pays its users for completing different tasks online. Sites like these are also known as "Get Paid To" (GPT) sites.
With OhMyDosh, you get to earn through multiple offers/tasks, and you have the opportunity to earn up to £20 per offer.
Some of the offers/tasks include:
Signing up for trial offers and products
Entering Competitions
Completing surveys
Subscribing to offers you like, and saving money with them
How To Make Money With OhMyDosh?
OhMyDosh has multiple ways for you to earn extra money online, which I'll share below:
1. Hot Offers: These are offers which "trending" at the time. So you may want to make your way through these offers whenever you log on to the site.
2. Survey Offers: I'm sure you know all about completing surveys to make money online, and it's no surprise that OhMyDosh has included this in their list of earning opportunities.
3. New Offers: As you can guess, these are offers that get newly listed onto the site, so at least you know they are updating their offers regularly.
4. Gambling Offers: These offers require you to spend money, usually from £10+. If you're new to gambling then I'd probably suggest staying away from these offers. However, if you're familiar with gambling, then you can consider these offers.
TIP: I'd personally recommend combining the gambling offers with Matched Betting, (aka my #1 recommended way to make extra money online in the UK).
5. No Spend Offers: These offers are completely free and you don't have to spend any money to earn any "dosh". I recommend these offers if you're just starting out.
6. Entertainment Offers: These offers involve products related to entertainment such as video and audio subscriptions
7. Trial Offers: With these offers, you get to try out products for free or a small amount and earn when you complete the trial.
8. Utility Offers: These consist mainly of offers that allow you to save money on your utility bills.
9. Save Money: OhMyDosh have a set of offers which allow you to save money on a number of different apps and services, and you get to earn money at the same time. So it's a win-win.
10. Competitions: With OhMyDosh you have the opportunity to earn some money by entering competitions. The competitions are free to enter, so it's another option I recommend when you're just starting out with the site.
OhMyDosh Extra Features
Daily Dosh: In the Daily Dosh, a random member is selected to be their daily dosh winner. With this, you could earn up to £10.
Badges: OhMyDosh awards you with badges depending on offers and tasks you complete. You can earn £0.50 just for signing up.
How To Earn Extra Money With OhMyDosh?
Just like other GPT websites, OhMyDosh allows you to earn extra money by referring others to the platform.
For every active member you bring to the website, you'll earn £5 when they cash out their first £10.
So, this means you could end up earning passive income with OhMyDosh, simply by having tons of active referrals.
I personally use the method of Affiliate Marketing to gain referrals, and it's allowed me to gain 400+ referrals on this online survey site.
If you'd like to follow the same training I use, then you can check out my #1 recommendation here.
Pros
Cons
Final Thoughts
Thanks for taking the time to read this OhMyDosh review.
As you can see, this is a legitimate way to earn some extra money online and doesn't require much effort at all.
However, it's also important to note that the money you'll make here will not be enough to quit your day job.
This program is suitable for those who are looking for a way to add a little extra money to their income, without needing to put in too much effort.
If that's you, then you can sign up through my link by clicking the GREEN button below.
Let's discuss:
What did you think of this OhMyDosh review?
What are your thoughts on GPT sites and survey sites?
Do you regularly earn from GPT sites? If so, which other websites/apps do you use often?
I'd love to hear your thoughts, comments and experiences in the comments section below.