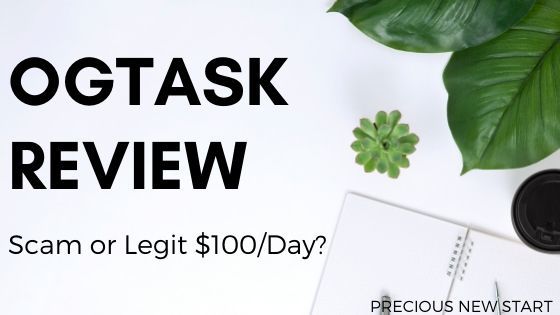 OGTask Review – Is OGTask A Scam (or Legit $100/Day)?
This post may contain affiliate links. If you choose to purchase something through one of my links, I will earn a small commission at no extra cost to you.
Welcome to my OGTask review.
I'm sure you're here because you want to know the truth about OGTask, whether it's a scam or a legit way to make $100 a day.
If so, then congrats on taking the time to do you research and get the honest truth for yourself.
Now, it's important you watch the full video walkthrough below, and read the entire blog to learn what this website is really about...
More...
OGTask Review [VIDEO]
What Is OGTask?
OGTask, advertises itself as "The #1 Influencer Network", claiming you can earn $100s a day by completing simple tasks such as, completing surveys, installing apps and sharing your link others.
The problem with this website is that they offer highly unrealistic income claims and sadly, as I've seen with many sites like this, they won't pay out to their users.
For example, you're supposedly given a $25 sign up bonus and can earn $10-15 for every friend you invite, but as you would have found in my OGTask review video above, there are many inconsistencies about the income claims, as well as the true facts about the "business", which highlight my suspicions.
Can You Make $100/Day With OGTask?
Unfortunately, from my research, you will earn NOT $100/day or even any amount with OGTask.
They give a fake impression that your account balance is increasing when you share your link, but at the end of it you will NOT receive any money.
I've outlined all the main points in the video, but here is a quick overview of why I am inclined to call OGTask a scam!
#1 The Owners Make All The Money, NOT You
Ultimately, the main purpose of OGTask, and similar sites, is to help the owners make money...not you.
The owners are the only people that benefit from sites like OGTask and earn through a method known as Cost Per Action (CPA) marketing.
This means that the owners of OGTask get as many people as they can to complete these different offers, and they end up making the profits, without returning any money to you.
#2 The Numbers Don't Add Up
As mentioned above, it's the owners that earn money.
They will receive approximately $1-$3 for every action you take, such as filling out a "survey" etc...so how can they even offer to pay you $30+ to complete these tasks?
Not just that, but the $25 sign up bonus is a so outrageous.
Any normal, legitimate "get paid to" (GPT) website site would pay a more realistic amount like up to $5 as a sign up bonus...not $25!
Plus, they supposedly have 730,000 members on their site. If they paid each person $25, just to sign up, they'd be paying out in the millions!
But where can they possible get the money to do this?!
Ultimately, as you'll discover in the video, the numbers don't add up, and the income they claim is completely fake, just to get you and others to sign up.
#3 Fake Business Start Date
The site claims it started it's business in 2015, however, I was able to do a domain registration search, and quickly discovered that the site has only been registered since January 2020.
So, if this site was legit, why would they need to make a fake claim about their start date.
Plus, in the "about page" you'll notice that on some occasions they also mention "Tap 2 Earn" instead of OGTask.
If you weren't aware already, Tap2Earn is another one of these "influencer" scams. So the fact that Tap2Earn was mentioned instead of OGTask highlights another read flag.
#4 Fake Payment Proofs
Not only has OGTask lied about their business start date, but they've also posted fake payment proofs.
The payment proofs have dates from before the site was even created, for example one was dated May 2019, but as you know now, the site was created January 2020.
So how were they able to pay people before the site was even created?!
Again, just more proof to show that this website is fake.
#5 No Social Media Accounts
OGTask make a very bold claim as "#1 Influencer Network", however, on their site, there is no evidence of any social media accounts.
If OGTask really are #1 influencers, surely they should have social media accounts, and tons of followers also, right?!
#6 Terms & Conditions
I didn't mention this in the video, but with some further digging, I was able to discover another major inconsistency.
When you "sign up" for an account, you're required to enter your details and accept the terms and policy.
But I noticed that there are NO terms and policies to view.
You are just blindly asked to accept the terms, without knowing exactly what you're getting into.
What you may not know is that by accepting the terms, you will be allowing them to pass on your data to 3rd party companies as part of a data harvesting scam.
So, if a website can't be transparent with it's terms and conditions, then how can you trust many of the other claims they have on the website.
Further proof that this site is not what it seems!
#7 Identical To Other Scams
OGTask is also identical/very similar to other online scams I've reviewed, such as:
And the list keeps growing...
If you've come across any of these already, then you should definitely stay away from OGTask, cause you will waste your time with this too, and not get any money.
My Final Thoughts - Is OGTask A Scam?
Thank you for making it to the end of this OGTask review.
As you've seen, all the evidence has been laid out bare!
I've done enough research on "make money online" opportunities, and used enough GPT sites, to know when something is the real deal or not, and OGTask.co is definitely NOT the real deal.
Sadly, it's just another online scam which aims to pass your data and earn money from you without paying you back for your time & efforts.
Therefore, in my opinion, and based on my research, OGTask is a complete scam!
Final Verdict: NOT Recommended!
Instead, why not check out these legitimate OGTask alternatives:
If You Liked This Post, You Might Want To Check These Out:
---
Let's discuss:
What did you think of this OGTask review?
What are your thoughts on OGTask.co?
Have you joined this site? Have you tried to make payment but haven't received it yet?
I'd love to hear your thoughts, comments and experiences in the comments section below.