10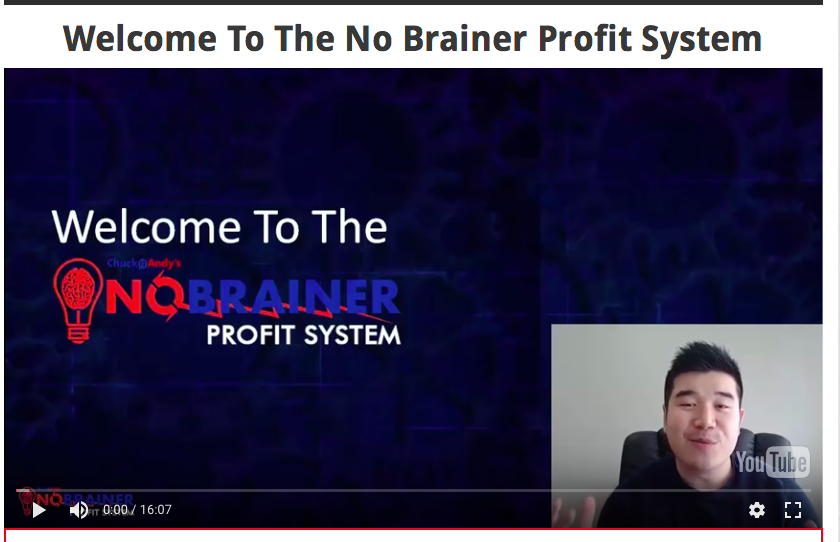 No Brainer Profit System Review – Is It Really A "No Brainer"?
This post may contain affiliate links. If you choose to purchase something through one of my links, I will earn a small commission at no extra cost to you.

I happened to stumble across this program a few months ago online, and was interested initially because of the name "No Brainer Profit System".
I actually decided to invest some time into this program for a few weeks, as it was free to join, and I wanted to see whether or not it really was a "no-brainer" system.
This is my No Brainer Profit System Review.
---
Name: No Brainer Profit System (NBPS)
Website: www.NoBrainerProfitSystem.com
Price: Free to Join; Bronze $7; Silver $47; Gold $97 ; Platinum $497
Owners: Andy Luong and Chuck Nguyen
Rating: 7/10
What Is The No Brainer Profit System?
---
The No Brainer Profit System is a training platform designed to help people who want to learn affiliate marketing, how to build an email list, and/or build multiple streams of income online. The program is primarily aimed at new internet marketers, however, there is a lot of content available for more experienced online marketers as well.
The NBPS is completely free to join, and as you go through the free training you can choose to purchase any of the 4 levels that will unlock a collection of more advanced training videos, which I will discuss in further detail below.
Who Are Chuck and Andy?
---
Chuck and Andy are 2 Australian internet marketers that have been successfully making money online for many years. They are the owners of this online training program, as well as many others, which have received many positive reviews. They also offer a lot of valuable content online through their Blog and Youtube channel. With this program, both owners are accessible through Skype and social media, primarily Facebook.
Training
---
The program introduces itself as a free to join program with optional upgrade levels.
Over in the members home area, you'll watch a video that helps to introduce you into the system and shares the importance of List Building in creating a successful online business. You're given an idea of how the NBPS will help you build a list and how you can use that list to promote your affiliate offers.
After watching the video on the home page you're encouraged to join the private access Facebook group and introduce yourself. I feel this is a nice way to interact with other members of the NBPS community and get additional help in your business. You can also connect with Andy and Chuck directly on Facebook, and have a free Skype consultation with Andy too.
Step 1: Setting Up Your System
---

The first video presented here is all about how to set up your system correctly before actually driving traffic to the system, and you're given a more in-depth overview of why building a list is so effective. It's clear from this point that the initial aim of the training is to help you build an email list which you can then use to promote relevant affiliate products.
Once you've completed this video you'll find a further 4 videos that will guide you step by step in setting up your system and connecting it to either Getresponse or Aweber.
The training here is relatively basic in my opinion. For someone who is familiar with affiliate marketing and online business, the information and training here will probably not be new, however, I did gain a few little nuggets of information here and there.
If you're a complete beginner, I believe this step will allow you to learn some valuable information about list building and how to set up an email autoresponder, for free.
Once you've completed the system set up, you can then start working on building your list (provided you know how to get targetted traffic).
If you're familiar with driving traffic to a capture page then you'll probably have no issues getting people to join your list, and I found I was getting a decent number of email subscribers. However, if you're a beginner then it's very probable that you'll struggle with this, and unfortunately, there is no free training within the NPBS to help you get targetted traffic.
That's where the Bronze Level comes in…
Step 2: Bronze Level (30 days to $10K)
---

The Bronze Level costs $7 (one-time payment), and this will allow you to begin earning commissions with the NBPS. Before you potentially invest in the Bronze Level you can watch a video that will give you a little introduction of what to expect.
The bronze level focuses on getting targetted traffic to your capture page. Finding targetted visitors is an important part of being successful online and in affiliate marketing. The thing I like about the training videos is that they're not just for helping you promote the NBPS, it can be used to help you promote other affiliate products/programs.
The Bronze Level is set as a 30-day plan, so you can watch 1 video a day and implement the tasks set for that day. This is great if you're in a full-time job or taking care of a family and might not have a lot of time, so you can go at your own pace.
The first few videos will focus on your mindset and goals, then the next few days will work on free traffic methods which you can start implementing easily.
As you continue on you'll be further introduced to paid traffic methods. This is probably more likely to suit seasoned affiliate marketers and people who have more available money to spend on these methods. Whichever situation you are in you are likely to find a few traffic methods that you'll be able to utilise and get traffic to the NPBS, or any other affiliate product you may wish to promote.
Overall, I was very happy to make the $7 investment for the Bronze Level, and I feel I learnt some additional traffic methods which helped with building my email list.
Once you've purchased the Bronze Level you'll then be able to start earning 100% commissions for the level. All you have to do is get your account approved and sign up to the program that your commissions are paid into…Zaxaa. There'll be a video which you can watch and follow step by step to set up your affiliate commissions and your Zaxaa account. This process won't take too long, and it'll allow you to start earning when you promote your affiliate link.
I would have preferred if they paid directly via Paypal, but so far it looks like Zaxaa is a legitimate payment platform, and you can even link your Paypal account to receive payments.
Can this course really get you to $10k in 30 days? Maybe…maybe not. Either way, I feel the content was still worth the $7 investment.
Step 3: Silver Level (The Ultimate Bundle)
---
This is essentially 3 courses rolled into one. You'll be able to watch an introduction video to get an idea of what to expect from the Silver Level. The Silver Level costs $47 (one-time payment), and you'll be able to earn 100% commissions.
The 3 courses include:
28 Day Affiliate Challenge:
The aim of this training is to teach you how to pick a profitable niche, find a good affiliate product to promote, how to create a lead magnet to build your list with the help of squeeze/capture pages, and how to create high converting emails and drive traffic to your offers.
Easy-Commission Hacks:
These videos aim to show you how to leverage some programs to earn commissions with little or no competition.
Casy Study Vaults:
When you go through these collections of videos you'll see how Andy was able to promote his affiliate products and earn affiliate commissions case by case. You can see the steps he took to make money online through affiliate marketing. This will be beneficial for those who are looking for someone to follow step by step to achieve the same or similar results.
Step 4: Gold Level (Authority Academy)
---

The Gold Level costs $97 (one-time payment) and you'll be able to earn 100% commissions. Before you potentially invest in the Gold Level you can watch a video that will give you a little introduction of what to expect.
This level is focused on how to become an Authority in your niche
6-Figure Blogging Shortcuts (8 videos):
Here you'll learn how blogging can help you become an authority in your business and how to interact with other bloggers and affiliate marketers to boost your authority.
Instant Authority Shortcuts (20 Videos):
With these videos, you'll be taught how to set yourself up as a trustworthy brand. The information provided should help you in any niche and is not just specific to internet marketers.
Intensive Product Launch Academy (48 Videos):
The videos in this section will focus on how to put your product into a market place and create a product launch. This section is presented by Chuck Nguyen, the  co-owner of this system.
Step 5: Platinum Level (Super Affiliate Academy)
---

This part of the system shares with you how you can create multiple income streams. You learn how to create a domain and set up hosting to build a niche website, how to set up TeeSpring campaigns to sell t-shirts, and how to make money with Youtube.
The Platinum Level costs $497 (one-time payment), and this will allow you to begin earning $250 commissions.
Affiliate Marketing Fundamentals (13 videos)
Building Profitable Niche Sites in 2016 (59 videos)
Youtube Marketing For Affiliate Marketers (31 videos)
Building A High Quality & Responsive Email List (30 videos)
TeeSpring Marketing (46 videos)
CPA Marketing Fundamentals (11 videos)
Plenty of Fish (CPM) (14 videos)
Pay Per View (14 videos)
Media Buying (Banner Ads) (9 videos)
Bing Ad Center (PPC) (12 videos)
As you can see from the list, the Platinum membership offers a huge amount of value. So if you're able to afford the $497 price tag, then I believe you'll be gaining a lot of quality training which you can implement into your business and get positive results from these 239 lessons. Luckily there is a 14-day money back guarantee if you decide that the training is not for you. Additionally, if you need more information before joining you can always get in contact direct with the owners to find out more.
Tools & Resouces
---
Choice of 5 capture pages to promote the system

Done For You Traffic Packages:
The program allows you to buy traffic through the system. They claim to be able to provide quality clicks to your capture page. I haven't purchased any of the clicks, so I can't comment on the quality or if they'll give you any commissions. The average cost is $100-120 for 100 clicks.
Autoresponders:
They recommend autoresponders such as Getresponse and Aweber. If you don't have an account with either of these providers then you can easily join and access their 30-day free trial. It's especially great if you're just trying out NBPS and want to get started with setting up your system correctly.
Who Is No Brainer Profit System For?
---
This program is suitable for:
Complete beginners – I think beginners will benefit more from the free membership and the Bronze, Silver and Gold levels (if you choose to purchase them).
Experienced internet marketers – Those who are experienced will most likely benefit from the Platinum level as it is more in-depth and discusses multiple income streams.
Those looking for affordable affiliate marketing training – I think it's affordable in the sense that some levels are low-cost, and there are no monthly fees. But ultimately it's up to you to decide how much you can afford.
Who Is No Brainer Profit System NOT For?
---
This program is NOT for anyone looking for a "get rich quick scheme". Although there is an opportunity to make good money from this, you have to be willing to put in the work and effort to go through the training and take appropriate action.
Support
---
There are a few different ways to get support for the system. There's a little blue support button below which you can use to type a message. I actually used this once and unfortunately didn't get a response. Update: I have now received a response, and Chuck kindly apologised for the delay, and even offered a little freebie!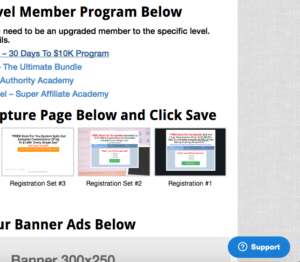 You can also get support access with each level you unlock.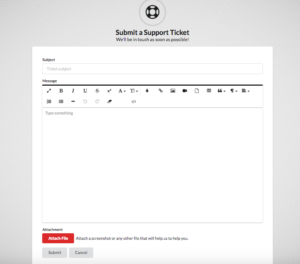 Furthermore, you can get support from the Facebook group. If need be you can also contact Chuck and/or Andy directly through Facebook.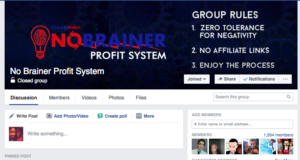 I haven't tried to request support using the last 2 methods, so unfortunately, I can't comment fully on the response time. If I do require additional support I will update this page.
Pricing
---
I think the program offers a very good pricing structure. It's free to join, and you can remain a free member as long as you like and just focus on building your email list. There are no monthly fees, so you're not tied down, and on most levels, you can earn 100% commissions if you choose to unlock those levels. I will break down the pricing structure below:
1. Free
2. Bronze Level: $7 One Time Payment
3. Silver Level: $47 One Time Payment
4. Gold Level: $97 One Time Payment
5. Platinum Level $497 One Time Payment
Pros
---
Newbie Friendly
Free to Join
One Time Payment
If you choose to purchase any of the different levels you'll only have to make a one-time payment. Therefore you're not tied to any monthly fees.
Shows you how to set up your Autoresponder
I already knew how to do this, but if you're someone who's new to autoresponders and email marketing then I think this is helpful training to have.
Access to Private Facebook Group
I like that there is a community where people of this system can interact with other members. So far I haven't seen a massive amount of interaction, but there is some and it's helpful to see how others are doing with the system. The owners also provide some advice and updates on the program which is useful. I would personally prefer the community system to be available within the actual program to avoid having to switch between tabs, but at least there is a community available.
Video Tutorials
There are many training videos available which means it is easy to watch the owner as he completes the different tasks, and follow them step by step.
Easy Way To Help You Build An Email List
I felt that the NBPS allowed me to build an email list quite quickly. I did promote the program using a few different free traffic methods and was able to start building an email list just using the squeeze pages provided. There are a choice of 5 pre-designed squeeze pages and 7 different email swipes to help you promote the program.
I found that trying to build my list with NBPS allowed me to really understand the importance of building a list and I began focusing more on my email marketing strategy. I was able to improve my autoresponders for my site and for the NBPS, and I'm still learning what methods will work for me.
14 Day Money Back Guarantee
Low Ticket Priced Training with Valuable, Actionable tasks
The paid training starts at a low cost of $7, and it's a one-time payment. This is one of the lowest prices I've seen for a program like this, especially for a one time fee. I especially like that there are no monthly charges, which means you can get good value for a low price.
Cons
---
Not Much Training in Free Membership
I think there is some good value offered in the free membership, however, it was pretty basic, and you won't be directly profiting from this information unless you upgrade to the other levels. If you're mainly focused on building your list with the program, then this might not bother you as much.
Some Levels Are Too Costly, Especially for Beginners
Most people will probably be able to afford the $7, however, after that, it might be too costly for some people.
Not Much Training on How to Build a Website/Blog in the Free Training:
I didn't see any training on how to build a website or a blog, however, the NBPS doesn't require you to build a website in order to promote the system.  The main training for creating a blog/website is only available in the Platinum Level, which costs $497 to join, so that might not suit your budget. I personally already know how to create a blog, and it's even possible to create a website for free. You can start now by entering a cool name for your blog in the box below.
FURTHER READING: Create a FREE website in 60 seconds
FURTHER READING: Self-Hosted Vs Free Blog: What's The Difference?
Doesn't Pay Affiliate Commissions Directly via PayPal
Despite this, you can still link your Paypal account to Zaxaa in order to receive commission payments.
Some of the Content in the Videos Does Not Match What is Actually Present In The Program
This can make things a bit confusing as there are features seen in the videos which are not actually available in the current program. For example the video for the "done for you traffic" package provides the cost of traffic for Diamond level, however, there is no longer a diamond level in the system. Although the videos were created before changes were made in the program, I think the videos should either be updated, or there should be text somewhere on the site to clarify why the videos are different from what is currently available in the system.
No Written Training
All the training in the NBPS is presented as videos. I personally like to have the option of both, so I was a bit disappointed with the lack of written content.
My Experience
---
I feel this program has really helped me with building my email list and understanding the importance of it, however, I have not yet had a chance to test whether I can earn affiliate commissions from this list. Currently, my main goal is to work on building my list and I'm glad to see this is helping me do so.
I also decided to purchase the Bronze Level as I felt the program could offer value, and I felt that $7 really was a "no brainer". (Note: I haven't purchased any of the other levels).
Overall, I'm happy to promote a product like this because it offers a lot of value, and for the most part, it's not too expensive.
Is No Brainer Profit System The Best Online Program For You?
---
Essentially, this is a choice you need to make for yourself, and I hope my review has been able to give you the opportunity to make an educated decision.
FURTHER READING: 6 Simple Ways To Find The Best Make Money Online Program For You!
I think the NBPS is better looked at as training program rather than just another "make money online" system. I feel that overall there is some quality training available in this program and the chance to learn methods that you may not find anywhere else, for the price.
Below is a table I use to personally help me decide whether a program like this is worth joining.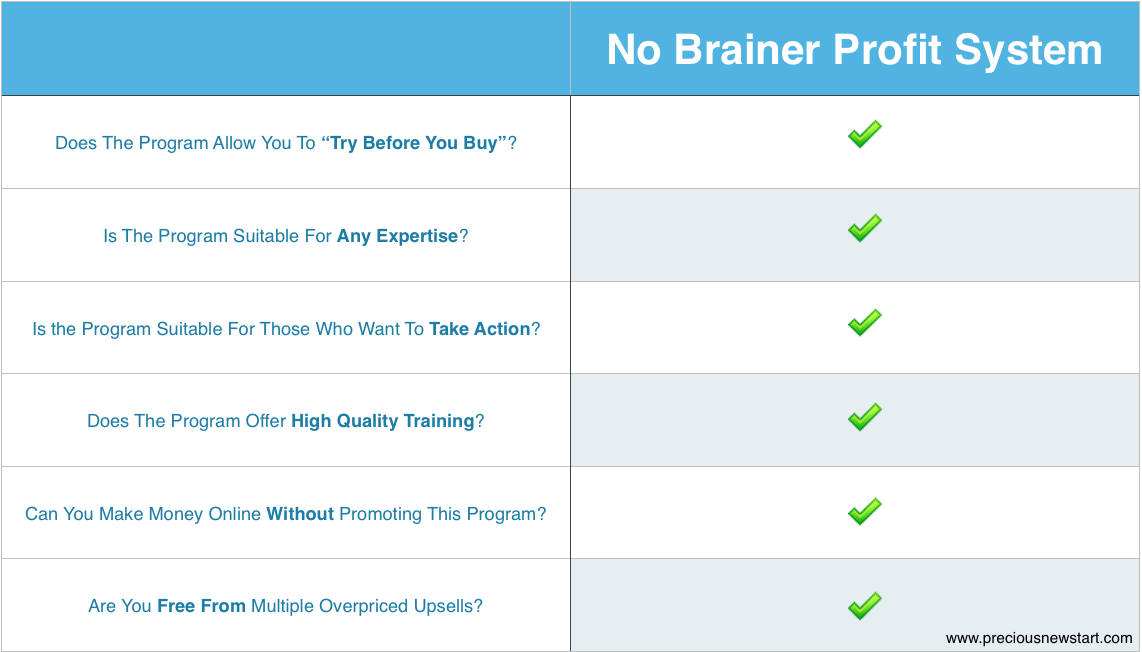 My #1 Recommendation
---
I definitely believe that the NBPS has a lot to offer, and I'm also glad that the program can be used as a training platform.
If you've gone through this review and concluded it's not for you, and you're looking for an alternative, then I want to introduce you briefly my #1 recommended online training program. I am an active member of Wealthy Affiliate, which is a program you can join for FREE and remain a free member for life if you choose too.
The Wealthy Affiliate FREE membership includes:
10 Lesson Course:
You're automatically enrolled onto Wealthy Affiliate's "Online Entrepreneur Certification: Getting Started" – You have access to 10 lessons which teach you how to get started online and set up your website. ( As well as the "Affiliate Bootcamp" course)
2 FREE websites:
You can create 2 websites completely free when you sign up to Wealthy Affiliate, and you get access to premium hosting and support for your sites.
Personal Help & Support:
When you sign up for free, you don't just get help and support from me personally, you also get assistance from other members of the community, and even from the owners. You have access to live chat for the first 7 days, and you really get to have a feel for the program and what to expect if you decided to upgrade.
Earn commissions as a FREE member
With the Wealthy Affiliate program, you can even earn commissions as a free member if your referral upgrades to premium. Additionally, commissions get paid via Paypal.
How does NBPS compare to Wealthy Affiliate?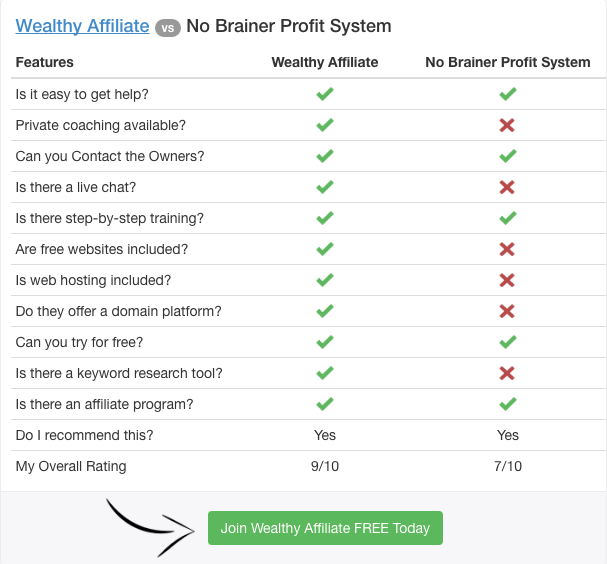 Special Wealthy Affiliate Bonus
If you join me at Wealthy Affiliate, as a special bonus you'll get your first month for only $19. That's over 59% discount. It's a great way to really test out the premium membership and see if Wealthy Affiliate is for you.
However, you can always get started with the FREE membership first. Check out my review here.
My Final Thoughts
---
There you have it, my No Brainer Profit System review, and I hope I've been able to give you a balanced overview of what it offers.
I believe this is a very good program for anyone new wanting to learn affiliate marketing, and even for those who are more experienced. I especially like that it is free to join, and you can get a feel for what the program will provide from watching the free training videos.
Despite the many positives of this training program, I will be using it solely for list building, and if I make affiliate commissions on the bronze level then that will be an added bonus.
My recommended program is Wealthy Affiliate and I feel that it is an all round excellent program with so much to offer. It's a monthly membership, but there is always new training being added and the site has been running for more than 11 years with huge success and as an active member of Wealthy Affiliate I have been making monthly commissions and learning how to build a successful affiliate marketing business online.
If you feel NBPS is for you then click below to join free:
Join No Brainer Profit System FREE   
OR
You could get started with my #1 recommended training program for FREE:
Have you tried out The No Brainer Profit System? What have your experiences been? Did you find this review useful? Feel free to share your comments, or any questions you may have in the section below. 
Pin This For Later
---